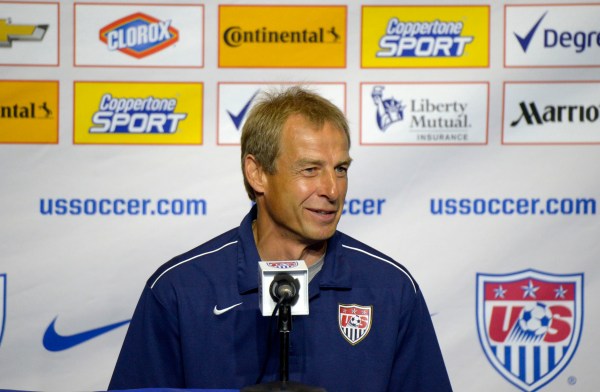 Photo by Kirby Lee/ USA Today Sports
By RYAN TOLMICH
Last fall, Jurgen Klinsmann turned some heads when he stated that he felt Major League Soccer was missing out by not having promotion and relegation. He doubled down on that sentiment this week, restating his wish that MLS would one day feature pro/rel.
The USMNT head coach told German newspaper Rheinische Post that he still hopes to see MLS introduce a relegation system in an effort to increase competitiveness and help improve his pool of national team players.
Klinsmann cited one of his former club's, Stuttgart, who was in a relegation battle until the very end of the Bundesliga season. For Klinsmann, the thrill of watching his former club battle to remain in the league is a thrill unseen in the American game.
"I got up at half-past six in the morning to see their (final) match in Paderborn," Klinsmann told the Rheinische Post. "That clubs like Stuttgart were down there, shows how close the Bundesliga is, how much quality it has.
"This thrill of the relegation battle is non-existent in the U.S. league. The risk for club investors to all of a sudden play in the second league would be too high. But the sporting side would benefit from it. Our players from Europe know that. That furthers our national team. Something is at stake week in, week out. Be it at the top or at the bottom, you always have to perform."
In addition, Klinsmann went on to say that another change he would like to see made would be to see players start their careers earlier like their overseas counterparts.
With some players still opting to go the college route, some prospects don't join the professional ranks until their early 20s. For Klinsmann, that needs to be improved upon, as the coach hopes to see players start their professional development at a younger age, much like their European teammates.
"Players from Europe are there going through the centers of excellence, whether in the Bundesliga or in England, and therefore have a great basic training," Klinsmann said. "They are trained tactically and know what it takes to succeed. Therefore, we must use the resources that result from families with an American background. I think it's great that a lot of players who have a double pass, choose to play for the United States. And they bring with them with something else: They come from soccer-mad countries.
"Football grows with us, but it's still a long way," Klinsmann added. "Often the football is still used for university scholarships, but that's not operated properly. There is in this vast country many, many talents, but scouting a country the size of the United States is a huge task. So it's good that the American players who live in Europe reflect on its roots. And yes it can not hurt for the future. A professional career starts at 15, a maximum of 18 years old – and then it is perhaps attractive to live in the USA."