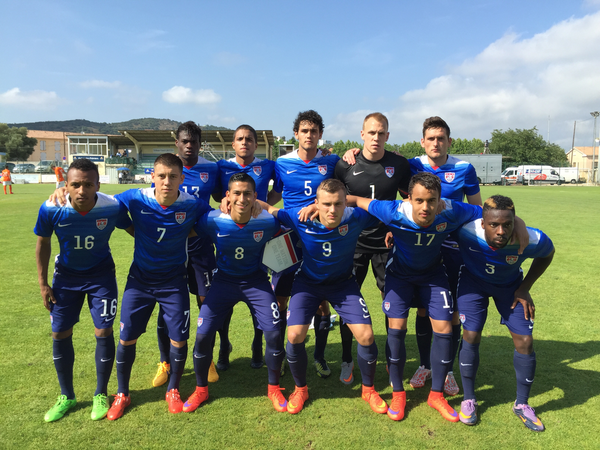 By RYAN TOLMICH
The Toulon Tournament may not officially be over for the U.S. Under-23 Men's National Team, but those involved are already taking a bit of time to reflect on the lessons learned.
After kicking off the tournament on May 27 with a disappointing 3-1 loss to France, the U.S. rebounded with its most impressive performance just two days later to defeat the Netherlands by the same scoreline. A lackluster 2-1 loss to Costa Rica and a 1-0 victory over Qatar came in the four days that followed, leaving the U.S. on the outside looking in when it came to sealing a spot in the next round.
Having earned six points from a rapid-fire schedule of four games, head coach Andi Herzog feels that his side could have certainly done better, especially in the pair of losses. However, with a packed schedule and a relatively inexperienced roster, Herzog has found some positives with his side's performance in France.
"We have to do better, but as a coach you have to think about all the positives as well," said Herzog. "We had a very tough schedule. We had to play every other day and my players are not used to playing this way and (in Tuesday's matchup with Qatar), we rested some of our key players in the first half and in the second half I thought they would make the difference, but they were not on the level that they were against Netherlands."
As two of the team's more experience international players, Jordan Morris and Julian Green agreed with their head coach's sentiments. Morris and Green, both of whom have scored senior team goal, said that the tournament served as a major lesson that mistakes will be punished, proving the need to be on their A-game each and every minute on the field.
"I think we learn that we have to approach every game in the way that we approached the game against Netherlands," Morris said. "We saw that we came out flat against France and they punished us for it and when you play really good teams they'll punish you for it, but I think we rebounded really well in the second half of that game and in all other games.
"I don't think that our work rate was the issue. I think that in all games it's important to learn that mentality that we're just going to outwork the other team and I think we did that this tournament and it's something we'll take to qualifying."

Added Green: "We know we have a lot of work to do. We saw from the first game against France that every little mistake can change the game and that's what we can learn from these games."
With those lessons learned, the U.S. is now forced into playing the waiting game and need help from the French in order to advance into the third-place game.
Regardless, midfielder Dan Metzger says that the tournament has proven to be a major lesson, and that should the opportunity arise, the U.S. will be ready to go for one more game.
"It's unfortunate that we put ourselves in this situation, where we have to rely on some teams," Metzger said. "We're hoping for the best from France to put up some good results, so it's just a waiting game right now.
"Every international game is going to be a battle no matter what the team is," Metzger added, "and no matter what the circumstance is, we've just got to stick with what we know best."