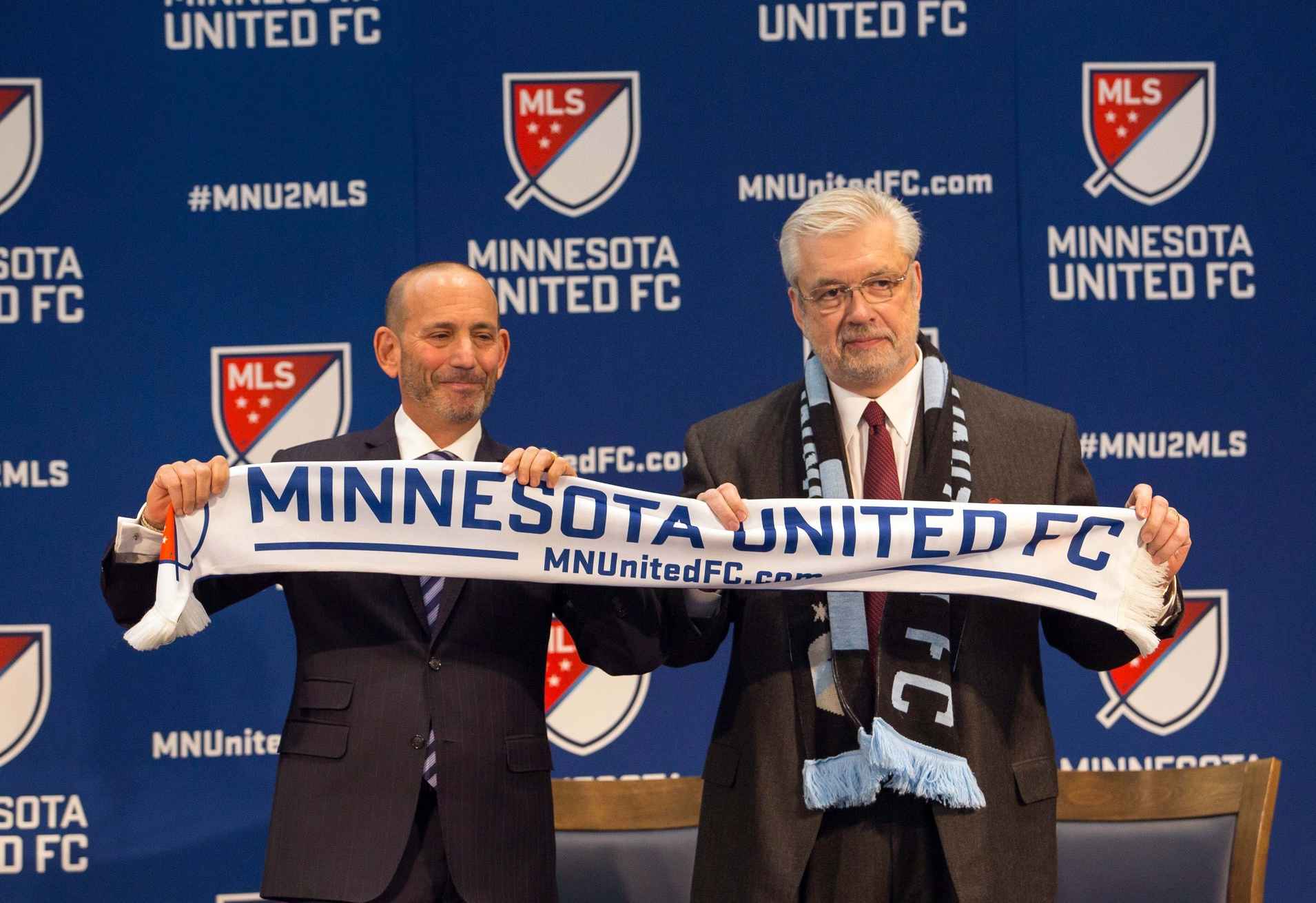 Photo by Brad Rempel/USA Today Sports
By DAN KARELL
Minnesota United's short-term MLS hopes could be on the rocks after their latest failure to receive stadium subsidies.
According to a report in the Minneapolis Star Tribune, MLS has given Minnesota United a July 1 deadline to finalize their soccer-specific stadium plan, despite the Minnesota state legislature closing their annual session just two days ago.
The end of the session, and subsequent deadline, leaves Minnesota United with the prospect of financing their stadium project solely with private funds, similar to what Orlando City has pledged to do, or it leaves them with the option of potentially deferring their move to MLS.
"One of the primary reasons [we] selected Minnesota and its ownership group was this (stadium) plan," MLS deputy commissioner Mark Abbott told the Minneapolis Star Tribune. "(The plan) needs to be something that's final enough so that we understand and know that it will ultimately be built. July 1st is the deadline that we put out there in March, and it remains the deadline. We're doing to decide [what happens next] on July 1, or closer to July 1st."
Minnesota United's owner Dr. Bill McGuire beat out the Minnesota Vikings and owner Zigi Wilf's bid for an MLS team when MLS awarded McGuire an MLS franchise on March 25, 2012. McGuire has plans to build a $120 million soccer-specific stadium but has asked for land and infrastructure subsidies from the state legislature and city, something that's so far been tough to acquire.
Minnesota United is scheduled to enter MLS in 2018.
Here's some more news from across the league:
TRAPP BACK IN TRAINING, NOT FAR FROM RETURN
The Columbus Crew enjoyed a welcome sight at training on Monday with the return of Wil Trapp to regular training.
The 22-year-old has been out of action since early April while he deals with symptoms following a concussion suffered in training in mid-March. Trapp passed the team and league's concussion protocols but found his symptoms returning in a road match at the Vancouver Whitecaps on April 8, forcing him to be shut down again.
Since then, Trapp has not made the Crew's match-day squad, depriving the team of one of their key players for nearly the entire season. Despite taking part in practice on Monday, Berhalter reportedly told assembled reporters that Trapp is not yet back in full training, but is inching closer to it.
"He's doing well," Berhalter told Massive Report. "He's moving forward and making progress. He's doing more and more in training and we should have him almost in full team training."
HONDURAN INTERNATIONAL PALACIOS TRAINING WITH UNION
The Philadelphia Union could be adding a major piece to their team's midfield this summer.
Speaking to reporters following training on Monday, Union head coach Jim Curtin confirmed that Honduran international Wilson Palacios is training with the team. Palacios, who is a free agent since his release from Stoke City at the end of the 2014/2015 English Premier League season arrived in Philadelphia last Monday and is set to stay through Wednesday.
He would be a big boost to the team's depth at the holding midfield position, with only Michael Lahoud backing up Vincent Nogueira and Brian Carroll.
"Wilson's been in with us for about a week now," manager Jim Curtin told reporters on Monday, via CBS Philadelphia. "He's done well. He is a guy who obviously, his career speaks for itself, at the international level, the World Cup, with Tottenham and Stoke. He's a guy who has played at some big clubs. We had him in for the week to take a look at him. He'll still be here through Wednesday and we'll have to make a decision after that. But he's been good."
The 30-year-old Palacios has more than 100 caps for Honduras and has spent the past seven years in England. He joined Wigan from Honduran club Olimpia in 2008, moved to Tottenham in 2009, and then Stoke City in 2011.
WHITECAPS LINKED WITH PANAMANIAN LEFT BACK
The Vancouver Whitecaps are reportedly close to acquiring an international left back.
According to a report in El Siglo, Panamanian left back Luis 'Coco' Henriquez is set to sign with MLS, with the Vancouver Whitecaps named as the next destination for Henriquez. The 33-year-old's contract with Lech Poznan, which just won the Polish league, expires on June 30, leaving him open to move to a new club.
Henriquez played 23 times in all competitions for Poznan last season. He's also had a long career with the Panamanian National Team, earning 49 caps and is in Panama's squad for the upcoming 2015 Gold Cup.
——————
What do you think of these reports? What do you think of Minnesota United's dilemma? Glad to hear Trapp progressing? How important is it for the Union to pick up Palacios?
Share your thoughts below.