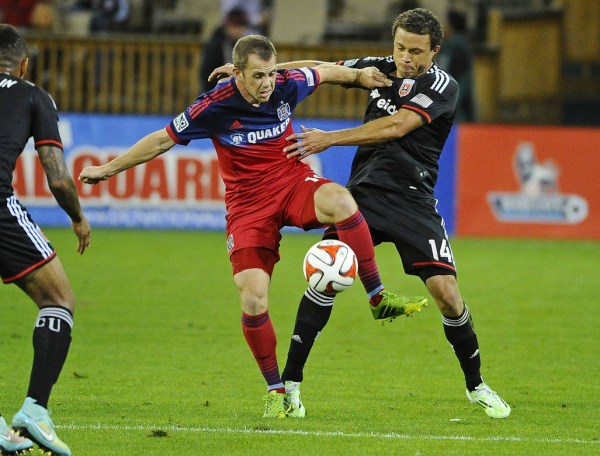 Photo by Brad Mills/USA Today Sports
By COLE KELLOGG
Week 14 of the MLS season kicks off Wednesday with three matches that could go either way if any of the teams' recent form holds true.
Atop the Eastern Conference, D.C United will take on the ever-improving Chicago Fire. D.C. will host the streaky Fire, with both sides missing key attackers in Chris Rolfe (suspension) and Shaun Maloney (international call-up).
The Philadelphia Union host the Columbus Crew, as the Union will try to take advantage of a Columbus side that has been defensively frail in its last two games.
Finally, a Montreal Impact team that has found two wins in its last three MLS matches will host the Vancouver Whitecaps, a team that has cooled as of late.
Here is a look at each of tonight's three matches:
D.C. UNITED vs. CHICAGO FIRE ( 7 p.m., MLS Live)
The Fire will travel to D.C. for the first meeting of the year between the Eastern Conference sides. D.C. is a team that still sits in first place in the Conference, but has only won one of its past four matches.
In the team's last four games, D.C. has lost to Philadelphia and Portland, while drawing with the Revolution, 1-1. While those are certainly disappointing results for the early season powerhouse, the team won its last match at home against the Union. They will have the chance to make it two in a row tonight against a Chicago side that has been hit or miss all year.
D.C. United may be graced with a Fabian Espindola return tonight, after the DP forward has been nursing a knee injury for the majority of the season. United will be without former Fire star Chris Rolfe, though, after he received a one-game ban for kicking out at Vincent Nogueira on Saturday.
Chicago are coming off of a strong 3-0 win against the Impact at home, as the Fire smashed Frank Klopas' side, with stellar attacking play from Harry Shipp, Kennedy Igboananike, and captain Jeff Larentowicz.
The team has gone back and forth in results all season. History would suggest, then, that the Fire could pull out a victory here against D.C., but that will not be happening without another inspired performance between David Accam, Shipp, and Igboananike. Bad news for Fire faithful comes in the form of a Shaun Maloney Scotland call-up, meaning he is unavailable for selection.
PHILADELPHIA UNION vs. COLUMBUS CREW (7 p.m., MLS Live)
After what has been an incredibly disappointing season so far for the Philadelphia Union, a recent upswing has allowed the team to pick up two wins in its last three games.
The Union picked up a win at home against conference foes D.C. United, followed by a surprising 2-0 win at Red Bull Arena last Sunday night. The team showed some defensive resilience in the recent run-up, only allowing two goals in the last three matches.
The Union have benefitted from strong recent performances from goal scorers C.J. Sapong, Zach Pfeffer, and Vincent Nogueira. Jim Curtin's team will be hoping for another strong showing against Columbus, who have dropped four point past the 85th minute in its last two matches.
The Crew has put together some attractive, attacking play this season in MLS. Fans of the league that are not watching the standings may be surprised to hear that they are fifth in the Eastern Conference at this point.
After a strong 3-0 victory over the league-leading Seattle Sounders almost a month ago, the Crew have lost once and drawn twice. The theme for Columbus in its last two matches is allowing last-gasp goals from their opponents, who didn't necessarily look like they deserved to take points from the match.
The Crew were certainly the better team against Chicago, but brilliant combinations from Ethan Finlay, Justin Meram, and Federico Higuain only led to two goals. The sequel to that story was released on Saturday, when a 10-man Crew still deserved to walk out of the Citrus Bowl with three points. A late strike from Pedro Ribeiro, though, spoiled Columbus' party and saved a point for the home team.
MONTREAL IMPACT vs. VANCOUVER WHITECAPS (8 p.m., MLS Live)
The Vancouver Whitecaps enjoyed some phenomenal success early in the MLS season, walking away with a record of 4-1-1 from its first six matches. The Whitecaps, however, have been melting ever since and have recorded four losses in its last eight MLS games.
Fantastic early-season play from Argentinian striker Octavio Rivero has also cooled. Rivero scored five goals in the Whitecaps' opening six matches, but has only put one in the back of the net in his last eight games.
The Whitecaps will be looking to build on a 2-1 victory over Real Salt Lake at home last weekend, with goals from Gershon Koffie and Cristian Techera making the difference.
The Impact have had an MLS season quite the opposite to Vancouver's, winning two of its last three matches after recording three losses in its opening five MLS matches.
The team that was focused solely on the CONCACAF Champion's League earlier this year has now put its emphasis on MLS, and progress is resulting.T he Impact showed strong performances against RSL and FC Dallas in May, putting six goals past their opponents while only allowing two.  Dilly Duka and Andres Romero have shown brightly in recent matches in particular, but the Impact will be looking to bounce back after a Marco Donadel red card led to a 3-0 loss in Chicago on Saturday.
What do you expect out of tonight's MLS matches? What game are you most excited for?
Share your thoughts below.