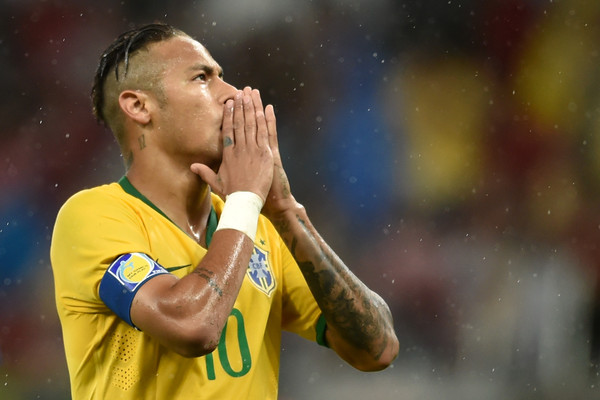 By AARON CRANFORD
After starring in Brazil's opening Copa America win, Brazil and Barcelona star Neymar was suspended from the rest of the tourney, but the striker is now claiming the incident is not what it seems.
"Practically nothing happened," Neymar told ESPN FC. "I was in the tunnel and I was waiting for the ref to ask him why I was sent off. The whole incident started because some security agents showed up thinking that I was more nervous than I actually was. They were thinking that I was going to hit him or something. And everyone ended up believing all that."
Neymar was suspended four matches after Brazil's match with Colombia for apparently trying to headbutt Jeison Murillo.
Brazil is set to face Paraguay in the quarterfinals of Copa America on Saturday.
Here are some more of Tuesday evening's news and notes:
URUGUAY STAR CAVANI MAY MISS REMAINDER OF COPA AMERICA
While one star already must sit out of the Copa America in Chile, another could be on his way out as well because of his father.
Edinson Cavani father, Luis Cavani, has reportedly killed someone while drunk driving, and the forward is contemplating playing through the tournament while the situation with his father unfolds, per Canchallena.
Uruguay is set to face Chile tomorrow in the first quarterfinal of the 2015 tournament, but instead of having his sole focus on the competition at hand, Cavani has been taking numerous phone calls recently regarding the collision.
SUNDERLAND MAKE MOVE FOR WIJNALDUM
Sunderland is on the hunt for difference-makers, and it's made an $17.3 million offer for one in the form of Dutch international Georginio Wijnaldum, according to The Guardian.
The 24-year-old made 42 appearance for PSV in the 2014-2015 campaign while scoring 18 goals and assisting 5 times.
Wijnaldum also recently featured for the Dutch national team, scoring the game-winning goal in the Euro 2016 qualifying match vs. Latvia on June 12.
REINA MOVES FROM BAYERN MUNICH TO NAPOLI
Petr Cech wasn't the only big-name goalkeeper to swap sides Tuesday, as Pepe Reina has officially moved from Bayern Munich back to Napoli.
Reina joined Bayern Munich in 2014, but with only three appearances for the club, he desired a move elsewhere, and Napoli came calling. Reina previously featured for the club in 2013-14 while on-loan from Liverpool.
"Pepe Reina has asked us to release him from his contract because he wants to sign for Napoli where he will have the chance to play as a goalkeeper on a regular basis," Bayern deputy chairman Jan-Christian Dreesen said in a release by the club.
ARSENAL COMPLETE MOVE FOR CECH
In order to thwart Chelsea's plans as repeat champions of the English Premier League, Arsenal needed to add strength to some key positions, and Tuesday, it finalized its transfer for Petr Cech from the 2014-2015 champions.
The 33-year-old netminder has reportedly moved for a fee of approximately $17.13 million, according to Sky Sports News.
Cech saw little time in Chelsea's last campaign due to Belgium international Thibault Courtois performing well throughout the season in goal. And now, the Czech Republic goalkeeper is ready to help Arsenal, who finished just behind Chelsea in the EPL table.
—
What do you think about Neymar's comments? Think Cavani will miss any matches or play through the tournament?
Share your thoughts below.