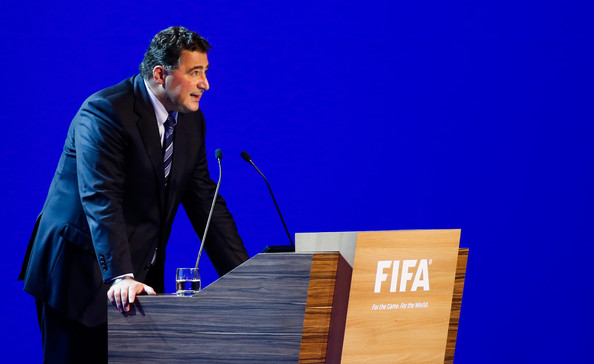 By RYAN TOLMICH
Rumors continue to swirl that Sepp Blatter is considering reneging on his plans to resign, but one FIFA official has called for Blatter to go through with his promise to step down.
Domenico Scala, the head of FIFA's audit and compliance committee who appeared alongside Blatter during the president's resignation, insists that Blatter must follow through for the good of reform. Earlier this week, reports in Switzerland stated that Blatter is considering staying on as president after receiving support from African and Asian federations.
"For me, the reforms are the central topic," Scala said. "That is why I think it is clearly indispensable to follow through with the initiated process of president's change as it has been announced."
As things stand, Blatter is prepared to remain with FIFA until the organization can elect a successor at a FIFA congress between December and February.
Here are some more news and notes to kick off your Monday morning:
BRAZIL PICK UP LATE WIN, VENEZUELA TOP COLOMBIA IN COPA AMERICA
Brazil needed every last minute to avoid an upset at the hands of Peru.
Level at one for over 85 minutes, midfielder Douglas Costa played hero for Brazil witha  92nd minute winner, giving Brazil a 2-1 victory to open the group stage's of the Copa America.
After seeing a fifth minute goal from Neymar cancel out a third minute opener from Peru's Christian Cuevas, Costa snatched Brazil all three points after a spectacular effort from the Barcelona forward. After dribbling past four defenders, Neymar fed Costa with just one man to beat, and the Shkahtar Donetsk midfielder made no mistake in earning Brazil a tournament-opening victory.
Fellow favorites Colombia would not be so lucky in what ended up being a 1-0 defeat at the hands of Venezuela.
Led by a 60th minute header from Saloman Rondon, Venezuela sealed an upset to equal Brazil atop Group C through the opening round of games.
Brazil returns to action June 17 to take on a Colombia side now in need of a result, while Venezuela takes on Peru one day later.
TOTTENHAM INSISTS KANE WON'T BE SOLD TO MAN UNITED
Despite rumors linking the star forward with a move away from the club, Tottenham insists that Harry Kane will not depart White Hart Lane for Old Trafford.
ESPNFC is reporting that Kane will not be sold to Manchester United even if the club prepares a large bid for the 21-year-old striker. Kane has been linked with a £40 million ($62 million) move to Man United after scoring 31 goals in 40 games this season.
In February, Kane signed a new five-year deal to remain with Tottenham, giving the club further reason to hold on to their star striker.
QUICK KICKS
Liverpool are reportedly interested in acquiring Charlton Athletic defender Joe Gomez. (REPORT)
Gianluigi Buffon and Daniele De Rossi have withdrawn from Italy's squad to face Portugal. (REPORT)
Mexico captain Rafael Marquez will miss the final two group stage games of the Copa America with a leg injury. (REPORT)
Cristiano Ronaldo will miss Portugal's friendly against Italy after being allowed to leave early for vacation. (REPORT)
—
What do you expect of Blatter's resignation? How can Colombia bounce back in the Copa America? How will Kane fare in the 2015-16 season?
Share your thoughts below.