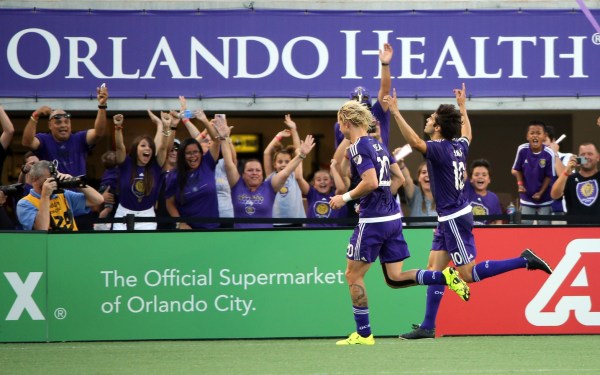 By MIKE GRAMAJO 
ORLANDO, Fla. — For Orlando City SC, the third time was a charm against Eastern Conference leaders D.C. United.
After falling to D.C. United twice earlier this season, Orlando City extended its unbeaten streak to five games after Kaka converted off his own saved penalty kick to give the Lions a 1-0 victory on Sunday night at the Citrus Bowl in front of 30,054 in attendance.
Pedro Ribeiro helped deliver the winner after drawing a foul in the penalty area from Taylor Kemp. Bill Hamid saved the initial penalty kick, but Kaka pounced on the rebound, heading the ball into the net.
"This is a working progress," Orlando City coach Adrian Heath told reporters on the team's victory. "The team is gelling, there's a real desire to keep this run going. We want to keep progressing, getting better, and I think the players do. We just need to keep it going now."
Ben Olsen's men displayed a more active approach to the game going into the second half, dominating possession and testing Orlando City goalkeeper Tally Hall several times through the second half. D.C. United would finish the game with 11 shots on goal, six of which came in the second half.
Sunday also marked the first time a water break was implemented in MLS action when a pair of hydration breaks — one in each half — were warranted after 94 degree heat consumed most of the night at the Citrus Bowl.
"Now it's five games without losing, and this is very important," Kaka said on Orlando's two-game winning streak. "We didn't play a very good game, but we won and at the end, that's what counts. Every game I'm getting better, we just have to put away the missed opportunities."
Orlando City displayed another possession dominated performance, controlling the ball 55.6 percent and outshooting Olsen's team 12-11, eight of the shots which came in the second half.
Kaka almost put the Lions on the scoreboard first when his long-range strike in the 23rd minute was stopped by Hamid. Second-half substitute Conor Doyle almost leveled the game for D.C. United when his strike in the 85th minute went wide of the post.
With the victory, it marks the first time Orlando City claim a two-game winning streak in their inaugural season, which is also part of their five-game unbeaten streak. The win was also Orlando City's second victory at home this season, the team's first being against the LA Galaxy last month.
Both Orlando City and D.C. United head into midweek U.S. Open Cup action when they take on USL sides Charleston Battery and Pittsburgh Riverhounds, respectively, on Wednesday.