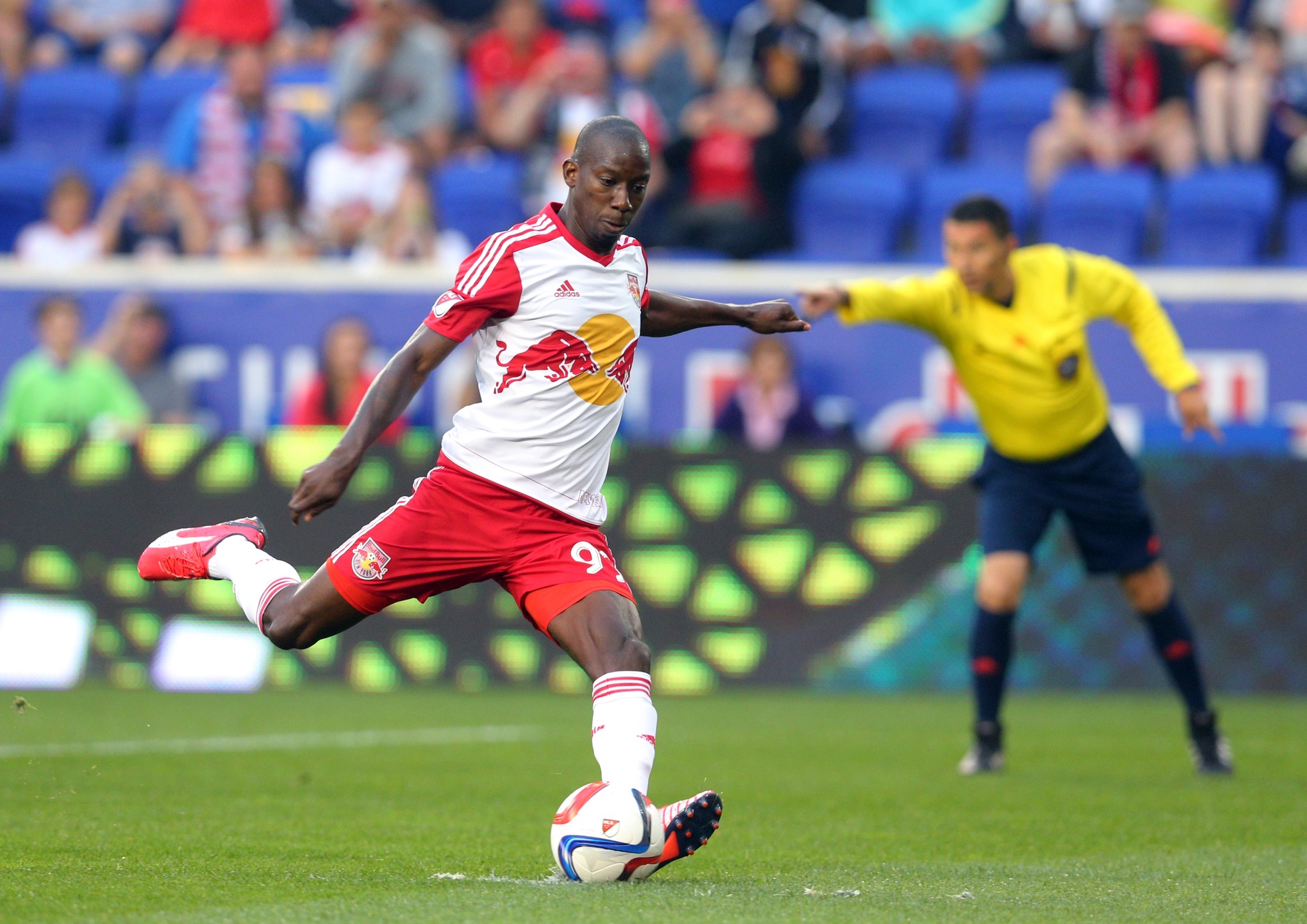 Photo by Brad Penner / USA Today Sports Images
By MATT STYPULKOSKI
HARRISON, N.J. – Bradley Wright-Phillips walked up to Red Bull Arena on Saturday with a perfect 8-for-8 record from the penalty spot.
By the time he left a few hours later, he was 8-for-10.
The English striker had penalties saved by David Ousted in the fifth and 65th minutes, both of which had the potential to drastically alter a game that ultimately ended with a 2-1 Red Bulls loss.
"I was just trying to get my team back in the game," Wright-Phillips said. "I thought, if I score that first penalty it's a different game. If I didn't miss these penalties, it's a different game."
On the first attempt, which came with the game still scoreless, Wright-Phillips went for the bottom left corner of the net, only to be denied by a diving Ousted.
Sixty minutes later, when Anatole Bertrand Abang was fouled in the box, there was no doubt in the striker's mind as he stepped to the spot.
"I wanted to take it," Wright-Phillips said. "I was confident I would score."
That kind of willingness to accept the moment from his team's biggest star is exactly what head coach Jesse Marsch wanted to see.
"I was happy to see Bradley step up and have the confidence to take it again," Marsch said. "I certainly wasn't going to pull him off the ball. And then Ousted makes two good saves. Not two of Bradley's best PKs by any means, but you know, this stuff can happen sometimes."
On the second attempt, Wright-Phillips tried to go down the middle, but didn't quite hit his spot. Ousted was able to parry the shot despite diving for the corner.
"I only started taking penalties when I got here last season, so I guess there's going to be a lot of twists and turns," Wright-Phillips said. "But it's something I've got to deal with. We have another game on Wednesday and I guess my team needs me in there, so I can't dwell on it. I just have to get over it."
Marsch echoed that sentiment, challenging his team's lone Designated Player – who has so far been unable to replicate last season's rampant goal-scoring pace – to step up in the face of adversity.
"It's important as an important guy on our team and an important and good attacker that he finds a way to not let this dig a huge hole into his mentality," Marsch said. "He needs to now stay focused and find ways to make it up to the team."
While it will take on-field results to be sure, so far Wright-Phillips seems up for that task. At the very least, following Saturday night's disappointment, he had a positive attitude and the words to show for it.
"I can't wait (for Wednesday's match against Real Salt Lake)," Wright-Phillips said. "I missed two penalties today. A lot of fans would have been on my back when I was walking around clapping off, but they were brilliant. I just want to get a win for those fans and for the team."