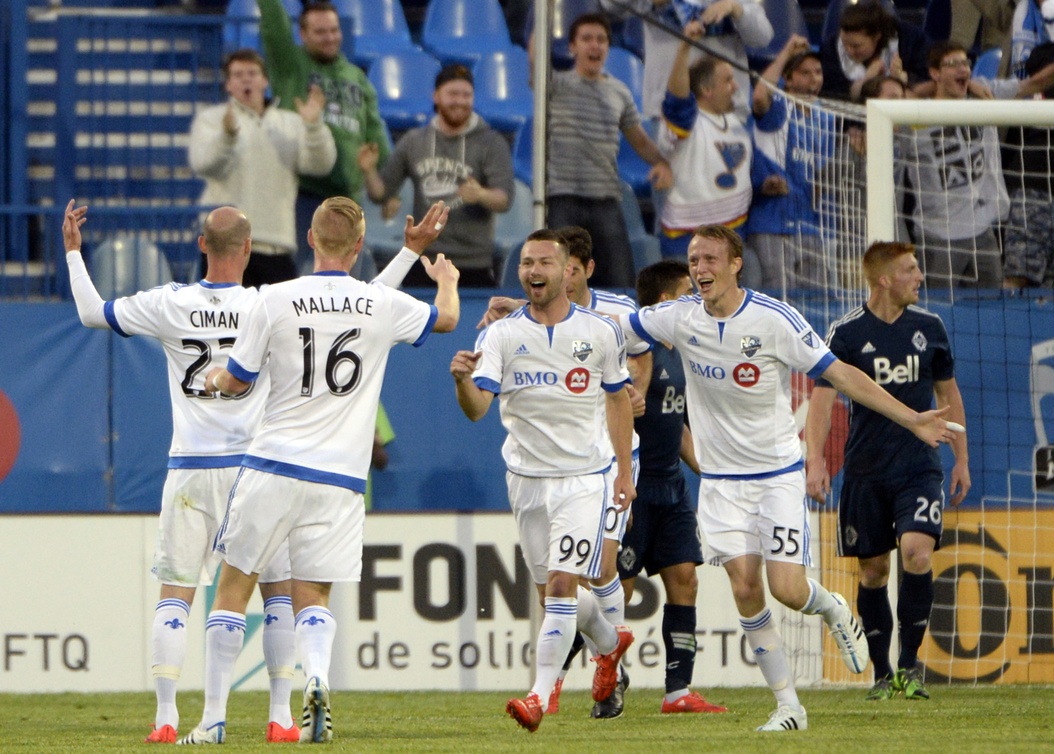 Photo by Eric Bolte / USA Today Sports Images
By ADAM TROXTELL
The Montreal Impact stood up to one of the top teams in the MLS Western Conference for the club's third win of the season.
Ignacio Piatti provided the finish with about seven minutes left to give the Impact a 2-1 win against the Vancouver Whitecaps at Stade Saputo. After watching a lead slip away late, the home fans were sent home happy by a relatively easy finish for Piatti's third goal of the season.
Jack McInerney gave the Impact the lead in the 14th minute, pouncing on a rebound from Laurent Ciman's shot for the lead. It was then a matter of resisting the pressure from the Whitecaps, who had 11 shots blocked by the Impact defense.
The visitors were finally on the board with about 10 minutes remaining when Pedro Morales converted his penalty kick. But Piatti's intervention was enough to hand the Whitecaps their third loss in four league games.
The Whitecaps were stifled by a determined Montreal defense early. The Impact blocked four shots in the first half, registering just three shots of their own at the other end.
The two that were on target in the first half came one after the other. The Impact recycled an unsuccessful corner, and the subsequent cross was cleared right to Ciman. His volley rattled off the cross bar, and McInerney was there to put the rebound away.
An equalizer looked inevitable as the second half progressed, especially early on. Kekuta Manneh had the Whitecaps' best chance when the ball broke for him on the left side. He ducked inside onto his right foot in space, but his curling shot was too light and fell easily to Evan Bush.
A goal finally came for the visitors when the Impact's Andres Romero fouled Jordan Harvey in the box. Morales made no mistake from the penalty spot, dispatching his third goal of the season in the 79th minute to tie the game.
It lasted no more than five minutes. Romero made amends by setting up Piatti in the 83rd minute, racing down the right side before setting the Argentine playmaker up in the middle of the box.
Piatti nearly had a second minutes later, with Romero once again providing. The attempted chip gave David Ousted trouble, but he got enough of a palm on it to keep the deficit at one.
The Whitecaps face an important Western Conference encounter against the Los Angeles Galaxy on Saturday, while the Impact travels to face the Columbus Crew that same day.