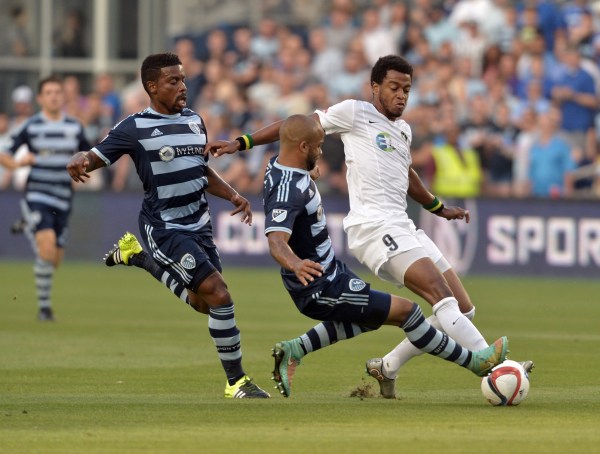 Photo by Denny Medley/USA Today Sports
By SKYLAR ROLSTAD
Tuesday night saw a matchup of professional teams from the historical soccer hotbeds of Kansas City and St. Louis for the first time since 1968.
Sporting Kansas City came out ahead of USL foes St. Louis FC, 1-0, in the Fourth Round of the U.S. Open Cup.
The result, which sent St. Louis FC out of the tournament and Sporting KC into the Round of 16, was perhaps secondary to the record-breaking attendance for a U.S. Open Cup game at Sporting Park. When Sporting KC won the Open Cup in 2012, 18,863 witnessed the final. On Tuesday night, 19,298 packed the stands.
"It speaks a lot to soccer around this area," Sporting KC captain Matt Besler said. "We knew the significance of the game going into it but we realized it even more in warm-ups. It was just a really fun night for a soccer fan. Hopefully this is the start of a rivalry because I would like to play in a game like that every year."
St. Louis FC fans filled their respective away section and created an atmosphere rarely heard of in an Open Cup match, especially so early in the tournament.
While Kansas City owns a large fanbase and a sellout streak of nearly 60 games, St. Louis has historically been the hub of soccer in the United States. Professional soccer has been played in St. Louis since 1907.
"This could be an incredible rivalry," St. Louis FC defender Sam Finak said. "I think if you ask any Kansas City supporter here, they knew where our fans were, they knew where they were sitting. It was phenomenal to look up there and see that many people screaming over the thousands of KC fans."
In the post-match press conference, however, Peter Vermes was not quite as impressed and seemed disinterested by the idea of a rivalry.
"It was our crowd," Vermes said. "There were a few [St. Louis fans] over there. I think I heard some things from them but not a lot."
Vermes also pointed out two instances in which he believe a penalty for a Sporting KC was missed by the referee Baboucarr Jallow.
"In both situations, it changed the game," Vermes said.
St. Louis FC coach Dale Schilly was happy with his team's gameplan, which involved heavy defending and a quick counter attack, but admitted to being thoroughly beaten, despite the narrow scoreline.
"I appreciated that [Sporting] could knock the ball 25 times in a row," Schilly said.
As for a potential budding rivalry, Schilly was certainly more interested in the idea than Vermes, echoing the words of Besler and Fink.
"[There are] rings of hope that maybe we can meet each other in these sort of matches so that a rivalry can really happen," Schilly said.