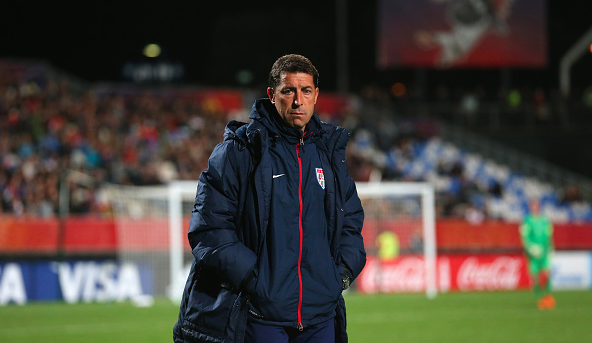 By FRANCO PANIZO
Rest or Result. That's what Tab Ramos is currently weighing.
The U.S. Under-20 Men's National Team will play its third World Cup game in seven days on Friday (3 am ET, Fox Sports 1) when it locks horns with Ukraine in a match that will decide who finishes atop Group A. The Americans currently sit in first place after beating Myanmar and New Zealand by a combined score of 6-1, but will need at least a draw vs. the Ukrainians in order to head into the knockout rounds as the group winners.
Even so, U.S. head coach Ramos intends to have his team stay aggressive and play for the win. He just might have to rely on a different lineup to do so.
"You can't take your foot off the gas," Ramos told SBI. "This is the World Cup. We're trying to build a team, we're trying to build cohesiveness among the players, and you try to keep going. Obviously, you've got to be careful. Anybody who has a little bit of a hamstring or a strain or anything like that, you're going to pull back because the important thing is the second round.
"Whether you're in first or second place, you're still going to be playing a good team in the second round, and so you're more carful in terms of injuries, you're more careful in terms of all that stuff. As far as whoever is on the field, we're going to play to win the game."
There are no known injuries for the U.S. at this time aside from forward Maki Tall, who will miss the rest of the World Cup after suffering a broken toe in the win over Myanmar.
Still, any undisclosed minor injuries could force Ramos to change things up vs. Ukraine.
"We'll decide that (Thursday night), once we assess who's healthy, who's 100 percent, who's not 100 percent, all that kind of stuff," said Ramos. "At this point, it's up in the air."
Here are more news and notes regarding the U.S. U-20s:
ZELALEM ADJUSTING WELL
Gedion Zelalem has taken command of much of the spotlight in recent days as a result of his impressive showing vs. New Zealand, and Ramos thinks that performance was as good as it was because of how comfortable the Arsenal midfielder is feeling right now.
A big question surrounding Zelalem prior to the World Cup was how he would fit in and adjust with an established group of U.S. players. The 18-year-old Zelalem had never played with this U-20 team, and was only able to do so after FIFA gave him the green light days before the official roster for the tournament was due.
Zelalem had a couple of weeks and pair of friendlies to assimilate to his new teammates, but his first World Cup appearance, off the bench against Myanmar, was mixed in part because of his lack of chemistry with them. A few more days passed, however, and Zelalem meshed well enough to the point that he started, and dazzled, in the 4-0 rout of New Zealand.
"I think he played a game in which I think he felt relaxed and very comfortable with the team, and he identifies himself with our team more and more every day and that's really the positive for me," said Ramos. "In terms of where he can get better, well, he can get better at a lot of different things because he's only 18-years-old, he's a young player. I think every day he's learning.
"We're glad to have him on with us, and the most important thing for me as a coach is to know he feels very comfortable with the group and every day he feels better with us. When a player is comfortable and a player is happy, you can get the most out of him and I think he showed that the last game."
Ramos does not seem overly worried about the dreaded hype train gaining full steam throughout the World Cup if Zelalem continues to play as well as he did vs. New Zealand. Other coaches might try and tone down the growing hype, but Ramos isn't taking that approach when talking about his initial impressions of the talented youngster.
"What I think of him is pretty clear," said Ramos. "He started our most important game, and he's two years younger than most of the group, although we have a fairly young team compared to the rest of all the World Cup teams. I would guess we're probably one of the two or three youngest teams at the World Cup.
"To me, I don't look at the age. I look at the players and I look at their confidence and I look at how they fit with the team, and I think he fits in. It was easy to put him in. I'm confident in him."
RAMOS PRAISES CENTERBACKS CARTER-VICKERS, MIAZGA
Prior to Tuesday's shutout victory, the U.S. U-20s had not posted a cleansheet in 14 World Cup games. It was a disappointing statistic that stretched back to 2005, but one that ended in large part because of the shifts turned in by centerbacks Cameron Carter-Vickers and Matt Miazga.
Carter-Vickers and Miazga have picked up where they left off in World Cup qualifying, looking sturdy defensively and doing a solid job of distributing the ball to teammates. Much of the praise from fans and media has gone in the direction of Carter-Vickers, but Ramos has been more than pleased by what he's seen from both his centerbacks through the first 180 minutes of the tournament.
"I think (Carter-Vickers) and Matt Miazga complement each other really well," said Ramos. "Matt has become a true leader to this team. He sort of has the defense on his shoulders. He's the guy who keeps everybody in the right place and moves the defense up and Cam reacts to that very well.
"We have a good combination of guys at the back at this point, and those two guys work very well together and they both benefit from that."
FORWARD OPTIONS EXPECTED TO FILL IN WELL FOR TALL
While there is no denying that losing Tall in the first game of the tournament was a big blow for the Americans, Ramos is confident in his remaining options up top.
Bradford Jamieson has filled in nicely at forward for the injured Tall, who left early in the second half of the 2-1 win over Myanmar, but he is not the only player Ramos thinks can do the job. Ramos also has faith that starter Rubio Rubin will continue to be a threat and that reserve Tommy Thompson will deliver if called upon.
"It's a big loss because that's one of the spots where we felt very secure about having Maki and Rubio and BJ and Tommy as our four forwards," said Ramos. "Now we lost one and we lost one that was a starter for us, so that's something we have to deal with. But I'm confident that we have other guys here who can do a great job, too."