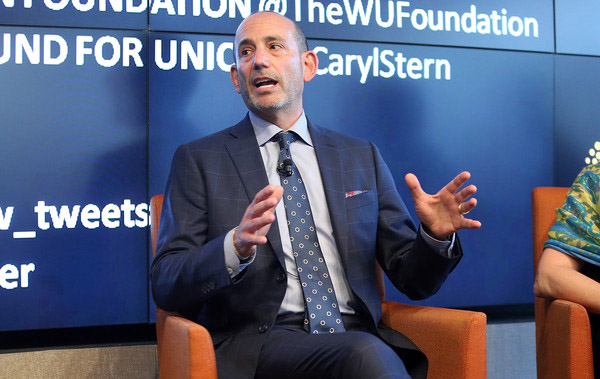 By RYAN TOLMICH
Despite handing out a suspension for an incident occurring outside of his competition, MLS commissioner Don Garber stands by the league's decision to discipline Clint Dempsey.
Dempsey was handed a three-game ban last week after tearing up a referee's book in the Sounders' U.S. Open Cup loss to the rival Portland Timbers. With the game being held outside of MLS play, Garber said the onus was not on the league to discipline Dempsey, as there were no guidelines in place requiring him to do so.
However, Garber said that the league opted to institute its own discipline to set a precedent. Expecting additional discipline from U.S. Soccer, which came Thursday afternoon in the form an at minimum two year ban from the U.S. Open Cup, Garber understood he was in a tough place, but he ultimately feels it was the right call to hand Dempsey a suspension in league play.
"Discipline is hard and you never can win," Garber said. "The league is always in a lose-lose because you have a multitude of constituencies. All we can do is interpret the rule, and the rule very specifically said that the assault required physical violence, and we did not determine what Clint had done as physically violent. It was really bad. He shouldn't have done it, and he apologized, and the club apologized.
"He was suspended three MLS games for a performance in another competition, and none of you guy have picked up on that. This was not an MLS game. This was a U.S. Open match, and now he's been sitting down for three matches and, by the way, they've lose two of them, and now he'll sit out for the rivalry match this weekend."
The match, which saw the Sounders eliminated by the rival Timbers, fell out of the control of referee Daniel Radford, who had never refereed an MLS match.
While the choice of referee may have been odd, Garber was quick to leap to the defense of PRO and General Manager Peter Walton. The MLS commissioner likened the blooding of new referees to that of an intern. At the end of the day, each official needs the experience that come with live games, and Garber says that, while the Sounders-Timbers clash may not have been ideal, he understands the decision.
"I understand it was a rivalry match. I understand it was a small venue," Garber said. "My guess is that if he was to make that decision again, he might rethink it, but at that time, that was the right thing for that official. Things got out of hand, but things get out of hand in Champions League finals, too. It is what it is.
"It's a long term project, the PRO program. Sometimes you have to take a little pain so that that referee might turn out to be the referee of the year five years from now."
For Garber, the Dempsey decision is very much one for the future, much like the growth of referees across the U.S.
Garber says it's all about setting a precedent, one that clearly states that incidents like Dempsey's will be punished within the rule book and a clear and consistent fashion, making it a level playing field for all involved.
"We live with how that decision affects the precedent," Garber said. "We can't get caught up in emotion. We can't get caught up in internet chatter. We make a decision based on rules and how that decision will fit into long-term precedent because trust me when I say that, when you make a decision, we have coaches and others and the union bringing up something from five years prior and asking us how it's consistent with that decision."