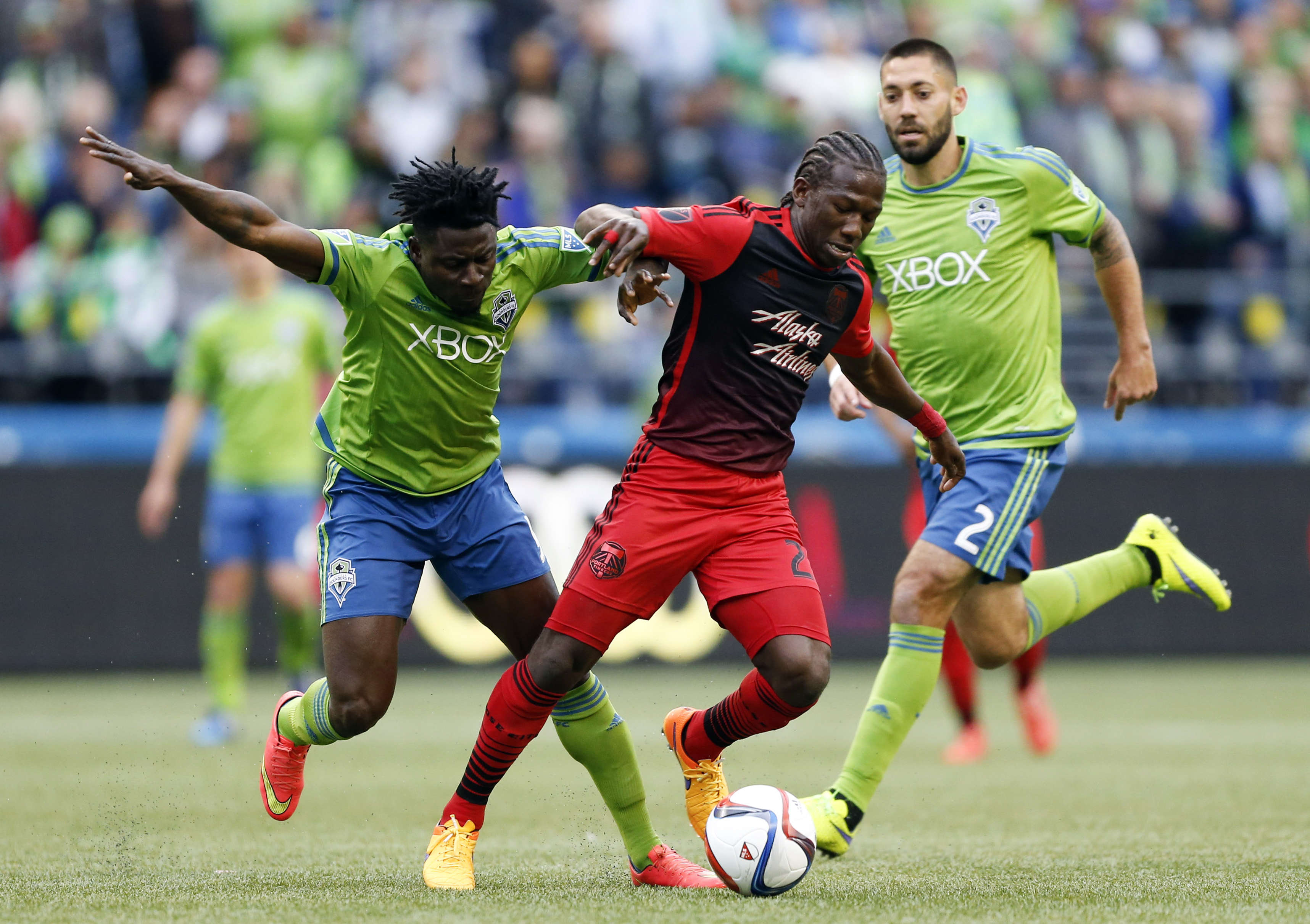 By COLE KELLOGG
On Tuesday, the fourth round of the American domestic cup competition will get underway, with the country's top league entering the action.
This round of U.S. Open Cup action gives fans one all-MLS matchup, another edition in the fiery Portland-Seattle rivalry. Other matches to keep an eye on include New York City FC against the New York Cosmos, Orlando City SC versus the Charleston Battery and the Rochester Rhinos against the Philadelphia Union.
On Wednesday night, the lowest-ranked team remaining in the competition, PSA Elite of USASA, will take on reigning MLS champions the LA Galaxy.
Tuesday and Wednesday features 12 games between MLS and USL sides. This comes after the third tier on the pyramid of American soccer overcame their NASL opponents in the third round of the Cup.
Here is a closer look at all of the Fourth Round matchups:
TONIGHT
Rochester Rhinos (USL)  vs. Philadelphia Union (MLS), 7:30pm
Last year's Open Cup runner-ups in Philadelphia will host the first place USL team in the Rochester Rhinos on Tuesday.
Jim Curtin's side has been struggling this season, but a recent infusion of energy has led to three wins in the Union's last five games. In that run, C.J. Sapong has been a vital component of the Union attack.
The MLS side face a tough opponent in the Rhinos, though, as the team is undefeated this season and has only conceded four times in 12 league games. Rochester players will be reunited with Union goalkeeper John McCarthy, who tended the net for the USL side last season.
Atlanta Silverbacks (NASL) vs. New York Red Bulls (MLS), 7:30 p.m.
The Red Bulls will be looking to put some fire back in its season on Tuesday night in the U.S. Open Cup, after losing three MLS matches in a row. The Silverbacks are also out to make a point after finishing last in NASL this Spring, only amassing eight points in 10 games.
The Red Bulls will be home for the first time since the start of its losing streak. Sacha Kljestan, Bradley Wright-Phillips, and the rest of the crew can use this as an opportunity to get back onto an upwards trajectory.
The Silverbacks look highly unlikely to put up a strong fight here. The team only scored eight goals in NASL this spring. Shaka Bangura was the team's top contributor with two goals and one assist.
Saint Louis FC (USL) vs. Sporting Kansas City (MLS), 8:30 p.m.
Sporting Kansas City is in fantastic league form, having won four matches in a seven game unbeaten run stretching back to April. Saint Louis sits in eighth place in the Eastern Conference of USL, after earning 14 points from 11 games this season.
Sporting KC has had star performers all over the pitch this season, from Dom Dwyer and Krisztian Nemeth up front to Benny Feilhaber in the midfield. However, the story of this match could be the return of outside back Chance Myers, who ruptured his Achilles tendon last year.
Saint Louis FC will see a change in results this do-or-die match, after having tied four straight matches. The side will be looking for firepower from Bryan Gaul and Jermie Lynch, who each have three goals this season.
Louisville City FC (USL) vs. Chicago Fire (MLS), 8:30 p.m.
A Chicago Fire side that is riding poor form will face a tough task against an over-achieving Louisville City team.
The Fire have now lost three in a row, showcasing the team's weak resolve and consistently streaky form. The Fire have won the Cup multiple times in the past, though, and could put out a strong side to progress in the tournament.
Louisville City will be looking to Matt Fondy to propel itself into the fifth round of the Cup against this MLS side. The forwards has found the back of the net six times and assisted two other goals in an impressive season with the USL expansion side.
Oklahoma City Energy FC (USL) vs. FC Dallas (MLS), 9:00 p.m.
Energy FC is leading the Western Conference with 24 points in 12 games this USL season, while FC Dallas will try to win for the first time in six matches.
FC Dallas will look for young talent to put them through to the next round of the Cup, as the team from Texas plays on Friday night against Colorado in MLS action.
Oklahoma City will look to an extend an impressive five-game win streak against FC Dallas on Tuesday. Danni Konig and Kyle Greig have been standout performers for the Energy in recent games, and it will be up to them to put up a fight against what is likely to be a second-rate MLS side.
Colorado Springs Switchbacks (USL) vs. Colorado Rapids (MLS), 9pm
Two Colorado sides will face off on Tuesday evening, with the USL side having recorded 21 points in 12 matches while the MLS team has 14 points with two extra games.
The Rapids has been known for its staunch defense efforts this season. The team has only let 12 goals in this season, second only to league-leaders the Seattle Sounders. A Friday night MLS match might effect the level of the defenders on the field for Colorado, though.
The Switchbacks have won four games straight, though, putting 11 goals in the back of the net in the process. Star performers Miguel Gonzalez and Luke Vercollone will be looking to put on stellar performances against a beatable Rapids side on Tuesday.
Seattle Sounders 2 (USL) vs. Real Salt Lake (MLS), 10pm
The only remaining MLS II side in the Cup will face off against Real Salt Lake in the fourth round of the tournament this week.
The Sounders 2 sit second in the Eastern Conference, only one point behind Oklahoma City in the standings. The team has three wins in its last five games. Top performers for S2 are Pablo Rossi, Darwin Jones, and Andy Craven.
Real will field a weakened side in this midweek match, having lost Jamison Olave and Chris Schuler to injuries. Salt Lake sits in ninth in the Western Conference, and has lost three of its last four games.
Sacramento Republic (USL) vs. San Jose Earthquakes (MLS), 10:30 pm
San Jose will play their affiliate team again in the 2015 edition of the Cup, after recording a 2-1 victory last season.
The Earthquakes will likely field a team strengthened by Mark Sherrod, who is unavailable for the next MLS match through suspension.
Sacramento has only managed one win in its last four matches, but has a stronger 7-6-1 overall record this season. The team has been led by Rodrigo Lopez, who has seven goals and three assists with Republic this season.
Portland Timbers (MLS) vs. Seattle Sounders (MLS), 10:30 pm
The matchup of the round has to be the Cascadia rivalry in Portland versus Seattle.
The Sounders won the competition for the fourth time last season. The Timbers pushed Seattle far in the Cup in 2014, though, taking a quarterfinal match into overtime before an eventual 3-1 Seattle win.
In MLS play this season, Seattle has been strong consistently and leads the league in points. Portland faced a tough start, but has now recorded three wins in a row and are looking to turn the season around.
WEDNESDAY
Columbus  Crew (MLS) vs. Richmond Kickers (USL), 7pm
The Richmond Kickers sit second in the Eastern Conference of USL after earning 24 points from 14 games this season. Columbus has failed to win in MLS since May 16, although the team has strung together some impressive, attractive displays in the time since then.
The high-scoring Kickers have four main contributors this season in George Davis IV, Brian Ownby, Jason Yesley, and Matthew Delicate. All have at least four goals in USl competition.
The Crew enjoy a week off from MLS action, and have no excuse but to field a strong side that is capable of eliminating the Kickers from the 2015 U.S. Open Cup.
D.C. United (MLS) vs. Pittsburgh Riverhounds (USL), 7pm
D.C. United should be looking to rest some stars on Wednesday, after a hot night in Orlando led to a tough 1-0 loss in MLS. Pittsburgh sits in the sixth position in the Eastern Conference, with a flat record of 4-4-4 in USL.
The Riverhounds are winless in two league matches, and will be hoping to show well against a D.C. United side without key members. Rob Vincent is the man for Pittsburgh, with nine goals in USL this year.
D.C. remains the top team in the Eastern Conference in MLS, but are coming off of some tough losses to Toronto and Orlando. United will certainly have eyes set on the weekend matchup against the other Eastern powerhouse in the Revolution on Saturday.
New York City FC (MLS) vs. New York Cosmos (NASL), 7:30 pm
New York City FC is finally starting to gel, but its possible that Jason Kreis won't be putting a strong side out to face the Cosmos in the Cup this week.
NYCFC has recored two wins in a row now, but face a tough task against Toronto FC in MLS this weekend. It is likely that Kreis will be focussed on getting a result in that match, and will field some younger and less-experienced players against the NASL Spring Champions in the Cosmos.
New York's NASL side has an incredible season this year, with strong performers and a great team spirit helping it to the NASL title. Look out for contributions from Leo Fernandes, Walter Restrepo, and of course Spanish all-star Raul.
Orlando City SC (MLS) vs. Charleston Battery (USL), 7:30 p.m.
After splitting a 1-1 draw in preseason action in the Carolina Challenge Cup, Orlando will travel to Charleston to take on its former USL rivals.
City have performed strongly as of late, going undefeated in five matches. Charleston hasn't lost in five games also, and have key contributors in Dane Kelly and Maikel Chang.
Charlotte Independence (USL) vs. New England Revolution, 7:30 p.m.
A hot New England Revolution side will host the Charlotte Independence on Wednesday.
The Independence are in ninth place in the USL Eastern Conference, and has only won once in its last four games. Strong performances from stat leaders Ryan Finley and Jorge Herrera will be the only chance for Charlotte against New England.
The Revs are undefeated in four matches and has been one of the best in the Eastern Conference this season. Jay Heaps may be looking to rest some stars for an important weekend matchup against D.C. United, but the squad if full of quality in the attack and has what it takes to win this match regardless.
Austin Aztex (USL) vs. Houston Dynamo (MLS), 9:00 p.m.
A Houston side right on the cuff of a playoff position in MLS will face off against an Austin team in similar position on Wednesday in Open Cup action.
This Texas derby will feature a Dynamo side with three wins in its last five against an Aztex team that has lost four games in its last five times out. The Aztec will turn to Kris Tyrpak to lead the line, as the forward has six goals for the team this season.
PSA Elite (USASA) vs. LA Galaxy (MLS), 10:30 p.m.
The reigning MLS champions will face off against a strong-willed PSA Elite side on Wednesday night. PSA is the lowest-ranked team remaining in the Cup, after taking down LA Galaxy II in the last round of the tournament.
————–
What do you think of the matchups in this round of the Open Cup? Who are your favorites at this point in the competition? What upsets do you predict, if any?
Share your thoughts below.