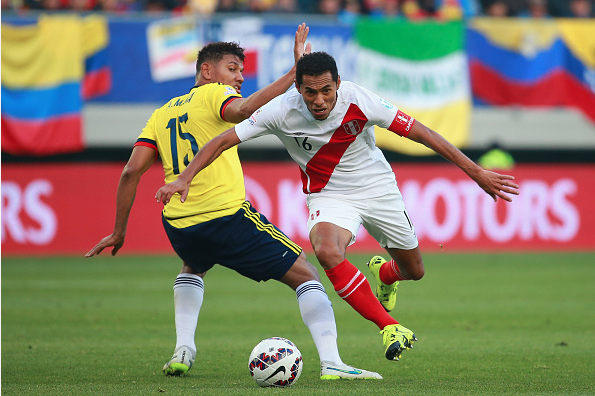 By AARON CRANFORD
Bolivia and Peru weren't supposed to be in this position — one game away from a semi-final match with host Chile in the 2015 Copa America. Yet, here they are.
Entering Thursday's match, Peru has the slight edge over its counterpart, but both sides have struggled to score in the scrappy tournament, and each will be fighting to continue its respective Cinderella campaign.
A 1-0 win against a 10-man Venezuela side and a sturdy performance in a 0-0 draw vs. Colombia are the highlights for Peru in group competition, while Bolivia boasts its tough 3-2 win against Ecuador, as Chile dismantled its backline in group play and Mexico prevented Bolivia from creating anything fruitful for most of the match going forward.
Bolivia is the underdog of the tournament's knock-out stage, but Peru would be wise to not treat it as such. Bolivia has shown its abilities in attack, finishing most of its chances from set pieces and crosses with powerful headers.
On the other side, Peru hasn't found the back of the net but only twice this tournament, yet it'll be happy to see Bolivia across from itself because the Group A side has allowed the most goals in Copa America, seven.
Striker Claudio Pizarro and Paolo Guerrero could have a field day for Peru, while Christian Cueva will be looking to feed his partners from the wing. Aside from the attack, though, two home-stays in the midfield must sit out due to yellow-card accumulation, as Josepmir Ballon and Carlos Lobaton will miss the quarterfinal.
Meanwhile, Bolivia is at full strength. However, Marcelo Martins will need help creating chances up top, possibly coming from the crafty Martin Smedberg-Dalence, if La Verde wants any chance of the ball bouncing in its favor.
While Martins has only netted a penalty for Bolivia in the tournament, the 28-year-old forward offers a wealth of experience to help urge his side on if opportunities present themselves.
The winner of the second quarterfinal matchup will meet Chile in the semifinals Monday.