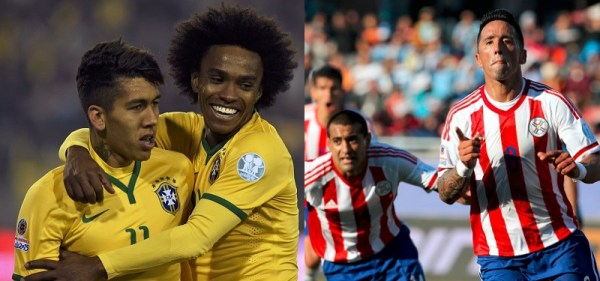 By AARON CRANFORD
Four years ago, Paraguay stunned Brazil in the 2011 Copa America quarterfinals en route to a strong run to the final.
On Saturday, the latter gets its rematch in the same stage.
Despite the absence of its star man Neymar, Brazil is looking to progress to the semifinals of the 2015 Copa America. However, a familiar foe in Paraguay will be standing across the field from it Saturday evening, and a repeat win, whether it be from penalty kicks like in 2011 or from the run of play, is surely in the minds of all the Paraguayans.
The underdogs of the 2011 tournament are the underdogs in this 2015 match, but they haven't lost a game thus far, drawing both Uruguay and Argentina and defeating Jamaica in group play.
Brazil, meanwhile, has had a rocky start to the competition, beating Peru, losing to Colombia, seeing Neymar banned, and then winning its final group stage match vs. Venezuela.
Both sides have yet to win against a tough opponent, but that can all change on Saturday evening.
In Paraguay's last two contests, Derlis Gonzalez breathed life into the attack from the right and could do the same against Brazil. And while Roque Santa Cruz normally leads the charge up front for Paraguay, Lucas Barrios is someone who has also heavily contributed when his name has been called upon by head coach Ramon Diaz, scoring two goals so far in the tournament.
However, Paraguay's hopes of winning will surely rest on how well its backline and goalkeeper Antony Silva perform. Led by Paulo da Silva, Paraguay will have to control a hungry Roberto Firmino, who has looked, at times, impressive and reliable as a forward for Brazil.
Pressure is on South America's largest country to perform, and without the help of its star, midfielders like Willian and Fernandinho will have to create the opportunities in attack.
Brazil is expected to win, but that was the case four years ago as well. And Paraguay is hoping history repeats itself with the same result this time around in Concepcion, Chile.
The winner meets Argentina in the semifinals on Tuesday.