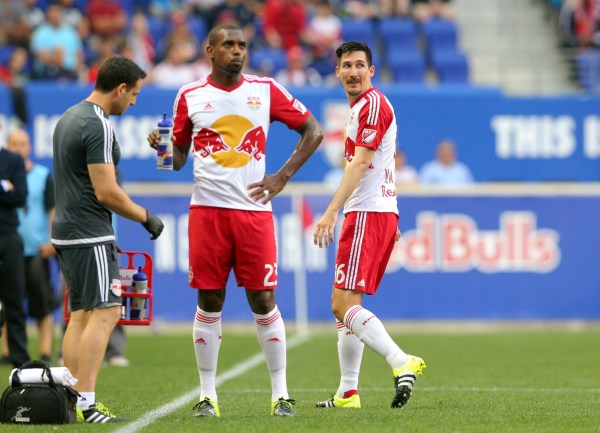 By MATT STYPULKOSKI
HARRISON, N.J. – After taking a red card in the 11th minute of the New York Red Bulls match against the Vancouver Whitecaps on Saturday, Sacha Kljestan was willing to own up to his error. What he wasn't able to do was hold back his frustration with what he sees as too much chippy play in MLS.
"My biggest criticism of the MLS is the amount of grabbing and hugging and holding and fouling that goes on in the box and the referees do not protect the attacking players," Kljestan said after the Red Bulls' 2-1 loss to Vancouver. "It annoys me so much and in this moment, I got so annoyed and I threw my elbow up to get free of Waston bear-hugging me. It was a stupid play."
When asked if he was pleased to see the Red Bulls earn a penalty on a similar situation in the second half – a foul was called when Anatole Abang had his jersey pulled on a cross in the 65th minute – Kljestan's frustrations cropped up once again.
"I appreciate that we got a penalty for a chance in the box where we can't make a play because we're being held," Klejstan said. "But it happens on every corner kick in every game. I've never seen it happen so much and have it not be called. I mean, I played in Europe for a long time and this (crap) just doesn't happen. And here it's just like people can get away with murder and nothing happens. Having said that, what I still did was wrong and that was stupid of me."
Without Kljestan, the Red Bulls went on to suffer their fourth straight loss, though a pair of missed Bradley Wright-Phillips penalty kicks were as much to blame as Kljestan's red card.
Kljestan doesn't quite see it that we. He firmly believes the Red Bulls would have won if he had stayed on the field.
"I take responsibility, Kljestan said. "Waston was hugging me in the box, he was holding me and I threw an elbow towards him to get rid of him. I didn't connect on the elbow. I don't know if the ref gave me the red card for the elbow or for Waston kind of standing over me and I tried to push him back, I lifted my leg up and he acted like I stepped on him.
"I've got to take responsibility for what I did. Although I didn't connect with him, I made a stupid play and an idiotic decision in the heat of the moment and I have to take responsibility for losing this game for us because if I stay on the field I think we win the game."