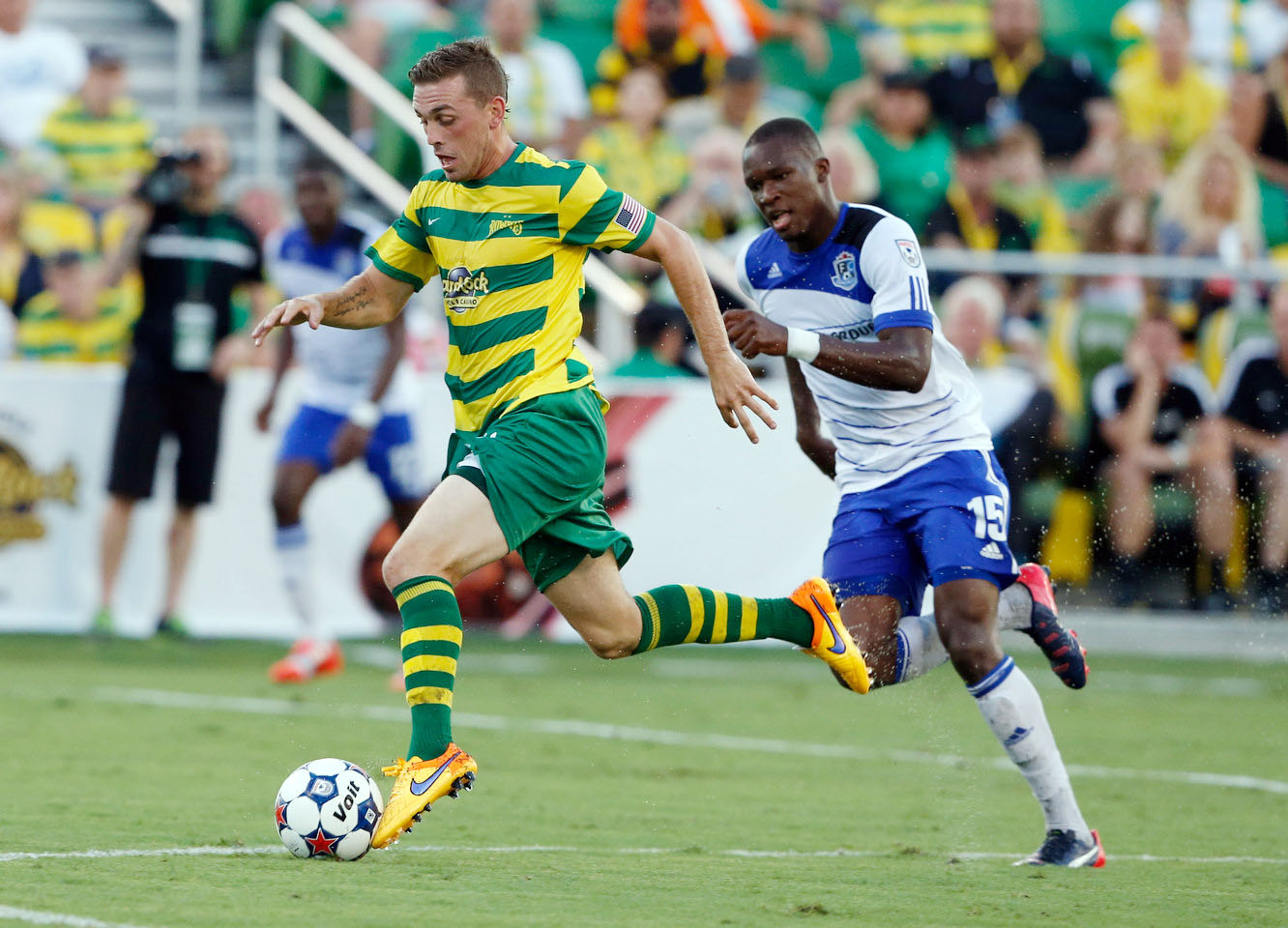 By ADAM TROXTELL
While the New York Cosmos continue to sit atop the NASL Spring Season standings, the Tampa Bay Rowdies are at least making them work for it.
A 2-1 win against FC Edmonton kept the Rowdies within contention for the Spring Season title on Saturday. Darwin Espinal and Brian Shriver recorded the goals to keep the Rowdies three points behind the Cosmos.
A strong night for the Rowdies attack culminated in the opening goal when Espinal dispatched the rebound from Corey Hertzog's strike in the 37th minute. Both teams registered many shots on goal, with the Eddies' John Smits and the Rowdies' Matt Pickens combining for nine saves on the night.
Victory was assured in the 60th minute, when Shriver scored his first goal of the season. It once again came from a rebound, as Smits punched away Hertzog's effort only for Shriver to send in the volley for a 2-0 lead.
Five minutes later, Lance Laing pulled one pack for Edmonton with a curling shot past Pickens. The Rowdies held on for their sixth straight league game without defeat.
Here is a closer look at this weekend's action:
INDY ELEVEN SNAPS WINLESS STREAK AGAINST STRIKERS
For the first time in six games, Indy Eleven sits on the victorious side of a match.
A brace from Victor Pineda handed Indy Eleven a 2-1 win on the road against the Fort Lauderdale Strikers. The immediate effects of a coaching switch seem to be successful, as Indy Eleven climbed to sixth place.
Stefan Pinho opened the scoring for the Strikers in the 23rd minute. Pineda struck right before halftime for the equalizer before applying the winner in stoppage time.
NOVO STRIKE SEALS DRAW FOR RAILHAWKS
The Carolina RailHawks are unbeaten in four league games thanks to Nacho Novo's effort in a 1-1 draw against Minnesota United.
Novo headed in a cross from Tiyi Shipalane for the equalizer in the 79th minute. The Loons had taken the lead right after halftime when Jimmy Baks' deflected shot found the back of the net.
The night wasn't all spectacular for Novo, who was sent off with four minutes remaining for a hard foul on Minnesota defender Juliano Vicentini.
SCORPIONS TOP SILVERBACKS THANKS TO CUMMINGS WINNER
Omar Cummings' contribution was brief and quick, but it was enough to seal the deal.
The San Antonio Scorpions rode his 26th minute effort to a 1-0 win against the Atlanta Siverbacks. Cummings and Lance Laing are joint NASL scoring leaders with five goals each.
Billy Forbes played the ball across goal to set-up Cummings for the simple finish. The striker ensured former boss and now Silverbacks coach Gary Smith suffered a third defeat in five outings.