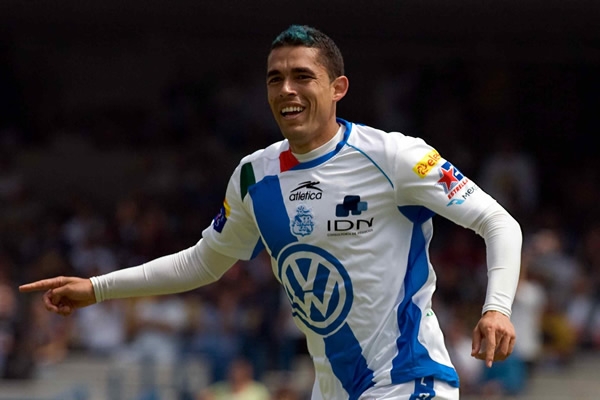 By RYAN TOLMICH
If New York Cosmos head coach Giovanni Savarese has his way, Herculez Gomez would be one of several summer signings to bolster his team's lineup.
After reports of interest surfaced last week, Savarese confirmed that the Cosmos are interested in acquiring Gomez, who most recently featured for Liga MX's Puebla while on loan from Tijuana.
"Definitely is something that there's something into it," Savarese said on a conference call. "He's a player that I think will be interested. I think any team would be interested because he has good quality. He's a player that doesn't count as a foreigner. He's a player that has played with the national team. He has experience playing in Mexico, so I'm sure that any team in the U.S. would be interested in a player with his qualities.
"On that point, it is something that could be in consideration. We are one of the clubs interested in the possibility."
Overall, Savarese is hoping to bring in a few additions this summer. Mainly focusing on the attack and center of the field, Savarese hopes to make some moves in the coming weeks as the team prepares for the start of the Fall Season in July.
"I think we're looking to see if we can bring two more players, maybe three," Savarese said. "We're still looking. We're conversing with some interesting players that have some interest to come in.
"We have a nice list and have to make some decisions to see if the talks with these players could work, but they all have different variations or situations that might change the possibility, but we are actively talking to some people to potentially add from one to three players during this window."
Here are some more of Tuesday's NASL news and notes:
ROWDIES PARTNER WITH SAO PAULO FC
After a much-improved Spring Season, the Tampa Bay Rowdies have kicked off their break by partnering with one of Brazil's more famous clubs.
The Rowdies announced Tuesday that the team has forged a partnership with Brazilian club Sao Paulo FC. The partnership is expected to produce friendlies between the two clubs, training opportunities and the loaning of Sao Paulo players to the NASL club.
"Welcome to the modern era of the Tampa Bay Rowdies," said Rowdies principal owner Bill Edwards.  "We have a new coach, new players and a practically new stadium where we are undefeated.  The Rowdies and the entire NASL are breaking attendance records and we are growing stronger every day.
"The only way to continue this growth is by associating with the best soccer clubs in the world, and this partnership with São Paulo FC is a clear example of that."
The partnership is a recreation of one originally held in the days of the original NASL in 1981, which allowed players like former Rowdies player and current executive Perry Van Der Back to train with the Brazilian club.
"I share Bill Edwards' ambition to turn the Rowdies into a global brand," said Francisco Marcos, the Rowdies consultant for international development that helped put together the deal. "The Rowdies, as a soccer team, will grow as a result of the various technical elements that this agreement will bring to the playing field.
"This agreement will go a long way in helping the St Petersburg/Clearwater market increase its exposure in Brazil."
FLORIDA GOVERNOR VETOES MONEY FOR ARMADA PRACTICE FACILITY
A proposed practice facility with close ties to the Jacksonville Armada will be in need of new funding.
Florida governor Rick Scott vetoed $5 million in state funding that was tied to a project to build a soccer training facility in Jacksonville. The facility, which had ties to the Armada, was part of $461.4 million in vetoes announced by Scott on Tuesday.
Armada owner Mark Frisch had been working to acquire funding for the facility, which would use private money to build seven fields, parking, seating, concessions and other amenities. The NASL club would have used two of the facility's fields, while the other five would be used for youth tournaments, training grounds and a future Armada reserve team.