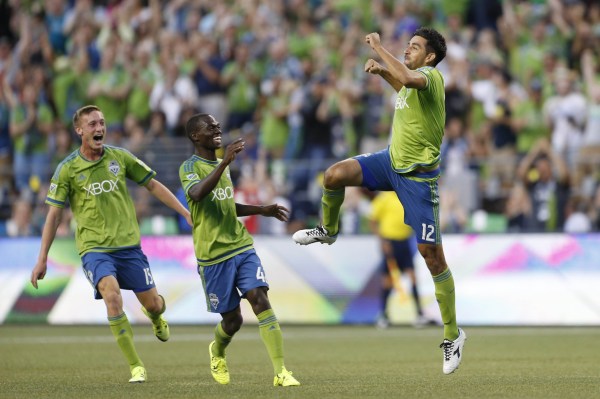 Photo by Jennifer Buchanan/USA TODAY Sports
By RYAN TOLMICH
If Saturday's performance is anything to go by, the Seattle Sounders continue to be the class of the Western Conference.
Led by goals from Lamar Neagle, Obafemi Martins and Leo Gonzalez, the Sounders thrashed a fellow contender in FC Dallas, 3-0, while earning recognition as SBI MLS Team of the Week.
After standing tall through a difficult first half, the Sounders finally got their breakthrough early in the second through Neagle, who rocketed home a 25-yard shot to kickstart the onslaught. A goal from the mask-wearing Obafemi Martins followed 18 minutes later, before the substitute Gonzalez added quite the exclamation point by finding the back of the net for the first time since 2010.
The victory further asserts the Sounders' dominance atop the West, while also earning the team SBI MLS Team of the Week honors over New York City FC and the New England Revolution.
What did you think of the Sounders' performance? Which team stood out to you this past weekend?
Share your thoughts below.