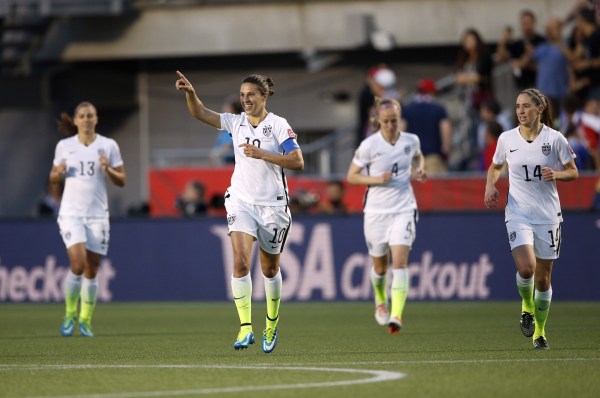 Photo by Michael Chow/USA Today Sports
By RYAN TOLMICH
For the first time in the 2015 Women's World Cup, the U.S. Women's National Team is set to enter a match as the underdogs.
After knocking off China in the tournament's quarterfinals, the USWNT will face its toughest test yet on Tuesday night in a match-up with Germany that pits the world's top two teams against one another .
Ranked as the world's second best team, the USWNT heads into Olympic Stadium in Montreal not favored to beat Germany. However, the Americans believe that their tournament run has demonstrated that they have what it takes to win any game so long as they play to the best of their abilities.
"This is the No. 1-ranked team in Germany versus the No. 2-ranked team in the United States," said goalkeeper Hope Solo. "It's not what Germany can bring, because they're going to bring it. They're great in all aspects of the game. They're organized in defense and hard to break down, and they know how to attack and possess the ball.
"I can talk all day about the strengths that they bring, but ultimately it's about how we play. We learned that in the last game against China. If we play our game, it doesn't matter who we play. We will come out on top. Right now, our team is in a great place in believing in ourselves and we know it's about us, not about any other opponent."
For the Americans to stand a chance against Germany, they will have to once again rely on a defensive unit that has proven to be among the best in the tournament.
Led by the centerback duo of Julie Johnston and Becky Sauerbrunn, the U.S. has allowed just one goal all tournament and none since the opening game. However, that backline will now be facing a much different animal than the Chinas and Colombias of the past, as Germany provides a threat unseen by the U.S. to this point.
Germany has impressively scored 20 goals through five games at the World Cup, with 10 of those coming in the group stage clash against the Ivory Coast. As could be expected, the Germans enter the contest boasting the tournament's two highest scorers, as Celia Sasic and Anja Mittag have scored six and five goals, respectively.
The showdown with Germany will provide yet another oppotunity for the U.S. to show off the team's defensive prowess.
"I've said it all along that you have a young player like Julie Johnston who was ready for the big stage," Solo said. "She was ready for this type of tournament. She's come a long way in the last year, and you put her along someone calm like Becky Sauerbrunn and it creates the perfect mix.
"Obviously, our wingers are incredible, but it's not good enough yet, and that's the exciting part. We still have two more games, and it doesn't matter what we've done to this point. What matters is what we do against German and hopefully onto the final.
Added Johnston: "There's more tournament left. It's definitely the motivation that we wanted, but we have to remain focused. We're playing Germany, a very, very good team. They're not just ranked No. 1 just because. They're a very good team and we respect them highly. Now, it comes down to us and we have to perform."
The key to performing for the U.S. will be its attack, a unit that has sputtered throughout the tournament. Now facing off with German goalkeeper Nadine Angerer, arguably the world's best in net, the USWNT's forward line will likely have to reach a new level to best an organized and disciplined German side.
Missing two key pieces in Lauren Holliday and Megan Rapinoe last time out, the USWNT put forth perhaps the team's most fluid performance against China, cruising to a 1-0 lead while creating a variety of scoring chances.
While Rapinoe and Holliday will likely slot right back into their spots out wide and in the midfield, questions remain about who should start up top for the American
Genrally utilizing Abby Wambach up top, Ellis could opt to go with Amy Rodriguez again after the forward proved dangerous against China's backline. Another option Ellis could go with is to start Christen Press next to Alex Morgan, whose spot is all but assured given her recent return to form.
Regardless, the U.S. faces a challenge yet to be seen when it comes into Tuesday's match. It will not be easy, but the Americans are counting on their mentality, experience, quality, and confidence to get the job done.
"I think it's just ultra-focus, excitement and enjoying it too at the same time," said Holliday. "That's where we're at right now. We're in the semifinals of the World Cup. We can celebrate that, but also it's not good enough. "