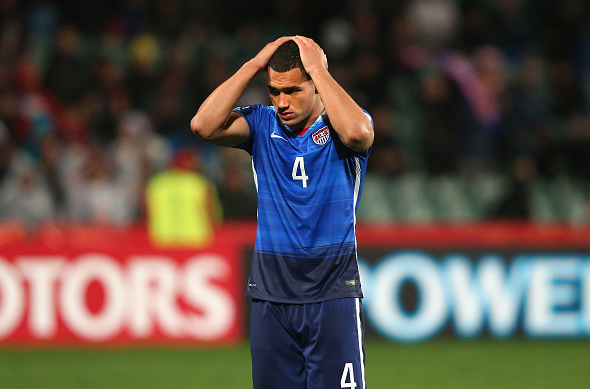 By FRANCO PANIZO
Frustration, disappointment, and sadness were among the emotions the U.S. Under-20 Men's National Team felt on Sunday. The U.S.'s World Cup dream had come to an end, and in heartbreaking fashion.
The Americans were knocked out of the World Cup after losing to Serbia in a dramatic penalty shootout in the quarterfinals. It took nine rounds of shots for a winner to be determined, but the Serbs were the ones to keep their composure better and convert more of their attempts en route to staying alive in the competition.
The shorthanded U.S. had chances to win the match at North Harbour Stadium in Auckland before it went to penalty kicks, but could not muster up the necessary quality in the final third. Tab Ramos' side did do a good job of defending, which is why the game ended scoreless despite the fact that Serbia looked like the better team for prolonged periods.
Ultimately, it was not to be for the Americans. Goalkeeper Zack Steffen did his best to prevent the U.S. from falling in the penalty shootout, but the U.S. was unable to get the job done.
Here is what SBI is mulling over following the U.S.'s penalty-kick defeat to Serbia:
NO ONE INDIVIDUAL TO BLAME FOR PENALTY WOES
The U.S. may have failed to convert four of its nine penalties, including the final two. Still, there was really no one at fault for losing the shootout, 6-5.
Yes, John Requejo's weak effort opened the door for Serbia's winning strike, but the wild shootout was in its ninth round. Not only are most players extremely fatigued and nervous at that point, but the ones taking penalty kicks that late usually aren't all that good at taking them.
Some may still want to point the finger at Rubio Rubin and Joel Sonora – who took the first and sixth shots, respectively – but there were chances to win the shootout after Rubin's poor attempt and Sonora's shot was cruelly denied by the woodwork.
U.S. goalkeeper Zack Steffen may have allowed a savable shot to slip under his right paw, but it would be misguided to try and lay blame on him after he again showed just how clutch he can be on penalty kicks.
Like in the game, the U.S. as a whole just was not better than Serbia during the penalty kicks. It was a collective letdown in the shootout, and the Americans going home as a result.
ANOTHER BLOWN CHANCE FOR U.S. SOCCER
While penalty kicks can be a crap shoot, things had set up perfectly for the U.S. to make a potential run to the World Cup final. With Mali stunningly eliminating Germany on penalty kicks in their quarterfinals encounter, a winnable match was there to be played in the next round.
The Americans failed to get that far, however, in what is the latest example of a blown opportunity for U.S. Soccer.
There's no denying that the U.S. is still growing as a soccer nation and in the process of garnering respect from around the world. But just reaching the tournament final, even at a youth level like this, would have given U.S. Soccer and these young American players a big dose of credibility. What such a run could have done for the program and these young players' careers would have been huge, but unfortunately for the U.S. it was not be.
There might not be much shame in that given the level of the competition that is present this deep in a tournament, but the U.S. has consistently found ways to not capitalize on chances like this. The senior U.S. Men's National Team missed out on an opportunity to play Leo Messi and Argentina at last summer's World Cup, and four years prior in South Africa was unable to take advantage of a favorable path that could've led to a semifinals berth.
The U.S. needs to get over the hump at some point and make some real noise in order to really boost its standing in world soccer. The sooner it does, the better.
LITTLE MORE ATTACKING QUALITY WAS NEEDED ON ROSTER
It was always going to be an uphill battle for the U.S. against Serbia because of the lack of offensive options on the bench, but that in and of itself reemphasized the point that the Americans are still lacking that final bit of quality that is needed to make deep runs in competitions.
This group of U.S. youngsters was talented, but the losses of forward Maki Tall and Bradford Jamieson to injury coupled with the suspension of midfielder Jordan Allen for this quarterfinals bout handcuffed head coach Tab Ramos. Joel Sonora was the only attacking player available to come off the bench against Serbia, with the rest of the reserves being either defenders or goalkeepers.
As unfortunate as that may have been, Ramos deserves part of the blame for that. The roster he called in always seemed to have one defensive option too many, especially after he oddly replaced injured midfielder Russell Canouse with centerback Conor Donovan.
That's not to say that Donovan is a bad player, but the move did not seem to make much sense then and definitely does not now. Not when there were other options available like Philadelphia Union's Zach Pfeffer, Cristian Roldan of the Seattle Sounders, and Columbus Crew midfielder Romain Gall, who, ironically enough, is one of the U.S.'s better penalty-kick takers.
Hindsight is 20/20, of course, but having one of them could have helped the U.S. conjure the final bit of quality that was needed to knock off a beatable Serbian team. It could have also potentially minimized the impact that Emerson Hyndman and Gedion Zelalem's subpar performances had on the game for the Americans.
Simply put, the U.S. did not have enough horses in the stable.
PLENTY OF POSITIVES TO DRAW FROM
The way the tournament ended may have made for another case of, 'Oh, what could have been.'
Make no mistake about it, though. This U.S. team gave plenty of reasons for optimism.
From Steffen's clutch penalty kick stops to the consistently stellar showings of centerback duo Matt Miazga and Cameron Carter-Vickers, the Americans demonstrated that the program is headed in the right direction. There is professional talent coming through the pipeline with loads of potential, including Rubin, Desevio Payne, and Paul Arriola.
Even technical midfielders Hyndman and Zelalem showed enough in this tournament to be considered quality prospects, regardless of their subdued showings in the U.S.'s final two matches.
What's next for these players is a return to their clubs, where they will need to continue to develop and find first-team minutes. Accomplishing that would surely make it tough to leave them off the upcoming Olympic qualifying roster this fall, especially after showing this month that they have what it takes it compete at a high level.