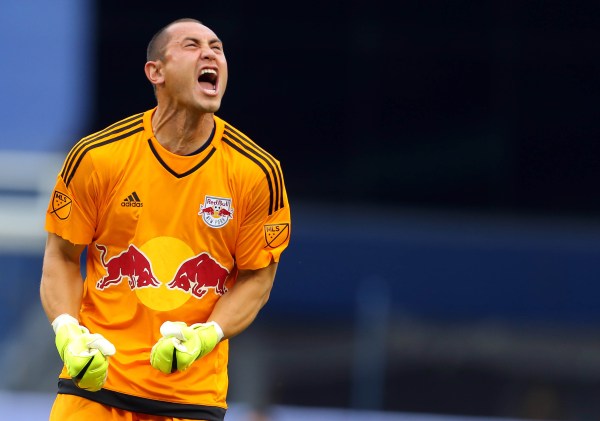 photo by Adam Hunger/USA Today Sports
By FRANCO PANIZO
NEW YORK — It may have just been another three points, but it sure looked like it meant a lot more than that to the New York Red Bulls.
On the way to the visiting locker room at Yankee Stadium in the immediate aftermath of their 3-1 win over New York City FC on Sunday, the Red Bulls were all smiles as they savored the series-clinching result. There were lots of intense hugs, high-fives, and congratulatory messages from players and team personnel, and the overall festive mood after the match – and during each goal celebration – demonstrated just how badly they wanted this one.
The Red Bulls had plenty of reason to celebrate, of course. Not only did they walk into their new rival's house and come out on top after rallying with three unanswered goals in a dominant second half. But they also picked up a second straight win and some much-needed confidence, effectively putting their recent struggles in the rearview mirror.
"It's been a tough stretch for us," said captain Dax McCarty. "We've had to dig deep and we've had to look within ourselves, look in the mirror, so to speak, and make sure that we aren't getting too down on ourselves. We know we're a good team, we know that we're going to able to compete with anyone in the league if we're playing well.
"But losing four games in a row, you start to doubt things, so this is great for our confidence. It's just one game. We're not going to get too carried away. We're going to enjoy it tonight.
"I know it felt great coming back in this locker room and being able to celebrate, especially in Yankee Stadium, getting the first win here. We're part of history now and that's awesome. That's a great feeling."
McCarty, head coach Jesse Marsch, and other members of the Red Bulls repeatedly drove home the message that this was just another match in a long season, but what made this one different and all the more gratifying was that it ensured the club won the inaugural season series vs. NYCFC with a game to spare.
NYCFC has been the team in the spotlight in recent weeks due to its winning streak in league play and reported capture of legendary Italian midfielder Andrea Pirlo. The Red Bulls, meanwhile, have been the neglected sibling, largely ignored because of their blue-collared mentality, poor results in recent weeks, and lack of rumors regarding big-name players.
Yet when it came to direct competition on the field, it was the Red Bulls who prevailed on Sunday. They fell behind early because of a Thomas McNamara strike, but responded midway through the first half with improved play. The Red Bulls then exploded offensively in the second half, as Bradley Wright-Phillips, Chris Duvall, and Matt Miazga each took turns sending the 2,000+ traveling Red Bulls fans into a frenzy.
NYCFC managed a few good-looking shots of its own, but it was the Red Bulls who were denied twice more by the right post in a masterful second-half showing that few fans and observers could have seen coming.
"The key for us, with a young group, with a new group, is really establish what we're going to be about," said Marsch. "I've worked really hard to have the kind of vision that doesn't just see things game to game, but that thinks about progression and the process of how to become a real team.
"Where we are right now is (needing to show) the killer instinct, the belief, the competitive will, and there's no better game to get tested than a game like this. It was exactly what we needed at this moment and our progression as a team. I thought we came away with passing marks."
As sweet as Sunday may have felt, the Red Bulls do not have too much time to enjoy the result. Another New York derby awaits them, as the NASL's New York Cosmos head to Red Bull Arena on Wednesday in a U.S. Open Cup game that marks a rematch of last year's first meeting.
Still, claiming the city's MLS bragging rights was a moment worth cherishing.
"Fortunately, we won two and we want to win the third one, but it feels very good," said Wright-Phillips. "I'll have a beer tonight."