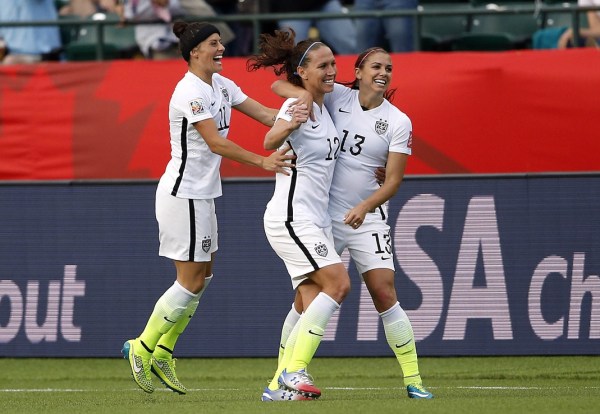 Photo by Michael Chow/USA TODAY Sports
By RYAN TOLMICH
After the dispatching of Colombia in the Women's World Cup Round of 16, the U.S. Women's National Team faces a test of depth as the tournament moves into the quarterfinal stage.
Starters Megan Rapinoe and Lauren Holliday will miss out on Friday's clash with China due to yellow card accumulation, leaving a USWNT that has already been at less than its best.
Replacing Holliday will likely be Morgan Brian, just 22-years-old and featuring in her first World Cup. For Brian, the moment is something that the USWNT is fully prepared for, as the team's less-heralded players have been ready to step in and contribute from the day that the roster was announced.
"We knew from the beginning that we were going to need every single player on his team to win a World Cup and accomplish our goal. It takes 23 players, and it doesn't matter how many minutes someone plays. Everyone can bring something different to the table. It's already showed in how many players we've played this tournament and I think it's just going to be needed even more going forward.
"That's something we have to keep in our mind: to build every single person up no matter what. It's going to take something from someone who's played five minutes to score a goal or win a game, or someone cheering on the bench or someone that's played 90 minutes. I think it's important that everyone realizes that so that we can accomplish our goal in that way."
While Brian's name is all but penciled in to start alongside Carli Lloyd in the midfield, the question of replacing Rapinoe is a bit murkier. Head coach Jill Ellis has plenty of options should the team opt to keep the team's common 4-4-2 setup, with Christen Press being the likely candidate to slot into Rapinoe's spot out wide.
However, Ellis surely has options, whether it's the experienced Heather O'Reilly or even someone like Sydney Leroux or Amy Rodriguez.
Ellis also has the option of switching up the team's shape, a move that wouldn't be too out of touch given the team's struggles in front of goal. A potential switch to a 4-3-3 could see Abby Wambach utilized as a super-sub, while the forward's place in the team isn't quite guaranteed even if the team remains in its typical setup.
"We have 23 players here and it's been great leading up to the World Cup because we have two teams of 11 that can play each other that are two of the best teams in the world," said  star forward Alex Morgan. "I feel like we have so much depth on this team that players can come in and make an impact off the bench or if players have two yellows, like in the next game, players that haven't gotten as many minutes or as many starts can come in and make a difference.
"I think that's great and I have full confidence in our bench and all 23 players. That's so important for us going forward because with the length of the tournament and so little time between games, I think the depth of our squad is going to be the difference maker."
One spot that is all but guaranteed to remain in the lineup is Morgan's, whose fitness has slowly returned as the tournament has dragged on.
Hampered by injury to kick off the World Cup, Morgan went 90 minutes against Colombia, putting in her best shift in months. For Morgan, that performance was a major confidence boost as the forward now believes that she is fully able to contribute to the best of her ability throughout the remainder of the knockout rounds.
"Obviously I would have liked to come into the tournament 90 minutes game-fit but that just wasn't the case, so for me I think that the coaches put a good plan in place for me to build minutes. I think it's great for me to get my first 90 minute game and feel good about it. It was at a perfect stage in the knockout round, knowing that moving forward I am hitting stride.
"I feel very good about where I am right now and I feel like my teammates are very confident in me as well because they see me at my best."
Like Morgan, the USWNT has yet to be at its best in this World Cup, especially up top.
Although the team has never quite looked vulnerable in defense, the attack has sputtered off and on, leaving plenty of concerns on where exactly the goals will be coming from against more elite competition.
While the U.S. is favored against China, Brian believes that the team will continue to improve as the team looks to peak at the right time en route to a World Cup crown.
"I think it's so important for us to keep getting better," Brian said. "That's one thing we've taken from the group games, and that's that every team has been a really tough game for us. I think that's good for us going into the knockout round. Going into the last game against Colombia, we sensed a different urgency in the game and realized it's win or go home.
"For us, it's a different feel than a group game, but you take the same mentality every time you step on the field."