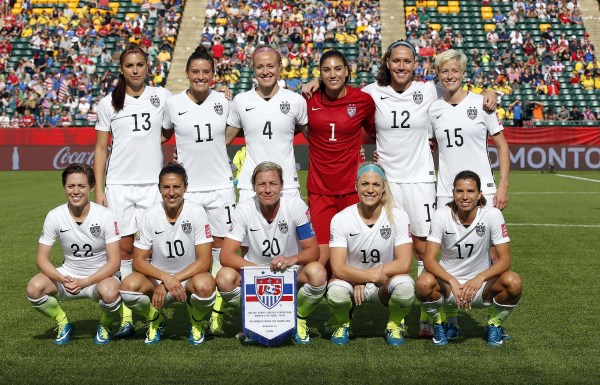 Photo by Erich Schlegel/ USA Today Sports
By RYAN TOLMICH
U.S. Women's National Team head coach Jill Ellis has some decisions to make ahead of Friday's Women's World Cup quarterfinal match.
Following Monday's victory over Colombia, the USWNT can book a spot in the semifinal with a win over China on Friday night. Entering as favorites, the U.S. boasts plenty of firepower and a stout defensive record, but Ellis faces quite a few issues when it comes to formulating her lineup.
Both Megan Rapinoe and Lauren Holiday will miss out on Friday's match due to yellow card accumulation, opening two major holes in the U.S. lineup. With plenty of options on the bench, Ellis has a variety of ways she could replace her missing midfielders.
Who will Ellis turn to for the clash with China? Here is the lineup we could see on Friday: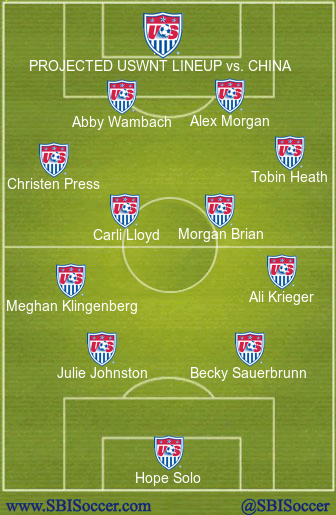 Heading into the matchup against China, Ellis is guaranteed to have to make at least two changes to her Starting XI.
Gone are Rapinoe and Holiday with both set to sit out due to yellow card accumulation after being booked in the Round of 16 victory over Colombia.
For Holiday, the replacement is pretty straight-forward. Ellis is almost certain to use Morgan Brian in her place after the 22-year-old slotted in seamlessly during the second half of the Colombia win. The transition to Brian makes all too much sense, as partnering her with her Houston Dash midfield partner in Carli Lloyd gives guaranteed chemistry in the center of the park.
The replacing of Rapinoe ends up being a bit more tricky given the USWNT's wealth of options on the bench.
Losing Rapinoe's creative presence is a difficult loss to overcome, sure, but it does open the door for the U.S. to implement a bit of a new gameplan that is much less reliant on the playmaker's ability to distribute.
While Heather O'Reilly or Lori Chalupny could potentially slot out in Rapinoe's place, the more likely move would be to add Christen Press. Despite not being a natural wide midfielder, Press' pace and ability on the ball will likely see Ellis opt to include the 26-year-old out wide.
Rapinoe's playmaking ability is certainly unmatched by Press, or anyone else on the U.S. for that matter, but Press does provide plenty of ability on the ball. For a team that has become too reliant on giving Rapinoe the ball and praying for the best, a game without the midfielder could be a bit of a blessing as the team relearns how to play a more balanced team game.
Behind the reshuffled midfield, things are much more straightforward, as any changes to the back four would come as a bit of a shock. Julie Johnston and Becky Sauerbrunn have been among the best defenders in the tournament thus far, while Meghan Klingenberg and Ali Kreiger have done spectacularly at both getting forward and recovering in their defensive duties.
Changes are also unlikely to come at the forward position, especially given Alex Morgan's continued fitness improvements. Morgan was at her most dangerous on Monday night, providing the game's opener while putting in her most lively performance of the tournament.
Partnering Morgan will likely be Abby Wambach, who has served as the USWNT's best chance creator despite her frustrations against Colombia. As things stand, the U.S. is too reliant on Wambach's abilities to take her out of the lineup and can certainly deal with some of her limitations. Far from the paciest striker, Wambach and Morgan provide a bit of thunder and lightning up top, giving the U.S. two different looks to break down the China defense.
If Ellis opts to move Wambach into a super-sub role, there will be options aplenty when it comes to replacing the legendary striker. Press could be moved up top to a more natural position, while Amy Rodriguez hops in on the wing, or Ellis could opt to restore Sydney Leroux's spot up top to create a dynamic front two with Morgan.
However, those moves would probably be too bold for Ellis, who is more likely to stick with what works as the U.S. looks to earn a spot in the World Cup semifinals.
What do you think of the projected lineup? Who would you slot in for Rapinoe and Holiday? Think Ellis will pull off a surprise?
Share your thoughts below.