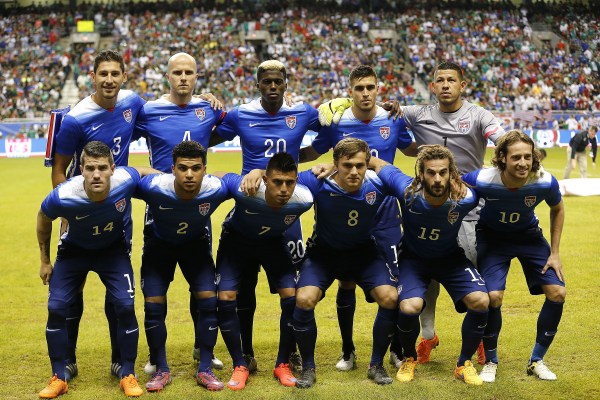 By IVES GALARCEP
Jurgen Klinsmann will have some tough decisions to make.
If the U.S. Men's National Team coach had his full squad available, he wouldn't have nearly as many positions to figure out and new faces to consider. But with almost a starting lineup's worth of key players missing from the current U.S. camp in Europe, Klinsmann will have to decide which players will be ready for a baptism by fire against the Netherlands and Germany.
The first of those tough tests comes on Friday in Amsterdam, and the Dutch will be fielding a strong lineup sure to make things difficult for whatever patchwork squad Klinsmann settles on.
So what formation and lineup will we see against a Dutch? Here is a look at the setup we could see Klinsmann deploy against the Netherlands: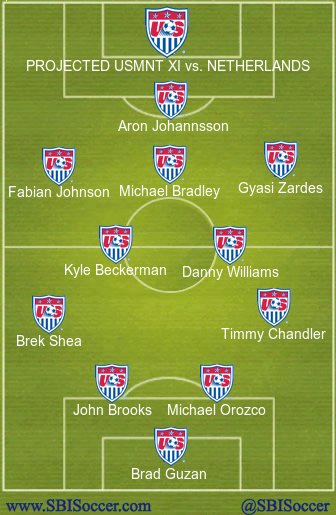 Some thoughts:
With Jozy Altidore sidelined, Klinsmann turns to Aron Johannsson as his target forward, and while Johannsson isn't a pure target striker, he does have experience in the role, having played it extensively for AZ Alkmaar.
The absence of Alejandro Bedoya frees up a wing spot which Klinsmann could fill with Gyasi Zardes or possible DeAndre Yedlin, who has played in midfield before, most notably at the World Cup. I happen to think we're more likely to see Yedlin start on the wing than at fullback.
Deploying Bradley as an attacking midfielder, with Kyle Beckerman and Danny Williams behind him, may not yield chances in bunches, but that trio should be able to hold its own against a Dutch side that won't have as imposing a central midfield as we've grown accustomed to them having.
The centerback position is an important one for these upcoming friendlies and this match will offer John Brooks a great chance to showcase his quality against top forwards. The Dutch have called in Robin van Persie and Klaas Jan Huntelaar, so the U.S. central defenders will have their hands full. Michael Orozco gets the nod over Ventura Alvarado here, but the margin is slim. Klinsmann could definitely give Alvarado the start in Amsterdam before turning to the more experienced Orozco when the U.S. faces Germany next week.
The fullbacks won't have it easy against the Dutch either, not with newly-signed Manchester United winger Memphis Depay called in. Capable of playing on either wing, Depay will be a terror, which could tempt Klinsmann to start Fabian Johnson at right back and Tim Chandler at left back. I don't see that happening because of Klinsmann's desire to give Brek Shea reps at left back, and because he needs Johnson in midfield even though he thinks he's better suited as a right back.
So what lineup would I trot out against the Dutch? Here is the lineup I would deploy: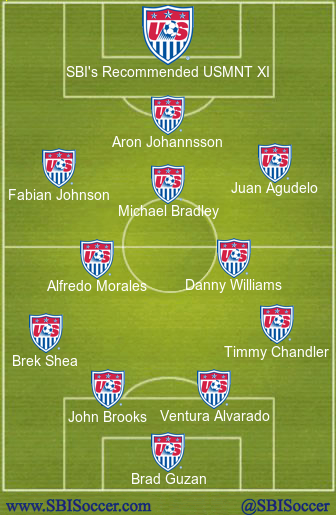 Some thoughts on this group:
Germany is the tougher challenge and I can see Klinsmann choosing to start Orozco and Beckerman against Germany, which would give Morales and Alvarado a chance against the Dutch. Juan Agudelo steps in, and playing wide wouldn't be a stretch for Agudelo, who has played a similar role for the New England Revolution. I know Zardes has seen minutes there for the U.S. in recent months, but Agudelo has been in better form lately and has earned a look.
What do you think of our projected lineup? Do you prefer that lineup or the recommended lineup with Agudelo in it? What formation would you deploy against the Dutch?
Share your thoughts below.