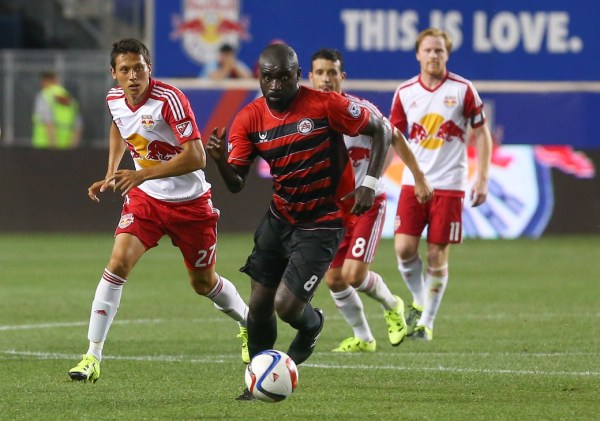 Photo by Ed Mulholland/USA TODAY Sports
By RYAN TOLMICH
Gary Smith understands that his team is in a very unique situation, but the Atlanta Silverbacks head coach also understands that changes needs to be made for his side to succeed in the Fall Season.
After starting the Spring Season with a five-game unbeaten run, the Silverbacks four of the team's last five games, falling all the way to last in the Spring standings. Smith says that part of the team's struggles come from the group's inability to nail down the right shape, while another issue was certainly the team's struggles in front of goal.
Smith says he hopes to address the latter in the summer months by bringing in a more out-and-out goalscorer, but the head coach also acknowledged it would be difficult for the club fianncially due to the club's current ownership by the league.
"So one of the main issues, as I said, is going to be finding somebody who can offer us more of a clinical edge," Smith said. "That's not going to be easy. We have a very challenging budget and situation given that we're owned by the league and of course goal scorers are going to come at a premium. So that's not going to be easy that one."
"I've learned an awful lot about the guys in this first 12 games, two cup games and 10 league games, and I'll certainly be thinking about maybe changing the shape of the group to lend itself to the players we've got a little bit more we'll have a quick look at that in the break and of course two or three additions if we can get them, I think would give everyone a lift and improve one or two areas."
Smith went on to admit that his search for new players would likely remain domestic, as the club is not looking to part with many of its foreign players to clear the way for any international additions.
"The difficulty there is we have a limitation on what we can do as all teams do with foreign players," Smith said, "and it would certainly mean that if foreigners were going to come in then we have to move a foreigner out which at this point I'm not sure will happen, so probably domestically and within our own league. Some discussions on going, even at this point, about one or two options which I can further now since we're out the cup."
Here are some more of Friday's NASL news and notes:
COSMOS CAPTAIN MENDES SIGNS EXTENSION

Carlos Mendes' tenure with the New York Cosmos will be continuing well beyond this year.
The Cosmos announced Thursday that the club has signed Mendes to an extension. Mendes, the team's captain, has appeared in 48 league games, scoring four goals, during his tenure with the club.
"I'm very happy to extend my contract with the Cosmos," Mendes siad. "Being part of the Cosmos family has been an honor and I'm going to continue to give everything I can to help this club achieve success."
"Carlos is a natural leader and someone who was the first player to commit to the new era of the Cosmos" added head coach Giovanni Savarese. "He really helped lay the foundations of what we are trying to accomplish and is also very well respected and loved by his team mates."
FC EDMONTON SIGNS PAIR OF MIDFIELDERS
FC Edmonton will head into the summer months with some increased midfield depth.
The club announced Thursday that the team has added midfielders Pablo Cruz and Thiago de Freitas. Cruz brings the Eddies a bit of NASL experience after previously featuring for the Atlanta Silverbacks and San Antonio Scorpions.
"We're really, really pleased to get Pablo because we tried to get him in the offseason," FC Edmonton head coach Colin Miller explained. "Due to some irregularities in the dealings the deal fell through, and we were disappointed at both ends. We're delighted to get one of the most skillful attacking players in the league.
"He will add a real different dimension to our attacking play. I'm sure he will be a big impact player for us, and we look forward to him stepping into the team as quickly as possible."
De Freitas, meanwhile, arrives from AOT Alimos in Greece's second division after previously featuring in Israel, Portugal and Hungary.
"We've watched extensive video and highlight footage of Thiago," Miller said. "He comes from an excellent background and an excellent football pedigree. There are players that I've spoken to from within our league that have said what a good player we are getting, and we expect him to make an immediate impact. I think he'll be a terrific signing for us.
"This time last year we made two significant signings in Christian [Raudales] and Chad [Burt]. Both made immediate impressions on the club, and we expect these two players to do the same."