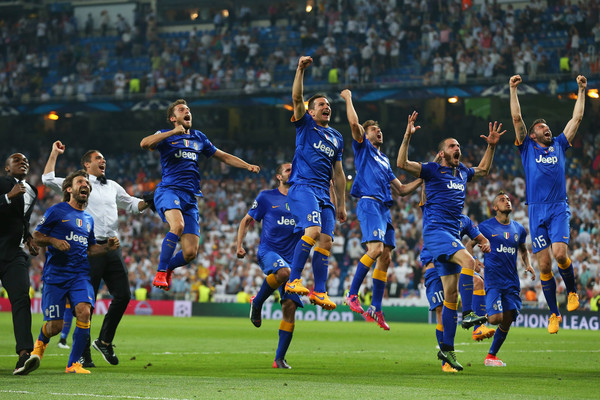 By ADAM TROXTELL
For the first time since 2003, Juventus is looking to become the king of Europe.
The Italian champions face Barcelona in the UEFA Champions League final. In contrast, Barcelona seeks a third Champions League trophy in six years.
Giorgio Chiellini will no be reunited with Luis Suarez for the first time since the biting incident at last year's world cup. The Juventus defender is out with a torn calf muscle, though Barcelona should have Andres Iniesta back after he shrugged off a calf injury.
The FIFA Women's World Cup gets underway this afternoon, with hosts Canada playing China. New Zealand and the Netherlands square off in the late match.
International friendlies also dot the weekend. Argentina warms up for the Copa America against fellow South Americans Bolivia.
If you will be watching any of today's action, feel free to leave your thoughts, opinions and some play-by-play in the comments section below.
Enjoy the action (today's soccer on TV schedule after the jump):
2:45 p.m. — FOX — Juventus vs. Barcelona
5 p.m. — beIN Sports USA — Ecuador vs. Panama
5:15 p.m. — beIN Sports en Espanol — Colombia vs. Costa Rica
6 p.m. — GolTV USA — Uruguay vs. Guatemala
6 p.m. — Fox Sports 1 — Canada WNT vs. China WNT
7 p.m. — DirecTV/MLS Live — Philadelphia Union vs. New York City FC
7 p.m. — DirecTV/MLS Live — D.C. United vs. Toronto FC
7 p.m. — beIN Sports USA — Argentina vs. Bolivia
7:15 p.m. — beIN Sports en Espanol — Paraguay vs. Honduras
7:30 p.m. — DirecTV/MLS Live — Columbus Crew vs. Montreal Impact
7:30 p.m. — ESPN3 — Atlanta Silverbacks vs. San Antonio Scorpions
7:30 p.m. — ESPN3 — Carolina RailHawks vs. Minnesota United
7:30 p.m. — ESPN3 — Fort Lauderdale Strikers vs. Indy Eleven
7:30 p.m. — ESPN3 — Tampa Bay Rowdies vs. FC Edmonton
8:30 p.m. — DirecTV/MLS Live — Sporting KC vs. Seattle Sounders
8:30 p.m. — DirecTV/MLS Live — Chicago Fire vs. Orlando City
9 p.m. — Fox Sports 2 — New Zealand WNT vs. Netherlands WNT
10 p.m. — Fox Soccer Plus — Honduras U-20 vs. Germany U-20
10:30 p.m. — DirecTV/MLS Live — LA Galaxy vs. Vancouver Whitecaps
10:30 p.m. — DirecTV/MLS Live — Portland Timbers vs. New England Revolution