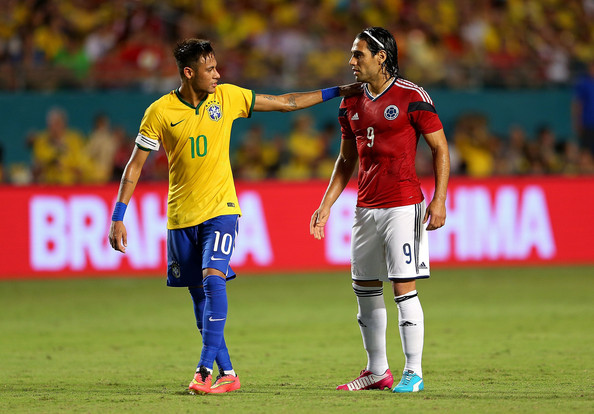 By ADAM TROXTELL
The final day of group stage action in the Copa America is bound to be exciting, with all four Group C teams tied on three points apiece.
Brazil will be without the suspended Neymar for a crucial clash with Venezuela. The Venezuelans already have an upset under their belts this tournament, having beaten Colombia 1-0.
Another would see them through to the quarterfinals, and Peru will be looking to do the same against Colombia earlier in the day.
The round of 16 continues in the Women's World Cup, with three teams going home today. Brazil starts things off against Australia before France battles South Korea for a spot in the quarterfinals. Hosts Canada round out the day of action against Switzerland.
Two more MLS match-ups remain for the weekend, starting with an Eastern Conference rivalry renewed between D.C. United and the New England Revolution. Real Salt Lake hosts Sporting KC to finish out the evening.
If you will be watching any of today's action, feel free to leave your thoughts, opinions and some play-by-play in the comments section below.
Enjoy the action (today's soccer on TV schedule after the jump):
12 pm. – ESPN 3 – Sweden U-21 vs. England U-21
1 p.m. – Fox Sports 1 – Brazil vs. Australia
1 p.m. – beIN Sports Connect – Las Palmas vs. Real Zaragoza
2:45 p.m. – ESPN 3 – Portugal U-21 vs. Italy U-21
3 p.m. – beIN Sports USA – Colombia vs. Peru
3 p.m. – ESPN 3 – Sao Paulo vs. Avai
4 p.m. – Fox Sports 1 – France vs. Korea Republic
5 p.m. – ESPN 2 – D.C. United vs. New England Revolution
5:30 p.m. – beIN Sports USA – Brazil vs. Venezuela
7:30 p.m. – Fox Sports 1 – Canada vs. Switzerland
10 p.m. – Fox Sports 1 – Real Salt Lake vs. Sporting KC