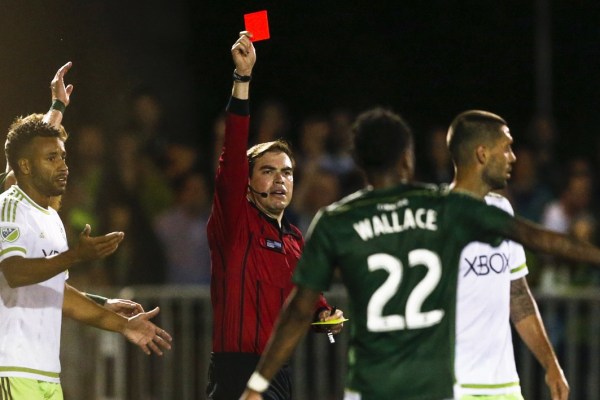 Photo by Jennifer Buchanan/USA TODAY Sports
By RYAN TOLMICH
After three ejections, a ripped referee's notebook, harsh words, fan unrest, and a police escort, Seattle Sounders owner Adrian Hanauer has taken the chance to address all of the issues with Tuesday's U.S. Open Cup loss.
Hanauer said Thursday that the loss to the Portland Timbers wasn't the Sounders' "proudest moment", while stating that the club may hand down some internal punishments for the events of Tuesday night's game.
The match-up saw three players sent off, including Clint Dempsey, who may face additional sanctions after ripping up the referee's notebook. In addition, referees had to be escorted from the Starfire Stadium field as fans hurled plastic bottles at both visiting players and officials.
"Now, we need to regroup," Hanauer said. "We've had lots of internal conversations. We will do whatever we need to collect information on fan misconduct and dole out appropriate punishments if those are necessary. We'll deal with all of the rest internally.
"But I thought it was important to acknowledge that it wasn't our proudest moment as the Sounders organization and we're going to do better. We know that people are looking to the Sounders as the bellwether franchise in North America and we always need to be at the top of our game."
Hanauer also said that the passion from Seattle's fans and players may have gone overboard, and was not used appropriately. Still, the owner pointed the finger at himself for what transpired at Starfire Stadium.
"It all starts with me," said Hanauer. "I run this organization and, while leading it, maybe I need to look in the mirror and see if there's something that I need to do to maybe think about things different and get the best out of the people in the organization.
"The Open Cup is a tournament we take very seriously. No one can argue that the Sounders have possibly put the Open Cup back on the map for U.S. Soccer. So the passion comes out. We wanted to win that game Tuesday night. We wanted (S2) to win in Salt Lake City. I think that the passion may have been misappropriated – from players, coaches, fans and staff.
What do you think of Hanauer's comments? What punishments are you expecting for the Sounders?
Share your thoughts below.