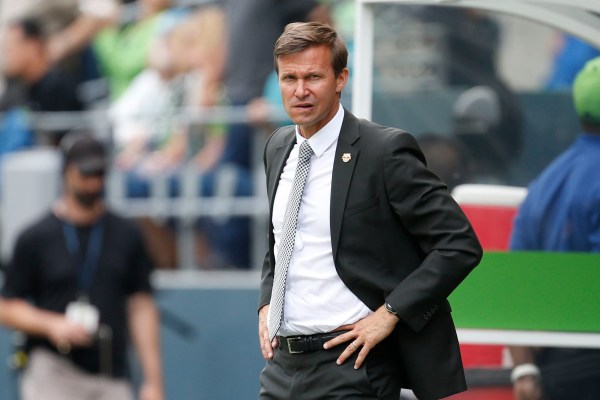 photo by Jennifer Buchanan/USA Today Sports
By FRANCO PANIZO
As the New York Red Bulls got off to their impressive start to the season by using their high-pressing system, one question kept resurfacing: How would the club fare once opposing teams made adjustments?
The answer, at least so far, is not well.
The Red Bulls came out of the gates strongly this year under new head coach Jesse Marsch, going undefeated in their first seven games. But the start of a poor run of form overlapped and quickly replaced that instant success, as New York has won just once in its last nine league matches and failed to taste victory in five straight games.
Those results have dropped the club in the Eastern Conference standings. Instead of being at or near the top like they were during the opening months of the season, the Red Bulls are now outside of the playoff picture, in sixth place with just 17 points from 14 games. It's a far cry from what many observers and fans expected from New York when they saw the club take the league by storm at the start of the spring.
What exactly has gone wrong for the Red Bulls, however? The team is still relatively healthy, and counting on many of the same players that were contributing in a positive way at the start of the season. What could explain this drop-off?
For starters, the club's gameplan has been figured out. Opposing teams know now how to work around and beat New York's high press, and the Red Bulls have not adjusted to those adjustments very well.
Another key contributing factor – which is partly because of the high-pressing tactic no longer being as effective – is that the attack is sputtering. The Red Bulls have scored just four goals in their last five matches, and nine in nine dating back to April 26. Worse yet, the club has yet to score more than two goals in any one game this season.
That New York's attack is so anemic is due to the inconsistent performances of some of its most vital players.
Main offseason acquisition Sacha Kljestan, who was sent off this past weekend after losing his cool, has not fully lived up to the hype at the tip of the Red Bulls' midfield. Bradley Wright-Phillips, who won the MLS Golden Boot in 2014 after netting a record-tying 27 goals, has also struggled due to poor finishing and a lack of service. The veteran forward has just five goals in 14 matches, a total that was made to look even worse after he missed not one but two penalty kicks in Saturday's defeat to the Vancouver Whitecaps.
Out wide on the left, Mike Grella has chipped in with a trio of tallies and one assist. Still, it isn't enough. Right midfielder Lloyd Sam is too often the only Red Bulls attacker making things happening and looking dynamic, and defenses are now beginning to take the craft Englishman out of games by paying more attention to him.
Not even marauding fullbacks Chris Duvall, Kemar Lawrence, and Roy Miller have done enough to lighten the attacking load, as evidenced by their combined total of one assist.
While a rotation of sorts might seem like a good idea for Marsch at this point, New York just does not have enough capable horses on the bench. Dane Richards, Anatole Abang, Sal Zizzo, and Sean Davis are serviceable players, but none are capable of being game-changers. At least, not consistently.
It is that lack of depth that has also played a pivotal role in these struggles. New York's starting players are a talented bunch, but there is not enough behind them on this roster to  make a difference.
The club will likely need to go into the summer market and make a few additions, with left midfield and a second forward among the top priorities. But a change or at least an adjustment of tactics could also go a long way to helping these Red Bulls get out of this funk and back in the win column.
Until either of those things happen, New York will continue to find it awfully tough to churn out positive results consistently. That would likely result in a deeper dip in the standings, and further erase the promise and optimism that came with the club's sterling start.