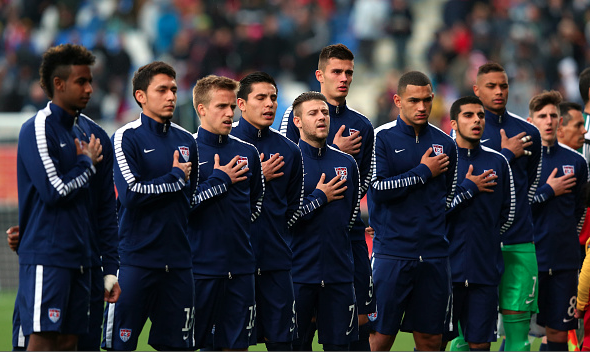 By FRANCO PANIZO
The dream may have been cut short just as it was getting to the good part, but the U.S. Under-20 Men's National Team is focusing on the positives all the same.
The U.S. was eliminated from the World Cup on Sunday, losing to Serbia, 6-5, on penalty kicks after playing to a scoreless draw. While there was instant pain and sorrow for the Americans following the match in Auckland, head coach Tab Ramos and his players all seemed to agree that the performance the U.S. put forth in the tournament was one worth being proud of.
"They played great throughout the World Cup," said Ramos. "We were very competitive with every team and we could have won every game. I'm very happy for them and the work they did, and hopefully this is a good experience for them down the road when they have to play the games that really count for World Cup Qualifying for the senior team."
One of the positives for the Americans was that they finished the tournament with a respectable 3-1-1 record. They defeated both Myanmar and World Cup hosts New Zealand in group play, and did just enough to top Colombia in the Round of 16.
On the flip side, an undermanned U.S. side was routed by Ukraine in the group-stage finale. There was also the heartbreaking loss to the Serbs on Sunday at North Harbour Stadium, and the fact that the Americans' attack play sputtered in their last three matches.
The U.S. scored just once during its final 300 minutes in the World Cup, and that goal came off an opportunistic but authoritative finish from Rubio Rubin against the run of play in the 1-0 triumph over Colombia.
Injuries to Bradford Jamieson and Maki Tall played a major role in that, and are why the U.S. were unable to break down an organized Serbian defense over the weekend. Still, the Americans are looking forward, not backward.
"Now we move on and we just have to keep our heads up," said Rubin. "We're going to have moments like these in our careers. This is one of our setbacks and it's the way you react to it. I think everyone came into this tournament with a positive mentality to try to win the tournament, and unfortunately we couldn't. It was a great run, a great team effort."
There was also, by all accounts, great team camaraderie. That is a staple characteristic of U.S. teams throughout the various age groups, but it was clear that this group of youngsters never stopped fighting for one another. Even when things got tough.
"I look at ourselves and I see us as more than a team. I see us as brothers," said midfielder Paul Arriola. "I see all of us at the end of the (Serbia) game crying because of how bad we wanted it, not only for ourselves but for everyone else around us, everyone back home watching and supporting us, and people who flew here to support us.
"For us to be able to form a brotherhood like we did to get this far in the World Cup was amazing."
The U.S. may have wanted more from this World Cup, especially since a beatable Mali team awaited in the next round, but reaching the quarterfinals of the competition is still an accomplishment in and of itself.
The Americans not only showed promise in New Zealand, but also gained valuable experience by playing in high level games and enduring the emotions and nerves of moments like an intense penalty kick shootout.
"We're all 19-20 years old. This is just the beginning to setbacks and great moments in our careers," said Rubin. "We're going to have moments like the Colombia game where we're very happy, and now a disappointment in the quarterfinals with a tough loss. It's how you learn from this. We have to stay positive.
"Right now it sucks, every one has their head down. But tomorrow is a different day and we just have to stay positive and use this experience to help us down the road."