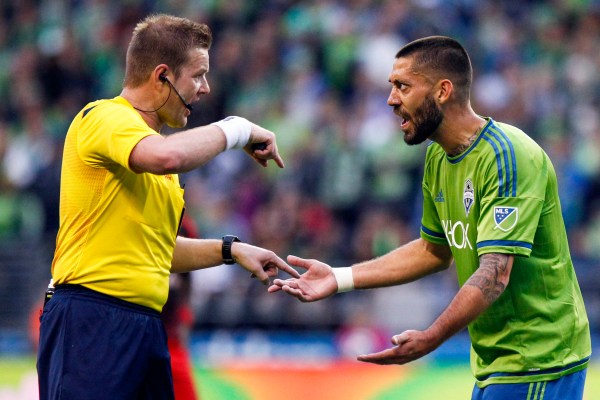 photo by Joe Nicholson/USA Today Sports
By FRANCO PANIZO
Clint Dempsey lost his cool in a major way on Tuesday, and could wind up paying a much steeper price than he could have imagined.
Dempsey was ejected from the Seattle Sounders' 3-1 extra time loss to the Portland Timbers in the U.S. Open Cup for taking referee Daniel Radford's notebook out of his pocket during a stoppage in play and ripping it up. The Sounders had three players sent off in the game at Starfire Stadium in Tukwila, Washington.
The incident occurred in the 113th minute of the match after fellow Sounders player Michael Azira was given his marching orders. The ejection left Seattle down to eight men and set off Dempsey, who then walked up to Radford and pulled the match official's notebook out of the front pocket of his shorts before picking it up and tearing it down the middle.
Radford responded by issuing a red card to Dempsey, who had to be restrained by teammates from approaching Radford.
The Sounders' Designated Player could now face a ban of up to three months for referee abuse, according to U.S. Soccer's bylaws and policies. He could receive a ban for "assault" of a referee, which includes damaging the official's personal property.
You can see the incident here:
[youtube http://www.youtube.com/watch?v=LgSeuptey24]
—–
What do you think about Dempsey's actions? Think U.S. Soccer will suspend him? What do you think should happen to Dempsey?
Share your thoughts below.