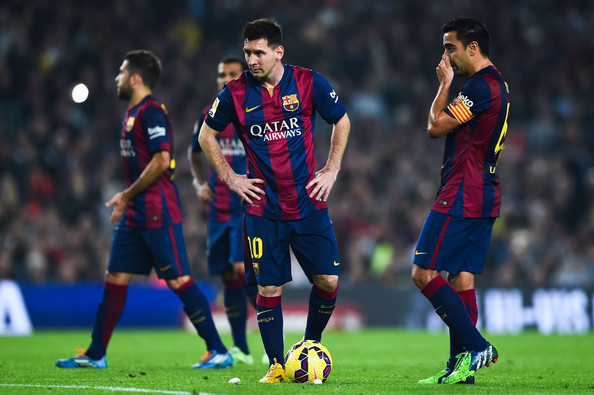 By ADAM TROXTELL
In the midst of just about every type of international action possible this weekend, there's the not so small matter of deciding the champion of Europe.
Barcelona plays Juventus at the Olympic Stadium in Berlin on Saturday to contest the UEFA Champions League Final. The Spanish side is looking for its third Champions League trophy in six years, while Juventus returns to the final for the first time since 1996.
The final kicks off a full Saturday that includes the start of the FIFA Women's World Cup. Hosts Canada take on China before New Zealand meets the Netherlands later in the evening.
The Under-20 World Cup continues with final group games deciding who moves on to the knockout round. The U.S. Under-20 National Team has secured passage to the next round but faces a stern test against the Ukraine in a battle for top position in Group A.
International friendlies dot the weekend, starting with the U.S. Men's National Team battling the Netherlands on Friday. England and Ireland square off in a friendly on Sunday morning.
Here is this weekend's soccer on TV (schedule after the jump):
FRIDAY
3 a.m. — Fox Sports 1 — Ukraine U-20 vs. U.S. U-20
3 a.m. — Fox Sports 2 — Myanmar U-20 vs. New Zealand U-20
11 a.m. — beIN Sports USA — Morocco U-23 vs. Mexico U-22
1 p.m. — beIN Sports USA — China U-23 vs. England U-20
2:30 p.m. — ESPN — Netherlands vs. USMNT
6 p.m. — beIN Sports USA — Chile vs. El Salvador
9 p.m. — Univision Deportes — Houston Dynamo vs. New York Red Bulls
9 p.m. — Fox Soccer Plus — Senegal U-20 vs. Quatar U-20
9 p.m. — Fox Sports 2 — Colombia U-20 vs. Portugal U-20
SATURDAY
Midnight — Fox Sports 2 — Mali U-20 vs. Uruguay U-20
Midnight — Fox Sports 1 — Serbia U-20 vs. Mexico U-20
2:45 p.m. — FOX — Juventus vs. Barcelona
5 p.m. — beIN Sports USA — Ecuador vs. Panama
5:15 p.m. — beIN Sports en Espanol — Colombia vs. Costa Rica
6 p.m. — GolTV USA — Uruguay vs. Guatemala
6 p.m. — Fox Sports 1 — Canada WNT vs. China WNT
7 p.m. — DirecTV/MLS Live — Philadelphia Union vs. New York City FC
7 p.m. — DirecTV/MLS Live — D.C. United vs. Toronto FC
7 p.m. — beIN Sports USA — Argentina vs. Bolivia
7:15 p.m. — beIN Sports en Espanol — Paraguay vs. Honduras
7:30 p.m. — DirecTV/MLS Live — Columbus Crew vs. Montreal Impact
7:30 p.m. — ESPN3 — Atlanta Silverbacks vs. San Antonio Scorpions
7:30 p.m. — ESPN3 — Carolina RailHawks vs. Minnesota United
7:30 p.m. — ESPN3 — Fort Lauderdale Strikers vs. Indy Eleven
7:30 p.m. — ESPN3 — Tampa Bay Rowdies vs. FC Edmonton
8:30 p.m. — DirecTV/MLS Live — Sporting KC vs. Seattle Sounders
8:30 p.m. — DirecTV/MLS Live — Chicago Fire vs. Orlando City
9 p.m. — Fox Sports 2 — New Zealand WNT vs. Netherlands WNT
10 p.m. — Fox Soccer Plus — Honduras U-20 vs. Germany U-20
10:30 p.m. — DirecTV/MLS Live — LA Galaxy vs. Vancouver Whitecaps
10:30 p.m. — DirecTV/MLS Live — Portland Timbers vs. New England Revolution
SUNDAY
1 a.m. — Fox Soccer Plus — Hungary U-20 vs. Nigeria U-20
1 a.m. — Fox Sports 2 — Brazil U-20 vs. North Korea U-20
8 a.m. — ESPN2 — Ireland vs. England
11 a.m. — beIN Sports en Espanol — Toulon Tournament 3rd Place Match
1 p.m. — FOX — Norway WNT vs. Thailand WNT
1 p.m. — beIN Sports USA — Toulon Tournament Final
2 p.m. — GolTV USA — Racing vs. Penarol
4 p.m. — ESPN3 — Jacksonville Armada vs. Ottawa Fury
4 p.m. — ESPN3/Univision Deportes — Brazil vs. Mexico
4 p.m. — FOX — Germany WNT vs. Ivory Coast WNT
5 p.m. — ESPN2 — Real Salt Lake vs. Colorado Rapids
7 p.m. — Fox Sports 1 — San Jose Earthquakes vs. FC Dallas