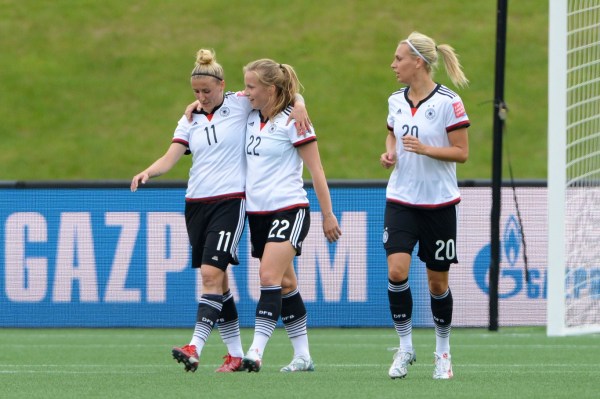 Photo by Marc DesRosiers/USA TODAY Sports
By RYAN TOLMICH
With the conclusion of the group stages earlier this week, the Women's World Cup is set to heat up as the tournament reaches the knockout rounds.
The tournament's Round of 16 kicks off on Saturday as Pia Sundhage's Sweden takes on top-seeded Germany while China faces Cameroon. The action spills into Sunday with host Canada taking on Switzerland, France meeting the Korea Republic while Brazil goes up against Australia.
South America's action is not limited to the Women's World Cup, as the Copa America's group stages reach their end point over the weekend. Tournament hosts Chile, who are controversially keeping Arturo Vidal in the fold following his alleged arrest for drunk driving, face off with Bolivia Friday night.
Elsewhere, the Under-20 World Cup wraps up as Serbia faces off with Brazil, while MLS provides a full slate following the midweek's U.S. Open Cup action.
Here's a closer look at this weekend's soccer on TV:
FRIDAY 
5 p.m. – beIN Sports USA – Mexico vs. Bolivia
7 p.m. – beIN Spots USA – Chile vs. Bolivia
9 p.m. – Univision Deportes – Colorado Rapids vs. FC Dallas
9:30 p.m. – Fox Sports 2 – Senegal U-20 vs. Mali U-20
SATURDAY 
1 a.m. – Fox Sports 1 – Brazil U-20 vs. Serbia U-20
12 p.m. – ESPN 3 – Serbia U-21 vs. Czech Republic U-21
2:45 p.m. – ESPN 3 – Germany U-21 vs. Denmark U-21
3 p.m. – beIN Sports USA – Uruguay vs. Paraguay
3:30 p.m. – GOLTV USA – Santos vs. Corinthians
4 p.m. – Fox Sports 1 – Germany vs. Sweden
4 p.m. – MLS Live – Seattle Sounders vs. San Jose Earthquakes
5:30 p.m. – beIN Sports USA – Argentina vs. Jamaica
7 p.m. – MLS Live – New York Red Bulls vs. Vancouver Whitecaps
7 p.m. – MLS Live – Toronto FC vs. New York City FC
7:30 p.m. – Fox Sports 1 – China vs. Cameroon
8 p.m. – MLS Live – Montreal Impact vs. Orlando City
10:30 p.m. – MLS Live – LA Galaxy vs. Philadelphia Union
10:30 p.m. – MLS Live – Portland Timbers vs. Houston Dynamo
SUNDAY 
12 pm. – ESPN 3 – Sweden U-21 vs. England U-21
1 p.m. – Fox Sports 1 – Brazil vs. Australia
1 p.m. – beIN Sports Connect – Las Palmas vs. Real Zaragoza
2:45 p.m. – ESPN 3 – Portugal U-21 vs. Italy U-21
3 p.m. – beIN Sports USA – Colombia vs. Peru
3 p.m. – ESPN 3 – Sao Paulo vs. Avai
4 p.m. – Fox Sports 1 – France vs. Korea Republic
5 p.m. – ESPN 2 – D.C. United vs. New England Revolution
5:30 p.m. – beIN Sports USA – Brazil vs. Venezuela
7:30 p.m. – Fox Sports 1 – Canada vs. Switzerland
10 p.m. – Fox Sports 1 – Real Salt Lake vs. Sporting KC