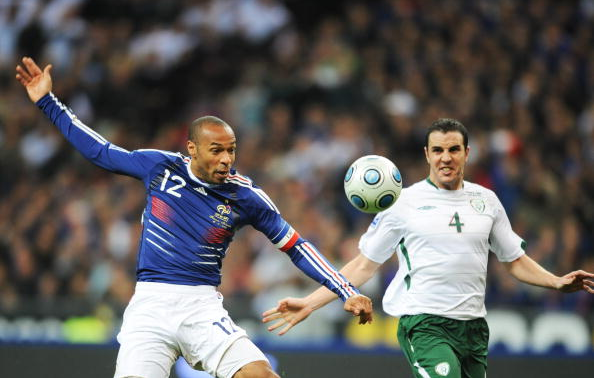 By COLE KELLOGG
The Republic of Ireland's FA has revealed and said that FIFA paid the federation off to not take legal action over the infamous Thierry Henry hand ball incident.
In 2009 during playoff qualifying for the 2010 World Cup in South Africa, Henry used his hand to subtly keep a ball from going out of bounds before assisting on a goal that sent France to the World Cup over the Republic of Ireland. The FAI and Republic of Ireland fans across the Emerald Isle were outraged by the result and the FAI were very close to bringing legal action against FIFA in the days following the match.
The chief executive of the Football Association of Ireland, John Delaney, has now come out to say that four days after the incident, the two sides came to an agreement for the payment of $5 million to Ireland's federation. The money was appropriated for use to construct a stadium in the country.
The loan would have supposedly been reimbursed to FIFA had Ireland qualified for the 2014 World Cup, according to terms agreed between the two sides in January 2010, but because the Republic of Ireland failed to qualify for Brazil, the loan was taken off FIFA's books.
The FAI released a statement on Thursday evening confirming that the €5 million payment from FIFA was to "avoid a long, costly, and protracted legal case." The payment ended up going into the construction of Dublin's Aviva Stadium.
Here are some more stories to catch you up around the world of soccer:
GERMAN INDUSTRY INFLUENCED 2006 WORLD CUP BIDDING PROCESS
Contrary to popular opinion, Germany's bid to host the 2006 World Cup may not have been as clean as people want to believe it was.
According to a report from German newspaper Die Zeit, German industry giants Daimler, Volkswagen, and Bayer invested in companies in countries of Executive Committee members and the German government even sold weapons to Saudi Arabia, home to another ExCo member, in order to ensure their votes.
Germany defeated South Africa by one vote, 12-11, with New Zealand's delegate Charles Dempsey deciding to abstain in the 11th hour.
FORMER METS CATCHER PIAZZA INTERESTED IN PARMA
An Italian-American is interested in purchasing a stake in debt-ridden club Parma, only it's a person that most didn't expect to be involved with purchasing a club.
Noted soccer fan and former New York Mets catcher Mike Piazza is reportedly interested in buying Parma, a club who declared bankruptcy in March after many months without being able to deal with their debts or pay their employees. Parma was relegated to Serie B at the end of the 2014/2015 season.
"Yes, I was at Parma. And I'm interested, though I can't say that it will go through," Piazza told La Gazzetta dello Sport.
Piazza could likely get Parma for a cut-rate price due to their bankruptcy, but he would still have to assume a large portion of the club's debt, something the prior owners struggled with.
QUICK KICKS
CONMEBOL has removed Jose Maria Marin, Rafael Esquivel, and Eugenio Figueiredo from their executive committee. (REPORT)
Canadian international Atiba Hutchinson has signed a new two-year contract to remain with Besiktas. (REPORT)
The English Premier League will be without a title sponsor for the 2016/2017 season. (REPORT)
Hoffenheim have announced the signing of FC Basel centerback Fabian Schär. (REPORT)
————-
What do you think of these reports? What do you think of FIFA's payment to the FAI? Do you see more payments from FIFA coming to light? What do you think of allegations against Germany's World Cup bid?
Share your thoughts below.