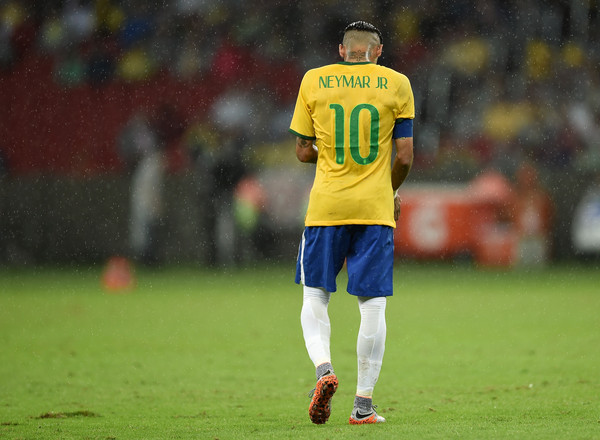 By MATT STYPULKOSKI
Colombia pulled a 1-0 upset of Brazil at Copa America last night, but the main focus has been put on what happened after the final whistle.
Neymar, who by all accounts struggled on the night, blasted the ball into the back of a Colombian player after the referee blew for full time, setting off a fracas between the two sides. The Brazilian forward also attempted the head butt Jeison Murillo and was red carded for his part. Colombia's Carlos Bacca, who shoved Neymar in retaliation, was also sent off.
Earlier in the match, Neymar has already picked up his second yellow card, suspending him for Brazil's final group-stage match against Venezuela. But with the red card, the Seleção will have to wait and see how long their star will be sidelined. The length of Neymar's suspension is expected to be announced today.
Murillo scored the lone goal in the 36th, giving Colombia its first win over Brazil in 24 years. As a result, Brazil, Colombia and Venezuela are all tied on three points in Group C, though Venezuela and Peru have yet to meet in their second-round match.
Here are some more news and notes to kick off your Thursday morning:
COSTA RICA'S NAVAS RULED OUT OF GOLD CUP
Costa Rica was expected to be one of the leading contenders at next month's CONCACAF Gold Cup, but will now be without one of its star players for the tournament.
Instead, Achilles tendinitis will force goalkeeper Keylor Navas to have surgery and to spend his summer rehabbing ahead of Real Madrid's upcoming season.
"The injury is too bad," Navas tweeted. "I'm leaving the team and now thinking about recovering at my club, trusting in God that everything will be fine."
After starring for Costa Rica at last summer's World Cup, the 28-year-old Navas played in 11 games across all competitions for Read Madrid this season.
OLYMPIAKOS CHAIRMAN EMBROILED IN MATCH-FIXING SCANDAL
Vangelis Marinakis has been spending some time in the court room of late.
Prosecutors allege that Marinakis, the chairman of Greek champions Olympiakos, spearheaded a criminal organization that used bribes and other nefarious means to attempt to fix matches in the top flight of Greek football.
As a result, he spent Thursday testifying in court and has been suspended from sporting activities. He has also been released on bail. There is still no word on whether or not Marinakis will stand trial.
In any event, the accusations against Marinakis could put Olympiakos' Champions League spot in jeopardy, as UEFA rules bar clubs involved in match-fixing scandals from entering continental competitions. A similar situation arose in 2011, when Fenerbahce withdrew from the competition after its president was rumored to be part of a match-fixing effort.
STERLING AGAIN ACCUSED OF NITROUS OXIDE USE
Liverpool reportedly spoke with Raheem Sterling about professionalism following his infamous laughing-gas incident this spring, but the message may not have stuck.
The Sun published a picture on its front page Thursday, which apparently comes from a video of Sterling inhaling nitrous oxide out of a balloon and laughing.
Liverpool has declined to comment on this most recent incident. But if the reports are deemed to be true, they could be damaging to both Liverpool and Sterling, as the English forward has been attempting to make a move away from Anfield this summer. While laughing gas is legal, a second instance of such use could make Liverpool's reported asking price of £50 million more difficult to justify.
Earlier this week, Liverpool reportedly turned down a £40 million bid from Manchester City.
QUICK KICKS
Rafa Benitez has talked Real Madrid midfielder Isco into staying at the club. (REPORT)
Jurgen Klinsmann has come out in support of Roberto Mancini, saying he is the right fit for Inter. (REPORT)
Martin Skrtel has opted to remain with Liverpool, rather than make a move to Inter. (REPORT)
The Belgian FA may seek compensation for their failed World Cup bid that was eventually handed to Russia. (REPORT)
—
What do you expect Neymar's suspension to be? How will the latest Sterling story effect his transfer status? How will the loss of Navas effect Costa Rica?
Share your thoughts below.