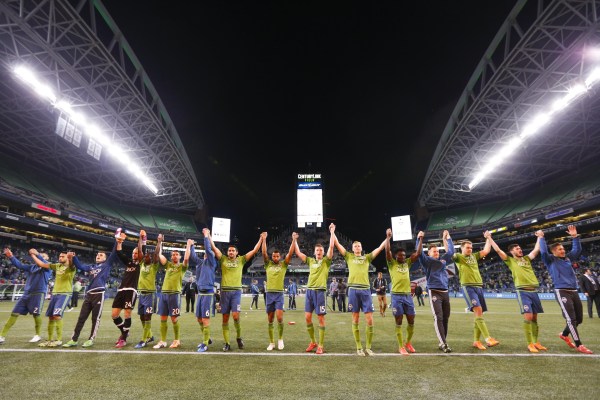 photo by Joe Nicholson/USA Today Sports
By FRANCO PANIZO
The first trailer for EA Sports' FIFA16 was released on Monday, and it teased the potential addition of another MLS stadium.
The only MLS venue that has been in the popular video-game series in recent years is the Vancouver Whitecaps' BC Place, but the trailer for FIFA16 looks to show the introduction of CenturyLink Field. While there is no confirmation that the Seattle Sounders' home will be in the upcoming version of the game, the brief – and darkened – glimpse of the stadium looks exactly like CenturyLink Field, especially when you notice the downtown backdrop.
MLS fans who play FIFA have for years been clamoring for more of the league's stadiums to be added to the game. FIFA has never been one to completely ignore gamers' requests, and it appears that at least one more MLS venue will be in this year's version of the hit video game.
Take a look at FIFA16's snazzy first trailer and let us know if you agree that the stadium in question (at the 0:21 mark) is CenturyLink Field:
[youtube http://www.youtube.com/watch?v=bwz98athxQ8]
FIFA16 hits stores across North America on Sept. 22 on the Xbox One, Xbox 360, Playstation 4, and Playstation 3 console. The game will also be available for PC.
—–
Agree that the stadium at the 0:21 mark is CenturyLink Field? Excited to see the potential inclusion of another MLS venue in FIFA16 or will you not be happy with just one addition? How many of the league's homes do you think we might see this year?
Share your thoughts below.