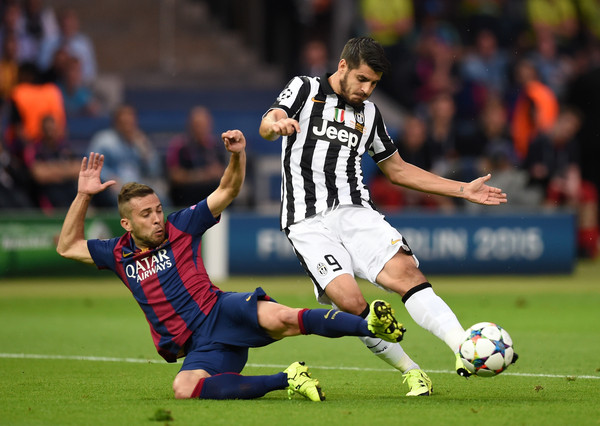 By DAN KARELL
The man who was deemed surplus to requirements at Real Madrid this season is suddenly wanted back by his former club.
According to La Gazzetta Dello Sport, Real Madrid want to bring Alvaro Morata back from Juventus, just one year after he was sold to the Italian champions for a reported €22 million and signing a five-year contract. When Real Madrid sold Morata, they included a clause that allows them to buy him back at a cut-rate price (reportedly €30 million), but according to La Gazzetta, that clause doesn't take effect until the summer of 2016.
As such, Juventus hold all the cards and reportedly won't part ways with Morata for anything less than €45 million. For what it's worth, Morata has reportedly denied that there have been any discussions about him returning to Madrid this summer.
Morata scored the decisive goal to knock out Real Madrid from the UEFA Champions League with a goal at the Santiago Bernabeu, and then followed that up with the game-tying goal in the Champions League final against Barcelona, though Juventus ended up losing 3-1.
Morata, 22, scored 15 goals in all competitions in his first season in Italy.
Here are some more stories to kick off your Tuesday:
ALVES AGREES NEW CONTRACT THROUGH 2017
After veiled threats, rumors, and reports, Dani Alves has decided that Barcelona is where the heart is.
Following Barcelona's UEFA Champions League title win and the completion of the treble, Alves agreed on a new two-year contract with an option for a third year, the club announced on Tuesday. The 32-year-old's last contract was set to expire on June 30 and the Brazilian right back has long been a transfer target for some of the biggest clubs in the world, including Paris Saint-Germain and Manchester United.
Alves has featured for Barcelona 343 times, the most of any foreigner at the club, and he has won a total of 19 titles in seven seasons. He's also one of a handful of players at the club to have won a treble on two occasions.
INDICTED ARGENTINE BUSINESSMAN TURNS HIMSELF INTO AUTHORITIES
Following nearly two weeks on the run, indicted Argentine businessman Alejandro Burzaco turned himself in to the Italian authorities in the city of Bolzano, according to Argentine media.
The reports claim that this morning, the former CEO of Torneos y Competencias (TyC) arrived at a Bolzano police station with a lawyer but is currently being detained as the extradition process is set to begin.
"He (Alejandro Burzaco) showed up voluntarily today at the police station and he was detained," Trestina police chief Giuseppe Ricario told reporters of Argentina's La Red radio station Tuesday. He is in jail. He showed up with a lawyer. We think his intention was to cooperate with authorities. He was detained because, on our Penal Code, we have to if there is an international arrest warrant."
The U.S. Department of Justice charged Burzaco and 13 others on May 27 as being part of a $150 million bribe scheme revolving the broadcast and marketing rights to numerous of CONMEBOL and CONCACAF tournaments between 1991 and 2013.
FIFA REBUFFS SCALA'S CLAIMS ON RUSSIA, QATAR WORLD CUP
Folks who had hoped that FIFA could pull the World Cups away from Russia and Qatar had their hopes dashed on Tuesday morning.
Two days after Domenico Scala, the independent chairman of FIFA's audit and compliance committee, made comments in a Swiss newspaper that FIFA could take away the 2018/2022 World Cups from their hosts if impropriety is proved, FIFA have clarified the situation with a statement of their own.
"Russia and Qatar were awarded the 2018 and 2022 FIFA World Cups by democratic vote of the Executive Committee," FIFA reportedly said in a statement to CNN. "Based on expert opinions and available facts, FIFA has no legal grounds to take away the hosting of the FIFA World Cup from Russia and Qatar. We will not speculate on possible scenarios and therefore have no further comments for the time being."
QUICK KICKS
Barcelona completed the signing of right wing back Aleix Vidal from Sevilla, despite him not being able to play for Barca until January due to the club's transfer ban. (REPORT)
Uruguayan forward Diego Forlan is expected to be a free agent this summer after not being offered a new contract from Cerezo Osaka. (REPORT)
West Ham have hired former Croatia National Team manager Slaven Bilic to be their new manager. (REPORT)
Bayern Munich have offered Torino €15 million for defender Matteo Darmian, though Torino are asking for a fee of €20 million. (REPORT)
AS Roma is on the verge of selling winger Gervinho, reportedly to United Arab Emirates club Al-Jazira for €14 million plus bonuses. (REPORT)
——————–
What do you think of these reports? Do you see Morata remaining with Juventus? What do you think of Dani Alves' decision?
Share your thoughts below.