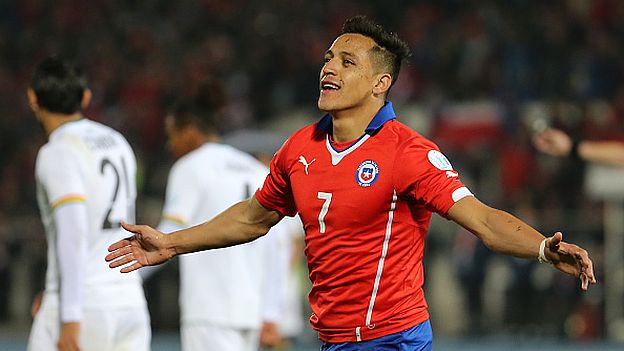 By DAN KARELL
The winners of this summer's Copa America will take home the trophy and earn continental glory, but it looks like that's all they'll receive.
According to a report in Uruguayan newspaper La Ovacion, CONMEBOL will not be able to pay the $10 million in prizes to the top four finishers in the tournament due to the FBI's investigation into CONMEBOL's marketing and media rights partners. CONMEBOL was due to pay the Copa America champion $4 million, the runner-up $3 million, third-place $2 million, and the fourth-place finisher $1 million.
CONMEBOL president Juan Ángel Napout has stayed at CONMEBOL headquarters in Asuncion, Paraguay, during the tournament instead of appearing in Chile while he works to try and find new sources of funding for the organization.
On Monday, CONMEBOL treasurer and Bolivian FA president Carlos Chavez told reporters in Santiago that the FBI's investigation has led to a $45 million shortfall for CONMEBOL due to frozen bank accounts related to Datisa, the merged marketing and media rights partner.
"We've just got $35 million of the $80 million in the contract because of the problems," Chavez said. "We are discussing the issue with the lawyers."
Here are some more stories to kick off your Tuesday:
AC MILAN LOOKING AT PSG FOR MAJOR SUMMER SIGNING
After missing out on signing Geoffrey Kondogbia, AC Milan are looking again to France for a big summer splash.
Silvio Berlusconi's club are set to break the bank to sign either Edinson Cavani or Zlatan Ibrahimovic from Paris Saint-Germain, according to La Gazzetta Dello Sport. The report states that PSG could let Ibrahimovic or Cavani leave this summer, with Ibrahimovic's contract set to run out in 2016. But if Cavani were to depart, it would reportedly cost Milan upwards of €60 million.
Ibrahimovic of course played with AC Milan from 2010-2012, scoring 42 Serie A goals. La Gazzetta reports that he would be offered an €18 million contract over either two or three seasons.
Cavani's agent meanwhile has put the brakes on a move for the Uruguayan international away from the Parc des Princes for now.
"I can't see any clubs in Italy who could pay the necessary figures for a player of the caliber of Cavani," Cavani's agent Claudio Anellucci told Calciomercato. "Besides, Edinson was very clear about his future, he's happy in Paris and intends to stay at PSG. There's nothing more to add."
MANDZUKIC SIGNS FOR JUVENTUS IN €19 MILLION TRANSFER
Juventus has put the finishing touches on Carlos Tevez's likely replacement for next season.
With the Argentine's future in limbo, the Italian champions wrapped up a €19 million transfer for Croatian forward Mario Mandzukic, who joins Juventus after just one season with Atletico Madrid. Mandzukic, 29, signed a four-year contract with Juventus on Monday.
Juventus revealed that their €19 million transfer fee will be paid in three installments: €7 million by Aug. 1, 2015, €6 million by Aug. 10, 2016, and a further €6 million by Aug. 10, 2017. Juventus could be forced to pay another €2 million if Mandzukic passes certain goals.
Mandzukic scored 20 goals for Atleti last season but only 12 times in 28 appearances in La Liga, leading to his eventual departure. Prior to joining Atleti, Mandzukic starred for Bayern Munich, Wolfsburg, and Dinamo Zagreb.
QUICK KICKS
Former Brazilian star Rivaldo has decided to dust off his cleats and join Serie B side Mogi Mirim, the club where he sits as president, to help them out of relegation trouble. (REPORT)
Catania FC president Antonino Pulvirenti and six other soccer officials were arrested on Tuesday by Italian law enforcement on suspicion of match-fixing. (REPORT)
FC Schalke have signed German U-21 midfielder Johannes Geis from FSV Mainz 05. (REPORT)
Southampton inked former Netherlands goalkeeper Maarten Stekelenberg on a season-long loan from Fulham. (REPORT)
Dimitri Payet and Olympique Marseille are in contract negotiations while the winger is coveted by West Ham United. (REPORT)
———–
What do you think of these reports? Do you see CONMEBOL recovering the lost funds? Do you believe AC Milan can re-sign Ibrahimovic? What do you think of Juventus' signing of Mandzukic?
Share your thoughts below.