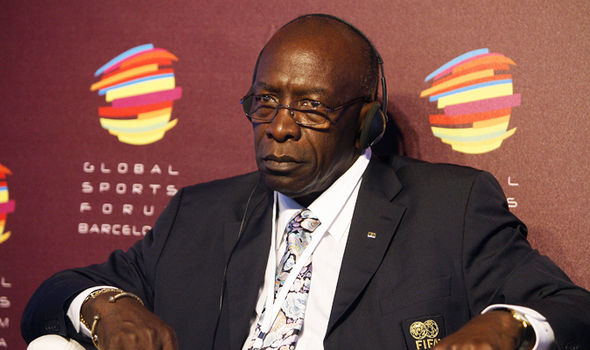 By DAN KARELL
Former FIFA executive Jack Warner has hired some help to combat his ongoing legal issues.
Warner, the former FIFA vice-president, has hired one of the United Kingdom's top lawyers to help fight extradition to the U.S.. Warner's lawyer, Edward Fitzgerald, has previously represented Trinidad & Tobago businessman Steve Ferguson, who has successfully resisted extradition to the USA for the last 10 years, and has announced he is advising Warner and his legal team in the Caribbean country.
Warner has been indicted by the U.S. Justice Department on eight counts of corruption and is currently out on bail in Trinidad & Tobago. The former vice-president is accused of taking up to $10 million in bribes to vote for South Africa's bid for the 2010 World Cup.
Warner's two sons, Daryll and Daryan, and his former deputy Chuck Blazer have all pleaded guilty to related charges, while Warner maintains his innocence.
Here are some more stories to kick off your Tuesday:
MANCHESTER UNITED MAKE BIG OFFER FOR RAMOS
Manchester United is serious about interest in signing Real Madrid centerback Sergio Ramos.
The English club has offered Real Madrid a £28.6 million (€40 million) transfer fee in exchange for the 29-year-old Ramos, according to Sky Sports News. The report states that Ramos would sign a five-year contract, earning €12 million in the first year with a €500,000 reduction every year after.
Ramos reportedly told Real Madrid on Monday that he wanted to leave the club and join Man United, who are looking to boost their squad ahead of the upcoming season. Man United will return to the UEFA Champions League this fall.
Last season, Ramos played 40 times for Real Madrid in all competitions, playing mainly as a centerback but also sometimes as a holding midfielder, scoring five goals.
TWO BARCELONA STARS FROM LAST DECADE TO REUNITE IN TURKEY
The stars have aligned in the southern Turkish resort town of Antalya, with two Barcelona legends of yesteryear set to join the local first division club.
According to the president of Antalyaspor, the club have come to an agreement to sign Ronaldinho, less than two weeks after he and Queretaro agreed to mutually terminate his contract. If Ronaldinho signs, he's expected to join former Barcelona teammate Samuel Eto'o at Antalyaspor. Eto'o recently became a free agent after parting ways with Sampdoria.
"We reached an agreement with Ronaldinho," Antalyaspor president Gultekin Gencer told TRT Spor. "I think within two days it'll be made official. Besides Eto'o and Ronaldinho, we will make another big-name signing. When it's done, we'll set the world on fire!"
INTER SIGN MIRANDA ON LONG-TERM LOAN
Seeking to bolster their squad ahead of the 2015-16 Serie A season, Inter Milan are on the verge of signing one of the top centerbacks in Europe.
Veteran Brazilian defender Miranda has arrived in Milan to complete a medical exam before signing with Inter on a three-year loan deal worth €3 million, according to reports in Spain and Italy. Miranda joins Inter from Atletico Madrid, where he starred for the last four seasons since his move from Sao Paulo to Spain.
Miranda started and went the full 90 minutes in all four of Brazil's Copa America matches, but they were knocked out in the quarterfinals by Paraguay.
QUICK KICKS
Real Madrid are set to make Espanyol's Lucas Vasquez their first signing of the summer. (REPORT)
UEFA have selected Cardiff's Millennium Stadium to host the 2017 UEFA Champions League final. (REPORT)
Gervinho's proposed move to United Arab Emirates club Al-Jazira has fallen through after the Ivory Coast international reportedly asked for a helicopter and a private beach. (REPORT)
AC Milan and Sulley Ali Muntari have agreed to mutually terminate his contract. (REPORT)
CSKA Sofia in Bulgaria will play in their country's third division at the amateur level next season due to financial difficulties. (REPORT)
————
What do you think of these reports? Do you see Ramos moving to Man United? Would that make Man United a contender for the EPL title? Do you feel MLS missed out on signing Ronaldinho or Eto'o?
Share your thoughts below.