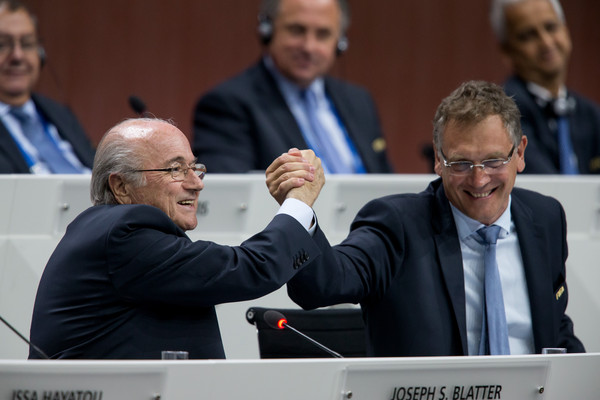 By DAN KARELL
For the second time in a week, FIFA is pleading ignorance when it comes to the scandal that's rocked the soccer, and sporting worlds.
In regards to a report from the New York Times claiming that U.S. law enforcement officials have identified FIFA secretary general Jerome Valcke as the man who approved $10 million in bribe payments to CONCACAF, FIFA has issued a statement that says Valcke had nothing to do with it.
Instead, FIFA, which didn't dispute that $10 million in funds meant for the South Africa Local Organizing Committee were re-routed to CONCACAF, blames the mess on then-CONCACAF president Jack Warner, who was also at that time the deputy chairman of the finance committee, and chairman of the finance committee, the late Julio Grondona. FIFA claim that Warner and Grondona approved and implemented the payments into CONCACAF accounts of which Warner had control over.
"Neither the Secretary General Jérôme Valcke nor any other member of FIFA's senior management were involved in the initiation, approval and implementation of the above project," the FIFA statement says.
This statement comes in spite of a letter, reported by the Sunday Times of London and posted on Twitter by Press Association sports, that shows then-South African FA president Molefi Oliphant sending a letter to Valcke in 2008 requesting that the $10 million be sent to CONCACAF as part of a project to support the African diaspora in the Caribbean.
Here are some more stories to kick off your Tuesday:
REAL MADRID IDENTIFY AGUERO AS KEY SUMMER SIGNING
Real Madrid is going to have to break the bank for the third consecutive year if it wants to sign their top target.
According to reports out of Spain, Real Madrid president Florentino Perez has identified Manchester City and Argentina forward Sergio Aguero as a key signing this summer for Los Blancos. Aguero, who turned 27-years old on Tuesday, is coming off another star season for Man City, leading the English Premier League with 26 goals, and scored an additional six goals in the UEFA Champions League.
It's unclear how much Aguero would cost Real Madrid but it would likely be close to or higher than what they paid for Gareth Bale (reported between €91-100 million) and James Rodriguez (€80 million).
ALBA SIGNS ON FOR ANOTHER FIVE SEASONS
Jordi Alba's strong 2014/2015 season has earned him a new contract at his boyhood club.
Barcelona announced on Tuesday morning that they've come to a basic agreement with Alba over a new contract through June 30, 2020. The contract will do more than just give Alba a pay raise, as there's a buy-out clause of €150 million added on, making it very cost prohibitive for any other club to come in any try to buy Alba.
After only playing 26 games last season due to a variety of injuries, Alba has been a regular in the starting lineup, playing 43 games over all competitions and scoring two goals.
BRAZILIAN POLICE INDICT FORMER CBF PRESIDENT TEIXEIRA
Yet another former member of the FIFA Executive Committee is in the spotlight as fresh allegations of fraud and money laundering have been revealed.
According to reports out of Brazil, the Brazilian Federal Police have recommended to prosecutors to charge former Brazilian FA (CBF) and FIFA ExCo member Ricardo Teixeira of four crimes: Money laundering, tax evasion, forgery, and falsification of documents.
At the heart of the Teixeira case is the transfer of hundreds of millions of dollars to foreign bank accounts between 2009 and 2012, while Teixeira was in charge of the Brazilian World Cup organizing committee. Teixeira resigned from the CBF in 2012 amid corruption charges.
Teixeira, the former son-in-law of former FIFA president Joao Havelange, has been alleged to have participated in a number of corruption scandals, including the Nike deal signed in 1996 with the CBF, taking bribes from then-FIFA marketing company ISL, and mismanaging the run-up to the Brazil World Cup, with nearly every stadium in Brazil behind on construction, some which weren't even finished in time for the tournament.
This investigation is running in parallel with the U.S. Department of Justice investigation.
QUICK KICKS
Atletico Madrid would like to sign Carlos Tevez and pair him with Luciano Vietto up front next season. (REPORT)
Liverpool is on the verge of signing Manchester City winger James Milner. (REPORT)
Real Madrid is looking to bring back Brazilian midfielder Casemiro from FC Porto, and Los Blancos will likely have to pay €7.5 million to sign him. (REPORT)
Real Madrid goalkeeper Iker Casillas is drawing interest from Turkish side Besiktas. (REPORT)
FC Basel signed Danish defender Daniel Hoegh. (REPORT)
Manchester City defender Micah Richards expects to leave Fiorentina after spending one season there on loan. (REPORT)
————
What do you think of these reports? What do you think of the latest FIFA controversy? Do you believe Real Madrid can sign Aguero? What do you think of Alba's new contract?
Share your thoughts below.