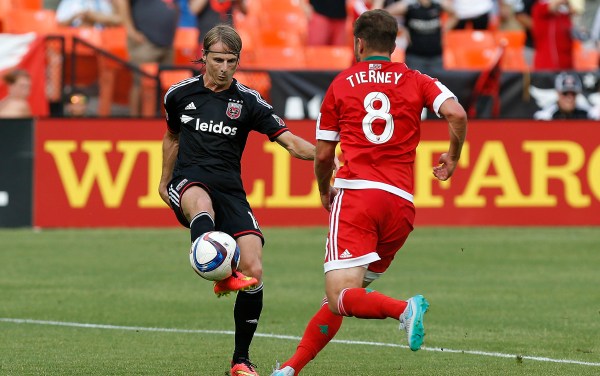 Photo by Geoff Burke/USA TODAY Sports
By CLIFF STARKEY
WASHINGTON — While many might have thought the sweltering heat of the nation's capital would drain players' energy, Chris Rolfe — and D.C. United — weren't fazed a bit.
Two second-half goals by Chris Rolfe led D.C. United to a comeback 2-1 victory over the New England Revolution on a hot Sunday evening at RFK Stadium. The win gives D.C. United breathing room in the form of a seven-point lead over their Eastern Conference rivals.
New England started strongly and didn't take long to find a lead. In the 10th minute, Teal Bunbury released Lee Nguyen down the right flank, ahead of the defense. Nguyen sent an inch-perfect cross along the ground to Charlie Davies, who calmly redirected the pass into the net for his seventh goal of the season.
For much of the rest of the first half, New England looked by far the more threatening team. Had Bill Hamid not made two impressive saves, New England could have put the game beyond doubt before halftime. Hamid's heroics seemed to galvanize his team, however, as D.C. United looked much more dangerous heading into the halftime break.
The second half began much the same way, as D.C. United used their possession advantage to create a handful of chances, but lacked the final ball, until the 70th minute, when impressive play by Nick DeLeon and Fabian Espindola opened up space on the wing, where Espindola lofted in a cross that saw Rolfe unmarked for an easy goal on the volley.
D.C. United rode the goal's momentum and found a pay off in the 80th minute, when Steve Neumann's challenge brought down Miguel Aguilar in the corner of the box. Referee Ismail Elfath wasted no time in pointing to the spot, where Rolfe's low shot gave him his second goal of the night and D.C. United a vital three points.
D.C. United may have come into the game in familiar territory atop the Eastern Conference standings, but losing successive games is something that Ben Olsen's team had not been accustomed to in quite some time. However, D.C. United entered tonight with two successive losses. New England has found themselves in unwanted form as well until last week's win against Chicago, which snapped a six-game winless streak.
In addition to a commanding lead in the East, the win gives D.C. United a two-point lead in the Supporters Shield race, albeit having played more games than the Seattle Sounders and Vancouver Whitecaps.
Wednesday night, D.C. United will travel to Chicago to play the Fire, while New England will be in Columbus for a match against Columbus Crew SC.