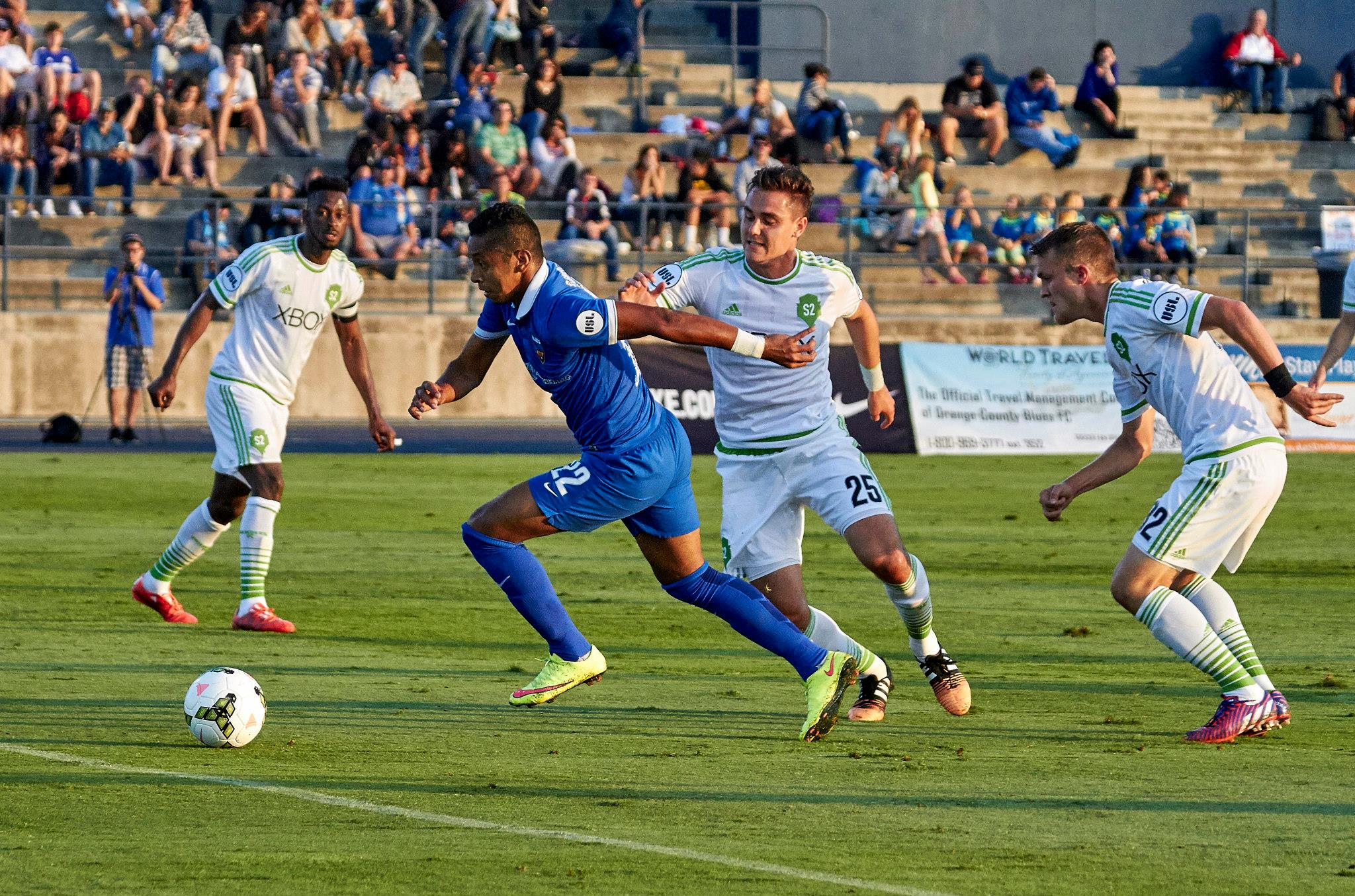 Photo by Orange County Blues
By ADAM TROXTELL
A Southern California battle takes place this weekend, with Western Conference positioning on the line.
Third-place Orange County Blues host LA Galaxy II late Saturday, with both teams even on points near the top. Los Dos bounced back from straight losses with a win last weekend, while the Blues are hoping to do the same.
In the East, the Charleston Battery switch venues and head to Wilmington for a rematch with the Hammerheads. FC Montreal hosts New York Red Bulls II, while the Austin Aztex head out to face defending champion Sacramento Republic.
Here is a closer look at this weekend's action:
Seattle Sounders FC 2 vs. Tulsa Roughnecks (10:30 p.m., Friday, YouTube)
The Tulsa Roughnecks triumphed over Western Conference leaders Seattle Sounders 2 at home in April, but things could easily be different this time around.
Sounders 2 is unbeaten in the last six games and has won all of its seven games at home. The 11th-placed Roughnecks fell in their last two outings, most recently to Portland Timbers 2 last weekend.
FC Montreal vs. New York Red Bulls II (6:30 p.m., Saturday, YouTube)
Eastern Conference strugglers go head-to-head north of the border when FC Montreal faces New York Red Bulls II at Stade Saputo.
Montreal has lost four of its last five games, but Red Bulls II aren't faring much better. Their only win in the past five games came against Montreal, 4-2 at home, on May 24.
Orange County Blues vs. LA Galaxy II (10:20 p.m., Saturday, YouTube)
Five wins from the first seven games have the Orange County Blues in the thick of the Western Conference battle, but neighbor LA Galaxy II is right there with them.
Both on 16 points, the teams meet for the first of four times this season. The Blues have not won in three outings, while a late Raul Mendiola winner got Los Dos back to winning ways last weekend.
Sacramento Republic FC vs. Austin Aztex (11 p.m., Saturday, YouTube)
Two league games without a win has seen Sacramento Republic slip slightly behind Sounders 2 in the West.
The defending champions try to play catchup against Austin Aztex at home late on Saturday. The Aztex have had an inconsistent time so far this season, but four wins have them in seventh place, six points behind Republic FC heading into the game.
Richmond Kickers vs. Charlotte Independence (5 p.m., Sunday, YouTube)
In the only Sunday match this week, the Richmond Kickers will try to settle the score against the Charlotte Independence.
Both teams have a win against the other entering this, their third meeting of the season. The Kickers' 3-0 victory in April was their second of the season, but the Independence handed them their first loss with a 3-0 result back in Charlotte. Both teams have just one loss from their last five games.
OKC Energy FC vs. Portland Timbers 2 (8 p.m., Friday, YouTube)
Pittsburgh Riverhounds vs. Saint Louis FC (1 p.m., Saturday, YouTube)
Wilmington Hammerheads FC vs. Charleston Battery (7 p.m., Saturday, YouTube)
Harrisburg City Islanders vs. Toronto FC II (7 p.m., Saturday, YouTube)
Colorado Springs Switchbacks vs. Vancouver Whitecaps 2 (9 p.m., Saturday, YouTube)