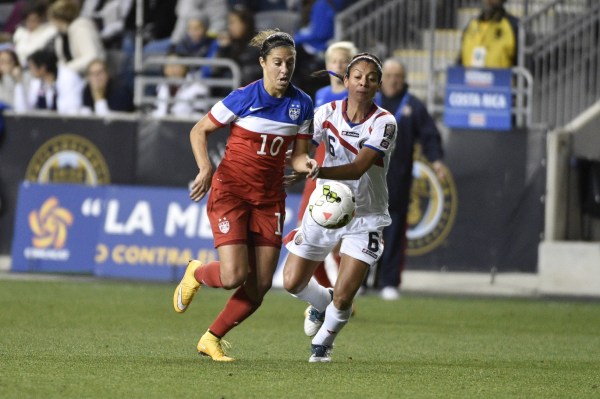 Photo by Derik Hamilton/USA TODAY Sports
By RYAN TOLMICH
The U.S. Women's National Team is in the midst of a Women's World Cup campaign, but the team has already lined up a pair of post-tournament friendlies.
U.S. Soccer announced Wednesday that the USWNT will take on Costa Rica in a pair of August friendlies. The first of the two matchups will take place on August 16 at Heinz Field in Pittsburgh before the two sides face-off again three days later at Finley Stadium in Chattanooga, Tennessee.
The two sides previously met in the final of the 2014 CONCACAF Women's Championship, a tournament that served as the qualification for the 2015 FIFA Women's World Cup. While the U.S. is currently bound for a quarterfinal matchup with China, Costa Rica's tournament was ended in the group stage following a pair of draws with Spain and Korea Republic before a loss to Brazil.
With the first of the two friendlies, the USWNT will return to Heinz Field for the first time since 2004. The matchup presents a bit of a homecoming for Meghan Klingenberg, who hails from nearby Gibsonia.
Meanwhile, the matchup at Finley Stadium will be the USWNT's first trip to the venue since 1997, but will represent the team's fifth all-time appearance in the state of Tennessee.
What do you expect from the two friendlies? What kind of team would you expect head coach Jill Ellis to call in?
Share your thoughts below.