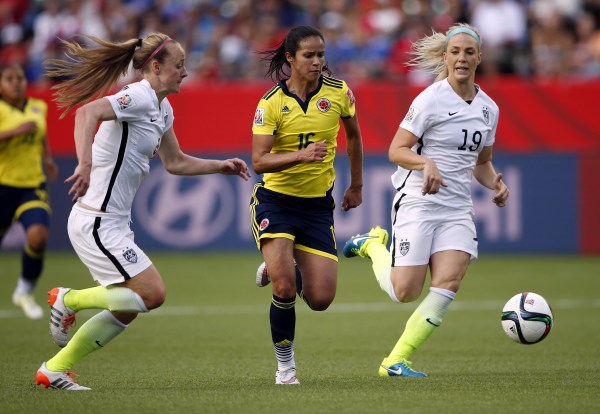 Photo by Michael Chow/USA TODAY Sports
By RYAN TOLMICH
After pressing through the tournament's group stages on the back of a strong defensive unit and a sputtering attack, it was more of the same from the U.S. Women's National Team on Monday night.
Led by a strong defensive performance, the U.S. overcame a missed penalty kick to top Colombia, 2-0, in the Round of 16 matchup. For the U.S., a similar theme shined through, as the team was dominant on one half of the field while providing few nervy moments in the attacking end.
However, the team did exactly what was expected, earning a spot in the quarterfinal round while giving us a closer look at what this team will need to improve upon going forward.
Here are SBI's takeaways from the USWNT's win over Colombia:
JOHNSTON, SAUERBRUNN MAY BE JUST ENOUGH TO LEAD TEAM TO GLORY
When measuring the USWNT's success thus far, it's hard not to credit the team's centerback duo with leading the way.
Having allowed just one goal all tournament, Julie Johnston and Becky Sauerbrunn have been rocks, and that was once again apparent on Monday night against Colombia.
Faced with a Colombia side that was heavily reliant on technique and trickery, Johnston and Sauerbrunn led the way in squashing any and every opportunity, as Colombia failed to muster a truly dangerous attack.
Monday's performance once again lends credence to the thought process that the defensive unit may be just enough to lead the way going forward as the U.S. gets deeper and deeper into a tournament run.
Can the U.S. rely on a defensive approach to stop powers like France or Germany? We'll have to see, but everything Johnston and Sauerbrunn have shown so far demonstrate that it might just be possible.
ATTACK REMAINS STAGNANT AS TOURNAMENT REACHES LATE ROUNDS
Once again, the U.S. attack sputtered, but once again, it wasn't enough to hold the team back from picking up another victory.
In a game that saw Alex Morgan and Abby Wambach earn starts up top, the U.S. struggled mightily in the first half. Appearing to be a bit to reliant on the long ball once again, creativity failed to shine, as the team struggled to create meaningful chances or maintain possession in and around the box.
Things looked slightly better in the second half as Colombia went down to 10 women, but even then it was far from a promising sight against a team praying to just remain in the game with a third-string goalkeeper.
There are plenty of positives for the U.S. up front. Alex Morgan is beginning to look more and more like her old self as she recovers from injury. Despite her mistakes, Wambach was put in positions to score, and history shows that nine times out of 10, nights like Monday night won't happen.
Still, this U.S. team can't become too complacent, no matter how good the defense is. The USWNT has long had a history of smashing teams in their path, and while the game has certainly caught up around the world, we haven't seen anything resembling a dominant win quite yet.
For those to come, things will need to be a bit more fluid, a bit more creative and a bit more clinical. Taking on what should be an overmatched China team, the U.S. has one more chance to really put things together before running into teams that will be even more difficult to break down.
SUSPENSIONS HAVE POTENTIAL TO BE BLESSING IN DISGUISE
It's never ideal to see two starters suspended, but for the USWNT, the absences of Megan Rapinoe and Lauren Holliday could just be a blessing in disguise.
The two midfielders will miss out on the USWNT's clash with China on Friday, a matchup that the U.S. enters as heavy favorites to win, with or without the duo. That fact makes their loss much less devastating, especially given the fact it could open the door for some different looks for the U.S.
Rapinoe is likely to be replaced by Christen Press or Heather O'Reilly, and while neither possess the creativity Rapinoe does, they may open the door for the U.S. attack to be much less reliant on the midfielder's playmaking ability.
Meanwhile, Holliday will likely be spelled by youngster Morgan Brian, giving the 22-year-old another taste of the big stage after two earlier appearances.
Overall, the pair of suspensions open up quite a few doors for the U.S., doors that may force the team to step out of its comfort zone and actually produce.