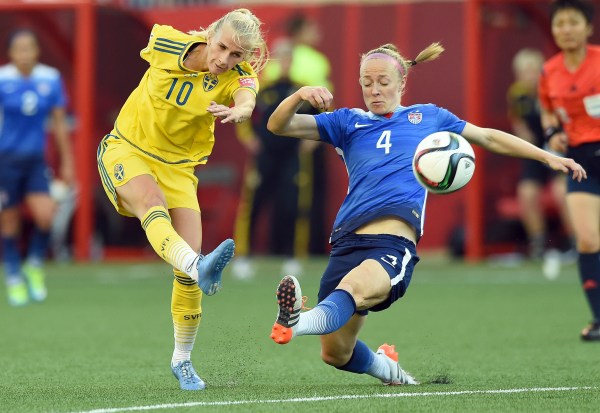 By CAITLIN MURRAY
WINNIPEG, Manitoba — It perhaps didn't live up to the hype and expectations of a heavyweight bout, but a draw with Sweden on Friday is a box checked for the U.S. Women's National Team. The Americans depart Winnipeg with four points, sole position of first place in Group D and plenty of homework.
Some draws are a case of being unlucky, but that wasn't the case for the Americans in their second match of the Women's World Cup Group stage. Instead, the Americans looked uninspired on the attack and on fire in the back.
With a berth to the knockouts rounds so close, the Americans entering their final group match against Nigeria with some encouragement signs that will build confidence, and some lessons they can learn to peak through the seven-game tournament.
Here are SBI's takeaways from the USWNT's scoreless draw with Sweden:
ABBY WAMBACH IS NOT THE PROBLEM WITH THE ATTACK
Much has been made about Wambach's role with the team and whether or not she drags down the American attack. After all, she's not as fast or as gifted with her feet as the rest of the team's forwards. As a player who joined the team in a different era, Wambach, 35, has become a symbol of the style of play that seems to irritate modern soccer fans the most: Playing direct with long balls over the top. With Wambach, all 5-foot-11 of her, in the box, the team sometimes looks complacent to just lob the ball toward her hoping for the best.
The problem is this: Wambach didn't start on Friday, her first time not starting in a World Cup match since 2003, and the Americans didn't look any better than they have when she's been in the lineup. As Wambach watched from the bench, the American attack continued to be anemic — no creativity, little combination play, ignored flanks and almost no chances. More than once in the first half, crosses missed players' heads, even though they were in position to connect, raising the question of whether Wambach could've finished those chances.
After Friday's scoreless draw, coach Jill Ellis explained her decision to bench Wambach: "I felt like we needed some pace up top and added mobility." But it seems firmly embedded in the DNA of the USWNT to want to cross the ball or try a quick long ball. If they are going to do that anyway, they should count on a player like Wambach who tends to deliver when it counts.
U.S. MAY NEED TO RIDE DEFENSE TO WORLD CUP
The thousands of American fans who traveled to Winnipeg were probably hoping for a goal fest between two of the world's heavyweights of women's soccer. Instead, they were treated to a defensive chess match where both sides worked to figure out how to contain the other's attackers. For the Americans, that meant keeping star forward Lotta Schelin at bay and they did a fine job, tracking her closely and isolating her from the rest of Sweden's attack.
As a unit, the back four was organized and connected, looking like a group that has played consistently together for longer than the short couple months they have. But individually is where the defenders shined brightest. Meghan Klingenberg single-handledly managed to save the match for the U.S. through a goal-line clearance with her head, denying Caroline Seger what would've been a game-winner in the 77th minute.
Becky Sauerbrunn has quietly made her case for a starting role in the U.S. defense for at least a couple years now with her ability to read the game and provide smart cover. But Julie Johnston has had a more of abrupt rise to her current starting spot, and even in that case, it was perhaps a bit overdue. She seemed to have the tactical awareness of a capable defender with the physicality to match. Those who have been paying attention weren't surprised by her performance on Friday — Johnston has slide-tackled and headed her way to a starting spot for a reason after not even making the World Cup qualifying roster in October.
THE MIDFIELD STILL ISN'T USING THE FLANKS
If the attack's problems can't be boiled down as simply as finger-pointing at Wambach and if the defense is looking capable, then there's only one part of the field left: The midfield. More specifically: The flanks. This definitely isn't the first time SBI has called out the strange personnel decision of putting a central midfielder out on the flanks. Last time, it was in February when Carli Lloyd, clutch goal-scorer and beast from the top of the box, was pushed out to the left flank in a listless defeat to France and saw her potency neutralized.
On Friday, it was Morgan Brian's turn to play out wide, this time on the right flank. After being developed by Ellis for a central midfielder position, Brian became part of a game of musical chairs on Friday that saw Lloyd and Lauren Holiday start in the middle while Christen Press was given a chance at her natural forward position. That left a vacancy at Press' assigned right flank position, and instead of putting a natural right winger like Heather O'Reilly there, Ellis decided to keep Brian in her starting lineup, but shoehorned into the right midfield spot.
For whatever reason, Ellis doesn't seem to think O'Reilly is a starter anymore, but Brian simply looked uncomfortable adapting to the wing. Brian is a talented playmaker who does well with a whole field in front of her to work with, but just because she starts in one position doesn't mean she should start in any position. O'Reilly is an experienced veteran and has the speed to beat a defender on the dribble, which is now where Brian's strengths lie. Even a player like Tobin Heath, who normally plays on the left, would be a better fit for the sort of creativity and confidence the position requires.