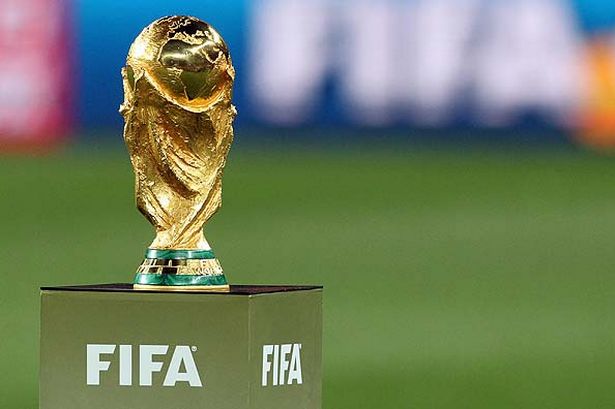 By COLE KELLOGG
It seems that all of the deservedly bad press that has struck FIFA over the past several weeks is forcing the organization's hand in regards to the world's biggest sporting event.
Amid the turmoil FIFA is facing involving corruption in the 2018 and 2022 World Cup hosting bids, the organization has decided to delay the bidding process for the 2026 tournament.
The vote for the tournament host was originally set to take place in May 2017 at the FIFA Congress in Kuala Lumpur, Malaysia, but FIFA secretary general Jerome Valcke said on Wednesday that it would be "nonsense" to begin the bidding process in the coming weeks ahead of that vote.
Meanwhile, BBC Sport is reporting that Dec. 16 is the likely date for FIFA's Extraordinary Congress to elect a new president to replace Sepp Blatter.
Valcke and other FIFA officials are currently in Russia, visiting cities that are set to host the 2018 World Cup.
Here are some more stories to kick off your Wednesday:
MESSI HEADED TO COURT OVER TAX FRAUD ALLEGATIONS
The superstar that just won himself a third UEFA Champions League title is being brought back down to Earth over tax fraud charges.
A Barcelona court recently denied an appeal made by Leonel Messi's lawyers so that he could avoid taking the stand at a trial. The Barcelona Provincial High Court believes that a network of companies allowed Messi and his father Jorge to defraud the Spanish Tax Agency of more than €4 million in income taxes from 2007-2009. It is not yet certain if the Argentine had knowledge of these actions in which he benefitted, according to El Pais.
Messi's father Jorge also remains under investigation for tax fraud dating back to 2007. Allegations state that he created the network of companies in companies around the world to handle the earnings of his son's image rights, allowing him to pay less tax on large-scale advertising contracts.
BARCELONA EXTENDS MANAGER ENRIQUE
FC Barcelona ended any speculation that Luis Enrique would be departing the club by announcing a contract extension.
The club made official a contract extension through June 30, 2017, to head coach Luis Enrique, who led Barcelona to a treble of trophies this season, on the way to the club reclaiming their mantle as the top club in the world.
"We are naturally very happy," Enrique said in a statement. "After the wonderful year we've had, with difficulties but a very happy ending, we are more than thrilled about the hope of winning more titles. Everything that we have ahead of us in more than exciting."
Barcelona won the Copa Del Rey, La Liga, and UEFA Champions League this season under Enrique, who took over for Gerardo Martino last summer.
CARVER LEAVES NEWCASTLE
Newcastle United have announced that interim manager John Carver and his coach Steve Stone will not return to the club next season.
Carver managed only three victories out of 20 matches in charge at Tyneside, but did keep the historic club up on the final day of the season with a win against West Ham.
Former England boss Steve McClaren has been seen as an early favorite to take charge of the side next season. McClaren was sacked by Derby County at the end of the season, after failing to secure the team a place in the Championship play-offs.
SENEGAL, GHANA, SERBIA ADVANCE TO QUARTERFINALS AT U-20 WORLD CUP
In dramatic fashion, Senegal goalkeeper Ibrahima Sy came up when his team needed him most in the biggest games of their lives.
After finishing regulation and extra time with a 1-1 scoreline, Ukraine U-20 and Senegal U-20 headed to penalty kicks to determine which team would advance to the quarterfinals.
But with their World Cup dreams on the line, Sy made three saves, stopping penalty kicks from Yehven Chumak, Ihor Kharatin, and Valerii Luchkevych to send Senegal U-20 to the quarterfinals.
Serbia U-20 came back from a goal down with a goal in second half stoppage time and then taking advantage of an own goal late in extra time to down Hungary, U-20, 2-1. They'll face the U.S. U-20s in the quarterfinals on June 14.
Lastly, Mali U-20 stunned west African rival Ghana U-20, 3-0, with three sensational goals to advance to the next round of the tournament. Diadie Samassekou scored Mali's first goal after a nice one-touch passing sequence, finishing with a low drive into the corner. Dieudonne Gbakle then took advantage of some space outside the box and curled a drive off the upright and in for a goal.
Putting the icing on the cake was Aboubacar Doumbia, who sped past his defender and scored on a delightful chip into the side netting.
QUICK KICKS
Juventus announced yesterday that it has signed Sami Khedira from Real Madrid of a four-year contract for a free transfer. (REPORT)
Emirates Airlines president Tim Clark said they would like to become an official FIFA sponsor again after FIFA reforms have been enacted. (REPORT)
The audience from U.S. Women's World Cup opening match tripled the ratings from the 2011 edition of the tournament (REPORT)
Sir Alex Ferguson backs former Manchester United chief executive officer David Gill to replace Sepp Blatter as FIFA President (REPORT)
_ _ _ _ _ _ _
What do you think of these reports? When do you see FIFA beginning the new bidding process? Is December too far away to elect a new president? Do you see Messi being convicted?
Share your thoughts below.