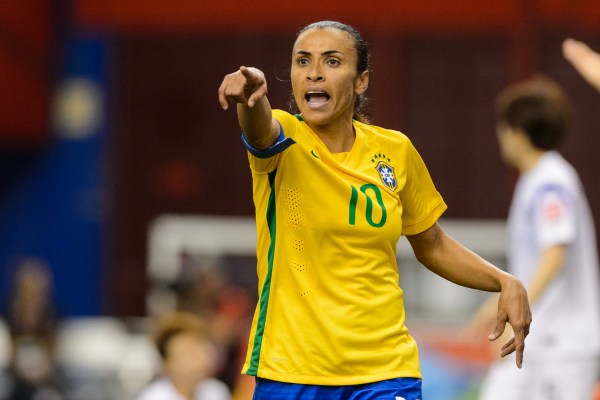 By COLE KELLOGG
It was another day of excitement and action for the 2015 Women's World Cup, with records being set and wonder goals hitting the back of the net.
The lot of the day's action came from a 2-0 win for Brazil over South Korea. Brazil's 37-year-old Formiga had the first goal on the night, with her strike in the 33rd minute making her the oldest player to score in tournament history.
Five-time World Player of the Year Marta scored a penalty kick in the 53rd minute to becoming the leading scorer in Women's World Cup history.
Here is a rundown of the rest of Tuesday's Women's World Cup action:
FRANCE EDGES ENGLAND

In the first match of the day, France took three points off of its European counterpart thanks to a 29th minute goal from Eugenie Le Sommer.
Le Sommer unleashed a rocket past England goalkeeper Celine Deville for the only goal of the game.
England also to France in penalties in the Quarterfinals of the 2011 edition of this tournament.
The English team will still consider themselves in a good position to advance to the knockout stages, with matches left against Mexico and Colombia, who sit 25th and 28th in FIFA rankings.
France will face off against Colombia on Saturday, with England taking on Mexico.
COSTA RICA TIES SPAIN

A low-ranked Costa Rica side was able to equalize against Spain to split the points on Tuesday.
Spain's Vicky Losada gave her team a 1-0 lead in the 13th minute with a curled effort to the lower lefthand corner of the goal. Losada used a quality first touch and turned to give herself space for the shot inside the box.
Costa Rica found an equalizer one minute later through a Raquel Rodriguez strike. The goal came off of a quick and efficient counterattack, with Katherine Alvarado making great movements inside the box to provide the assist.
Costa Rice returns to action against South Korea on Saturday, while Spain will meet Marta and Brazil.
GOLAZO EARNS COLOMBIA TIE WITH MEXICO
These two sides vying to gain their footing in a difficult group drew 1-1 on Tuesday, with beautiful goals coming from either side.
Mexico scored first, when Veronica Perez struck from near the corner flag in the 35th minute. A quick corner put the ball at Perez's feet, and what was surely meant to be a cross turned into an outstanding goal to give Mexico the lead.
Colombia came back with a fantastic goal of its own when Daniela Montoya equalized in the 82nd minute.
Substitute Tatiana Ariza used some clever footwork in the box to keep the ball and dish it out to Montoya, who sent a one-time rocket to the upper left corner of the goal.