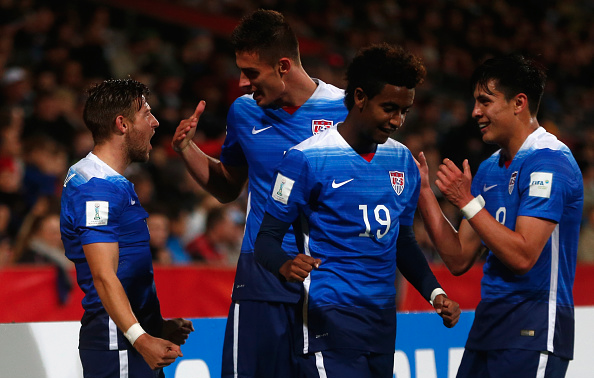 By FRANCO PANIZO
The World Cup may not have ended how the U.S. Under-20 Men's National Team had hoped for, but the Americans still managed to make an impression in the tournament.
The U.S. reached the quarterfinals of the World Cup in New Zealand before succumbing to Serbia in a dramatic penalty kick shootout this past weekend. The elimination came with plenty of pain and sorrow for the Americans, but it still could not completely overshadow all of the good that they showed in the competition.
Tab Ramos' side played aesthetically pleasing and effective soccer at times en route to going 3-1-1, and that was as much of a result of players turning in strong individual performances as it was about them playing well as a collective unit.
Still, there was some bad mixed in with the good throughout the tournament. While some promising prospects delivered and shone on the big stage, others were inconsistent or struggled to make an impact.
For a closer look at how all the the young Americans fared at the U-20 World Cup, here are the SBI Player Grades for the competition:
U.S. U-20s World Cup: SBI PLAYER GRADES
ZACK STEFFEN (8): Started the tournament with a major blunder against Myanmar, but rebounded well with solid performances in the final two group-stage games. Steffen then turned it up a notch in the knockout rounds, coming up with several timely saves and showcasing his penchant for stopping penalty kicks.
DESEVIO PAYNE (6): Played in three games, and was solid defensively in each of them. Payne also showed flashes of what he's capable of going forward, but wasn't able to join in on the attack as much as the Americans would have liked in the final two games because of their lack of possession.
MATT MIAZGA (8.5): Far from the flashiest U.S. player in this tournament, but certainly its most consistent. Miazga never seemed to step a foot wrong in the back line, winning the bulk of his challenges and constantly coming up with timely clearances. He also served as the vocal leader for the rest of the defenders, and his passing was very good.
CAMERON CARTER-VICKERS (8): The youngest player on the U.S. looked far from it. Carter-Vickers was a terror at the back, using his strength and skill to shut down opposing attackers while playing all 480 minutes of the Americans' campaign. He had a bit of a letdown without Miazga next to him in the 3-0 loss to Ukraine, but was overall impressive in this competition.
KELLYN ACOSTA (5.5): Had a rough opener against Myanmar, but improved his positioning and didn't look as nervous in the last two group matches. Acosta had his hands full against Colombia, and struggled before getting sent off with a second yellow card in the penalty area that almost proved costly for the U.S.
MARKY DELGADO (4.5): While he occasionally came up with timely plays, the moments when he was solid in the No. 6 role were still too few and far between. Delgado lacked the range and bite that is expected of a defensive midfielder, and his passing was also subpar.
PAUL ARRIOLA (7): Earned his first start of the tournament in the second game, and never looked back. Arriola put in a ton of work on both sides of the ball in the U.S.'s last four games, and gave the attack an added dimension of speed and willingness to go at defenders. He also scored a well-taken goal in the 3-0 triumph over New Zealand.
GEDION ZELALEM (5.5): Began the competition in impressive fashion, but slowly began to fade as the matches became tighter and more physical. Zelalem showed he has good vision, technical skills, and a comfort level on the ball that few others in the U.S. pool have. Still, he relies far too much on his right foot and was knocked off the ball easily too often.
EMERSON HYNDMAN (6): Like Zelalem, the U.S. captain started the World Cup with some impressive performances before struggling a bit more to leave his imprint on the later games. Hyndman looked composed and intelligent when he had space, but was unable to do much against more organized and physical teams like Colombia and Serbia.
BRADFORD JAMIESON (6): Was involved one way or another in three of the U.S.'s first four goals of the tournament, and did a good job of filling in for the injured Maki Tall. Jamieson's speed and confidence proved to be real threats and perfect complements for forward partner Rubio Rubin, and those traits were sorely missed in the Americans' final two games.
RUBIO RUBIN (6.5): Scored goals, set up teammates, and kept opposing defenses busy. Rubin had an impressive tournament spearheading the U.S. attack and was constantly trying to get involved, but his poor penalty kick to start the shootout against Serbia was a major strike against him.
SHAQUELL MOORE (4): Got the nod in two games, but never looked quite right. Moore had trouble with his defensive positioning and 1-on-1 battles, and he constantly looked like a player that was out of form after not playing at the club level in months. He did get forward well on occasion, but it still was not enough to overcome his defensive frailties.
JOHN REQUEJO (6): Filled in valiantly for the suspended Acosta against Serbia, helping the Americans post a shutout before the penalty kick shootout. Requejo almost scored a goal in one of his two other appearances, firing a low shot that was saved vs. New Zealand, and looked plenty serviceable during his 132 minutes of action.
ERIK PALMER-BROWN (4.5): Replaced Miazga at centerback in the loss to Ukraine, and started out well before losing the plot. Palmer-Brown began the group-stage finale by making several interventions, but he and fellow youngster Carter-Vickers found themselves on different pages as the Ukrainians piled on the pressure and scored three second-half goals.
JORDAN ALLEN (4.5): Saw plenty of action, but failed to make much of an impact. Allen seemed to not have a good understanding with his teammates and more often than not tried to beat defenders on the dribble to no avail. His one major contribution in this tournament was earning the U.S. a dubious penalty kick against Ukraine when the score was 1-0.
TOMMY THOMPSON (6): Given brief substitute cameos before earning his lone start of the competition up top against Serbia. He was active in the attacking third and among the few Americans to look capable of punishing the Serbs, but he tired as the game wore on and was replaced in the 103rd minute.
JOEL SONORA (5): A very quiet opener against Myanmar forced him to settle for minutes off the bench the remainder of the World Cup, but he looked aggressive in extra time against Serbia. Sonora provided a much-needed spark in that match, and the U.S. might have been better served to insert him earlier than in the 103rd minute.
MAKI TALL (6): Showed plenty of promise in his one start, scoring a well-taken goal and proving a serious attacking threat against Myanmar. An injury to his toe limited his outing in that game, and forced him to miss the rest of the tournament.
CONOR DONOVAN (N/R): Did not have enough time on the field to prove his worth, playing just the final six minutes of the lopsided loss to Ukraine.
JEFF CALDWELL (N/R): The back-up goalkeeper didn't see a second of action.
THOMAS OLSEN (N/R): Same as Caldwell.
———-
What do you think of these player grades for the U.S. U-20s' World Cup performance? Who do you believe is rated too high or low? Agree that Steffen, Miazga and Carter-Vickers were the best overall Americans in the tournament?
Share your thoughts below.