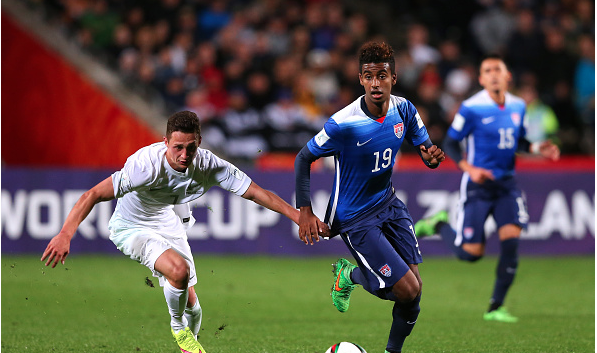 By FRANCO PANIZO
Being on the positive end of a rout usually means that several players turned in strong performances, and you'd be hard pressed to find even one U.S. Under-20 Men's National Team member who did not have a good game on Tuesday.
The U.S. remained perfect at the World Cup by playing a near-perfect game against tournament hosts New Zealand. Thanks to goals from Bradford Jamieson, Emerson Hyndman, Paul Arriola, and Rubio Rubin, the Americans handed the Kiwis a thorough 4-0 thrashing at North Harbor Stadium in Auckland to clinch a spot in the knockout rounds of the competition.
While the U.S. attacking trio of Rubin, Hyndman and Arriola helped make up the difference in the Group A showdown, several other players delivered big contributions as well. Gedion Zelalem was as effective with the ball as he was graceful, Cameron Carter-Vickers once again looked rock-solid at the back and Bradford Jameison impressively stepped in for the injured Maki Tall for the second straight game.
It was a dominant and overall great performance from the Americans, and one that showed the attack-minded U.S. team that many were expecting to see at this World Cup.
Here are SBI's biggest takeaways from the U.S.'s 4-0 rout of New Zealand:
ZELALEM PUTS ON A SHOW
A nutmeg, elastico, rabona, dizzying turns and a smooth assist. Gedion Zelalem was a one-man highlight reel against New Zealand.
There were several standout performers for the U.S. on Tuesday, but none wowed the crowd quite like Zelalem. The Arsenal youngster pulled off a number of flicks and tricks over the course of his 90-minute shift, demonstrating the type of skill that American fans had heard he possesses but hadn't really seen.
More important than the aesthetically pleasing moves he pulled off, Zelalem also showed a level of comfort on the ball that was quite impressive. He was pressured high up the field by New Zealand on a number of occasions, but managed to turn his way out of those situations before passing to a teammate.
Zelalem's smoothness on the ball also led to his assist on the Americans' third goal. He carried the ball high up the field and slipped in a neat through pass to Paul Arriola despite having a defender marking him tightly. It looked simple, but was a rare moment of vision and technique, two qualities that aren't always packaged together in the U.S. player pool.
It might be a good thing that this game was played so late at night (U.S. time) and not as many people got to watch it. If they had, the hype train might be going full-steam ahead.
OTHER NEW STARTERS IMPRESSED, TOO
Just as Zelalem sparkled with his contributions, the three other players that head coach Tab Ramos inserted into the lineup also delivered.
Jamieson, Arriola and Desevio Payne all earned their first starts of the tournament against the Kiwis and none of them disappointed.
Jamieson was especially strong in filling in for the injured Tall, scoring the opener with a low driven shot, and impressively flicking on a goal kick from Zack Steffen that paved the way for the game's second goal, scored by Hyndman. Jamieson's speed and willingness to go at defenders was also on full display, making a strong case for why he should continue to start up top.
Arriola was given the nod on the wing and added a different dimension. Arriola took his goal – which came on a shot from the top of the penalty area in the second half – well and was also constant threat with long-distance shots and surging runs. Just as important was his work rate, as he consistently contributed on the defensive side of the ball as well.
At right back, Payne was trusted to stymie the Kiwis. He accomplished that feat and also got into the attack on occasion. He was an improvement over Shaquell Moore, who started and struggled in the opener vs. Myanmar, and looked sharper and more comfortable on the ball. There were a few times where Payne had his hands full defensively, which bears watching, but all in all it was a solid showing.
CARTER-VICKERS LOOKS MATURE BEYOND HIS YEARS
Carter-Vickers might be the youngest player on this U.S. squad, but you wouldn't know it based on his performances thus far.
After setting up the equalizer vs. Myanmar with a header on a corner kick, the 17-year-old centerback proved to be a threat on set pieces once again Tuesday. Carter-Vickers won aerial balls easily and it was his nodded effort that smashed off the crossbar and fell to Jamieson in the build-up to the first U.S. goal in the sixth minute.
The Tottenham prospect also nearly scored on another opportunity. While in the penalty area for another set piece, he hit a curled effort that New Zealand goalkeeper Oliver Sail stopped with a flying save.
Defensively,the physically-imposing Carter-Vickers was just as solid. He and fellow centerback Matt Miazga held down the fort once again, showing good positional awareness and doing well to deal with almost every ball that came their way. There's still plenty of room for Carter-Vickers to grow, but the early returns are promising and mouth-watering.
DEFENSE VULNERABLE IN TRANSITION
Even with the centerbacks showing well and the attack repeatedly overwhelming New Zealand, there were times when the U.S. defense looked vulnerable – primarily on counter-attacks.
With so many numbers aggressively pushing forward, New Zealand found loads of room to operate when it won the ball. The Kiwis mostly tried to exploit the flanks, but their inability to combine quickly often left their attackers isolated and in one-on-one duels that the Americans won.
While Ramos' offensive gameplan played a part in that, the U.S. simply has to be better in thwarting threats. There were several instances where players failed to track back or did so halfheartedly, leaving defensive midfielder Marky Delgado and the back line to put out the fires all on their own.
The Americans were not exposed, per se, but a more skilled team will be able to punish them if they don't make improvements in transition. The U.S. has quality in the attack, that much is obvious, but limiting opponents will be just as important as finding the back of the net as the tournament goes on, matches get tighter and opponents become tougher.
RUBIN, HYNDMAN CONTINUE TO SHINE
For the second straight match, two of the best performers were players who have been capped by the senior U.S. Men's National Team.
Rubio Rubin and Emerson Hyndman not only continued to demonstrate the skill that has them listed among the hottest prospects in the American pipeline, but they each found the back of the net against the Kiwis. Rubin was opportunistic on his goal on Tuesday, alertly stabbing in a trickling ball that the ball-watching New Zealand defense failed to deal with. Hyndman, meanwhile, scored for the second straight match after making a trailing run.
The goals may have garnered much of the discussion in the game's immediate aftermath, but the duo's demonstration of confidence and skill also deserved to be lauded. Hyndman was again his polished self when in possession and distributed well and Rubin was a huge threat in the final third, at one point evidenced by a series of impressive stepovers that set up a hard shot just wide of the frame.